Chapman University students may now be far-flung or sequestered on campus, but the university's new associate director of Student Community Support and Development is still finding ways to connect with them. It's a challenge Justin Riley '11 feels honored to accept, spreading this vital message as students adjust to remote instruction and living with coronavirus restrictions: Work is being done. You are seen, you are heard. You can succeed.
It helps that spreading the word is his forte. The television and broadcast journalism alumnus is the founder of Purpose Over Profit, a motivational speaking and personal development service directed at empowering millennials. And as a former standout Chapman basketball player, his leadership skills are proven. He felt called to return to his alma mater in this new position, serving as an essential guide for staff supporting Chapman's diverse and underserved student populations. Now, those skills at connecting with people are needed more than ever.
"I've continued to reach out to students, making sure they're OK. Some students are in places where they can't go home for a number of reasons, or their resources that they relied on, on campus, aren't as accessible to them," Riley said in an interview, just after the campus shifted to remote instruction. (Since then, all but a handful of essential staff and administrators have begun remote work.)
In between check-ins and campus updates, Riley gave us a deep look at what he has set out to do since he came back to Chapman in November.
Q: What motivated you to come back?
The primary motivation on why I came back was I missed being in a college environment. It's very humbling for me to be able to come home. And that's how I describe it – I'm coming home. Chapman is where I discovered who I was and wasn't, was challenged in my identity, thoughts and beliefs.
What I was hired here to do is to primarily to work with students who have been underserved on this campus. Historically, we have several student populations who have had trouble navigating resources or struggled in trying to find their footing on Chapman's ground. I'm supporting the students who haven't always felt seen by the institution and I'm carving out spaces where they can be seen, heard and supported.
That's what my North Star is: If students feel seen, if students feel heard and if students feel supported, then they will be successful.
After the "Birth of a Nation" incident took place, I was disheartened that despite the continued growth of the university, stories coming out of the Black and African American community are still similar to stories that I was seeing 10 years ago as a student. And those were the stories students before me were seeing. I felt a moral obligation to come off the sidelines and pick up the work that I started as a student, now carrying it out as an administrator.
We live in a time now, where we offer great suggestions verbally – opinions and ideas on what people should do could do – but those words need to be met with action.
When you love a place and you see all the potential it has, you want to help expedite that potential and help grow it even further. I want to assist students who look like me, and students who come from minority backgrounds, in knowing that Chapman is a place for them and Chapman is a place where they can thrive.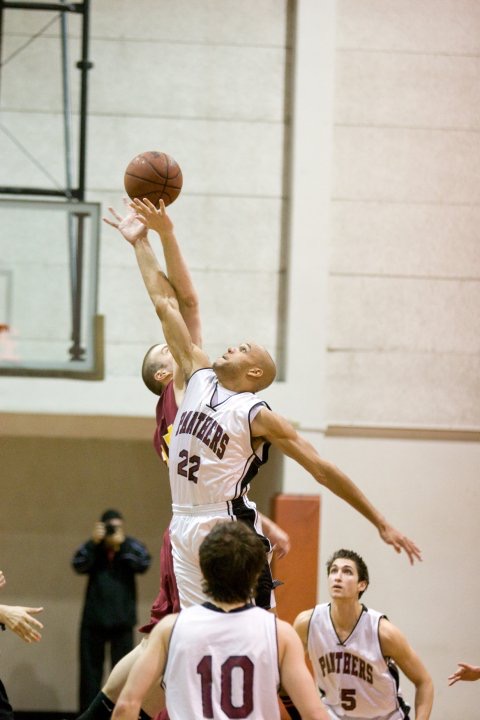 Q: What issues have your office been tasked with?
Right now, we're definitely evolving as we're moving. The task is learning and then representing student needs. That in mind, the biggest priority now is understanding what students are experiencing, what are students feeling? Why are they feeling that way, and then working with our campus partners to address these with solutions.
We'd been meeting with students, getting their feedback to bring to our campus partners saying: "Here's areas of improvement, here are your messages and here's what I'm hearing from students on ways that they feel there could be better support. Here's how we can address this."
Change takes time and I'm also aware of that. Also, explaining to our students that we're genuinely working on their needs and concerns, and that we are committed to their success, both in the classroom and outside of the classroom. We're connecting them to those resources they need, finding out what additional resources could help to make their experience more robust and fulfilling.
Q: How are you hoping to strengthen or build campus structures that serve student needs, foster safer spaces and a more inclusive community?
For me, my hope is to create a 360-degree support system so that as soon as students step foot on campus I can provide them with the resources for them to succeed in and out of the classroom.
My focus is specifically the Black and African American student population. I'm looking to establish a Black staff and faculty forum, similar to the LatinX and LGBTQIA staff and faculty forums. I want to get these individuals together in a room where we could come together and think about how we can support our students further. And, I'm also looking to establish a Black Alumni Association, in conjunction with our Alumni Association.
We need to assess existing resources to know if they can support changing demographics of incoming student classes. How can we provide more financial support, scholarships and grants for minority students? From our curriculum standpoint, for example, we're launching the Africana studies minor starting fall 2020, but how can we continue to diversify our curriculum, our administrators, staff, and faculty to be more of a visual representation of our campus?
I love when I hear students say 'It's nice to see an administrator who looks like me.' That makes a huge impact. It's different when you can know that there's someone who's working on your behalf, who looks like you. It sends a powerful message to students.
We will continue to change the landscape of Chapman, to make it a place where Chapman constantly feels more and more like home.
Q: What support do you require from institutional partners to better fulfill your role in supporting students in the Office of Student Community Support and Development?
That work is happening – it's crucial to know it was happening before I got here, and it will continue to happen while I'm here. I see my role as an additional layer to the support that Chapman already provides.
I'm very fortunate that I have been embraced by all aspects of the university. As soon as I stepped foot back on campus, people embraced me, the work that I am doing and looking to do. That has been tremendous fuel to my fire to keep moving forward.
That support comes to me from the Dean of Students, Jerry Price, the president's office, Erin Pullin, Director of Diversity and Inclusion and her entire team in the Office of the Provost, Chris Hutchison and Justin Koppelman in Student Engagement, Topper and Shishei in the Cross-Cultural Center, Dave Sundby and his team in Residence Life and First Year Experience, as well as my other colleagues in Student Affairs and various academic units. The partnerships are there, and we're strengthening these relationships.
What would you like students to know right now?
To the students: Yes, you may not see us physically, but we are still committed to your success. We're going even further now. We support you, we're here for you. I'm going to continue that message because they need to know more than ever, that we are here for them.
This is a trying time for all of us. We have to extend each other grace.