Looking for a romantic (and inexpensive) place to spend some time with your sweetie on Valentine's Day? The Hilbert Museum of California Art at Chapman University is offering just the experience: admission is free and the museum is showcasing a special exhibition of works from the Hilbert Collection: "A Fine Romance: Images of Love in Classic American Illustration."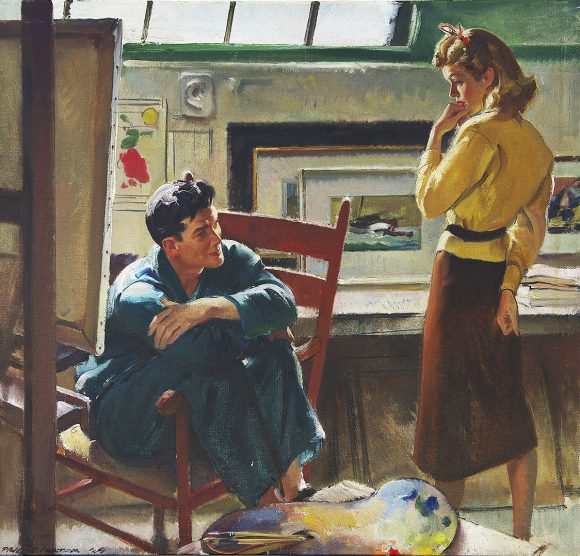 Love is in the air in this assemblage of amorous images, curated by Hilbert Museum director Mary Platt and drawn from The Hilbert Collection's impressive selection of classic 20th century American illustrations. Many of the works in the show were created to illustrate romantic fiction in the pages of popular periodicals of the 1940s to the 1960s, known as the golden age of magazine illustration.
During that era, a host of magazines aimed at the lucrative women's market provided readers with fiction, romantic advice, recipes, fashion news and, of course, ads for household and beauty products. Romance fiction of the period ranged widely from traditional happily-ever-after fables to more nuanced tales of feisty young women pursuing their own goals, but also finding fulfillment in their relationships with their beaus.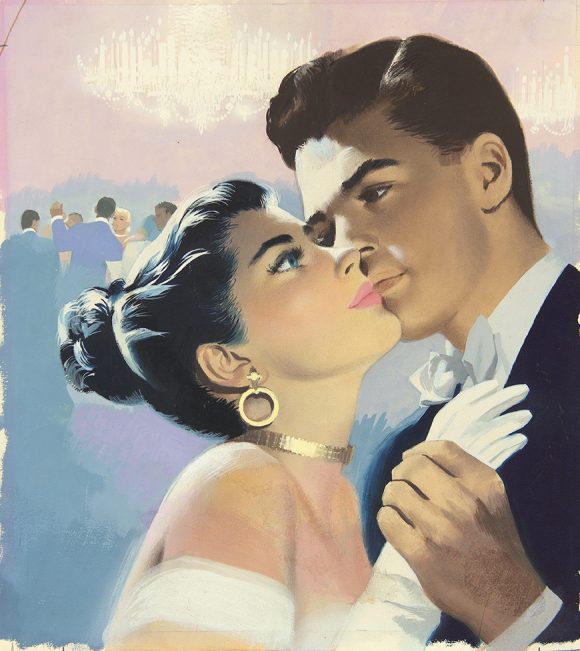 Ladies Home Journal, Redbook, McCall's, the Saturday Evening Post and many other publications, from mass-market periodicals to dime-store pulps, employed some of the top fiction writers and illustrators of the day to brighten up their pages with stories and images of smitten young lovers. Magazine advertising, too, enlisted themes of romantic passion to sell products.
Joe De Mers, Pruett Carter, Joseph Bowler, Gwen Fremlin and Jon Whitcomb are just some of the acclaimed illustrators in the Hilbert's exhibition who contributed their talents to bringing these ardent adventures to life for thousands of readers to enjoy.
"A Fine Romance" can be viewed at the Hilbert Museum through Mar. 7.
The Hilbert Museum of California Art at Chapman University is open Tuesdays through Saturdays, 11 a.m. to 5 p.m., and admission is always free. The museum is located several blocks west of the main Chapman campus, at 167 N. Atchison Street in Orange, adjacent to the Digital Media Arts building and the Partridge Dance Center and across the street from the train station and Ruby's Diner. Other current exhibitions at the Hilbert include "Los Angeles Area Scene Paintings," through May 2, and "The Magic and Flair of Disney's Mary Blair," through Mar. 7.
Display Image at Top/ Joe Demers, "Change at Milan"