On Nov. 15, a group of Chapman University students gathered in Beckman Hall to complete a rather unusual class assignment: handing out $3,000 in donations to local charitable organizations.
The class, IES 103, "The Philosophy of Helping," offers a unique opportunity to students as part of the Panther Experiential Philanthropy Project. The project, now in its second semester, charges students with the task of awarding monetary donations to charities in the local area.
"It's really a way to get students engaged with the local community around them," said Alisa Driscoll, who designed the project last year with support from Atallah College and Chapman's Community Relations office. "The students actually selected the nonprofits they wanted to work with. They went out and did a site visit, and then wrote a grant application."
Students presented their applications to the class, and then voted to decide which of the proposed organizations would receive a $1,000 donation.
"It's a learning-by-giving approach," said Driscoll. "We're really focused on meaningful community engagement, and building a pipeline of next-gen donors."
A Helping Hand for Local Charities
"Chapman has always been a proud and committed partner of nonprofit organizations in the City of Orange and beyond. We truly believe that when we invest in our surrounding community, we all benefit," said Driscoll.
Four local organizations were awarded donations totaling $3,000 (one class section chose to split the award between two charities).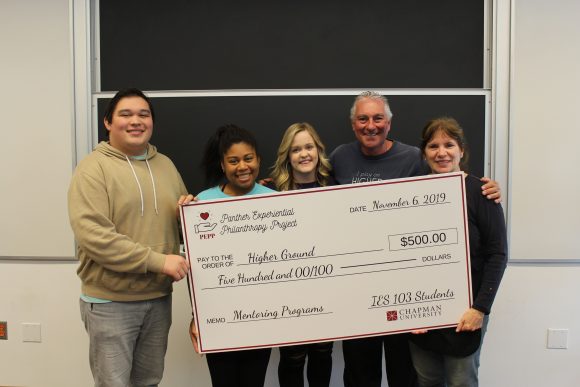 Representatives on hand to receive the checks expressed their great appreciation for the project, and for the awareness it brings of the work they do in the community. "This means so much to us," said Joe Baldo, founder of Higher Ground. "Yes, the money's great, but just to be recognized and say, 'that's really good work that you do'."
"You've probably walked past us 100 times and may or may not have known it," said Tristen Seagondollar, Director of Philanthropy at Casa Teresa. "Now you know where we are, right here in your community. So you'll keep us in your thoughts, you'll keep us in your prayers and we'll be able to keep going. This will be expanded to more than just $500. It will fill our moms up with love and continued support. Thank you so much."
A Charitable Act of Learning
Making the decision about which organizations to sponsor was not an easy process, as the students had to from among 15 local charities. "It was definitely hard," said Anne Elise Babel '23. "Every charity has unique needs, and they're all equally important in the community."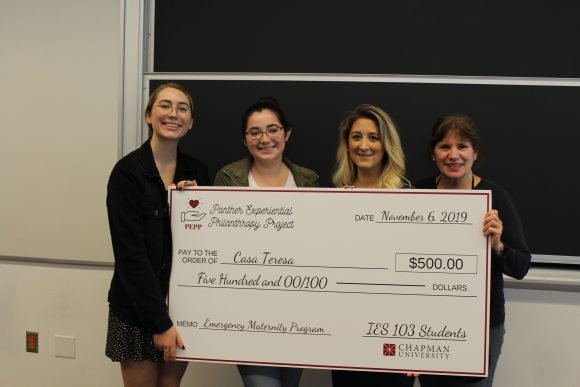 "We had to make a conscious effort to listen and understand who's going to benefit from this money," said Josh Sim Kovitz '22.
But the benefits of the experience will live with the participants for a long time to come. "It's more than simply volunteering," Benjamin Kieda '21 said. " I am helping people, but I won't see it directly. It gave me a sense of satisfaction."
"I want to say how proud I am that Attalah College is doing something like this," said Margaret Grogan, Dean of Atallah College. "This is exactly part of our value system, and to see the students taking it seriously, working with these projects and then coming back to advocate for grants … I just hope you go and continue that work wherever you're going to be after this wonderful experience."
Visit Donna Ford Attallah College of Educational Studies to learn more about the Integrated Educational Studies degree.
For more details about the Chapman PEPP program or the Office of Community Relations, contact Alisa Driscoll.