"Dear Betty, I saw something today that makes me realize why we're over here fighting this war." These were the first lines of a letter written by James Carol Jordan, a 23-year-old mustang pilot, to his wife on April 21, 1945, after the liberation of the Nazi concentration camp at Buchenwald during World War II.
It was this war letter that first captivated Andrew Carroll, best-selling author and founder of The Center for American War Letters at Chapman University, and sparked a lifelong passion for preserving and sharing the legacy of war letters.
"If there's a letter that started it all, that was it," says Carroll, a Presidential Fellow at Chapman.
After a devastating fire wiped out the Carroll family home and memorabilia, Carroll's cousin, James Carol Jordan, sent him one of his own war letters to make up for the loss. Carroll made plans to return the letter, but his cousin told him to keep it, admitting that he probably would have thrown it away.
"I start talking to other veterans and asking, what do you do with your letters?" says Carroll. "Just by word of mouth, I start getting dozens of letters and then hundreds of letters."
As the country unites to honor the 101st Veterans Day, Carroll shared the story of the Center for American War Letters—and his own story—with Chapman theatre professor John Benitz, through Stories From the OC, a StoryCorps app experience at FivePoint, Irvine.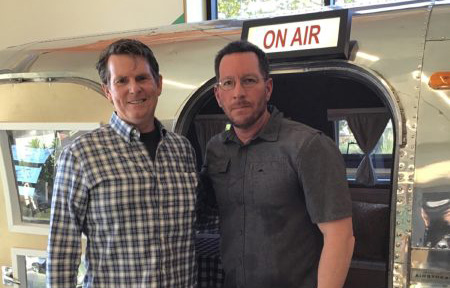 The Roots of a Legacy
Originally called The Legacy Project, Carroll's mission to preserve the past began in earnest in 1998 when Carroll penned his own letter to the syndicated advice columnist "Dear Abby" asking for readers to donate and send their family war letters. Just days later, Carroll got an angry call from the Post Office as letters flooded his tiny post office box.
I think what's so powerful about war letters is that they don't just show us what war looks like. They really help us get a sense of what war feels like.
"I think what's so powerful about war letters is that they don't just show us what war looks like. They really help us get a sense of what war feels like," says Carroll. "I think there's just something so riveting about the personal aspect of it. That's why as someone who didn't like history, they affected me because it wasn't like reading about this stuff in a history book."
In 2013, The Center for American War Letters was founded when Carroll donated the entire collection of The Legacy Project to Chapman University. The quest to collect and preserve war letters has led Carroll to all 50 states and 40 countries, including Iraq and Afghanistan.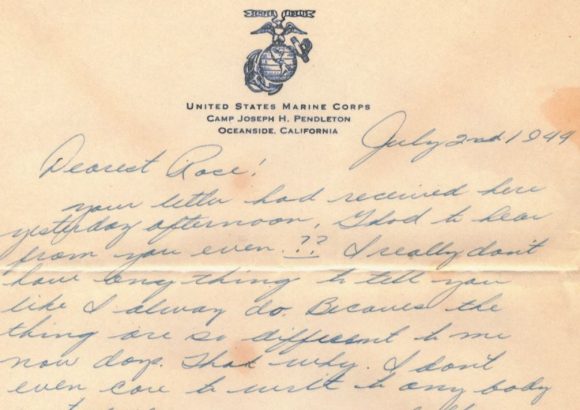 The Letters
29 years later, CAWL holds an estimated 100,000 war letters from every American conflict since the Revolutionary War—and the collection continues to grow. While the correspondence of soldiers is most common, the collection also is committed to preserving letters from spouses, family members and children.
"These letters don't just capture history—there's also a literary aspect to them, because they're just so powerfully and beautifully written," Carroll reflects. "Everything becomes more vivid when it's seen through the spectrum of warfare, because it's life and death. The love letters we receive are more intense, the philosophical letters more profound and so on."
Everything becomes more vivid when it's seen through the spectrum of warfare.
War letters in any form are welcomed, including email and even tape recordings. Veterans of Iraq and Afghanistan are often surprised that Carroll wants their emails.
"It turns out some of those emails are incredibly beautifully written and very poetic," says Carroll.
The center even holds claim to several letters written by famous Americans, including writer Kurt Vonnegut and a spy-turned-chef, Julia Child.
For Carroll, the best letters are not written by famous Americans. His favorites are by Wilson Price, an original Navajo Code Talker during World War II and a volunteer soldier in Korea and Vietnam.
The Impact
In 2007, Benitz approached Carroll with the idea to create a play based on Carroll's books, "War Letters" and "Behind the Lines." In 2012, "If All the Sky Were Paper," written by Carroll and directed by Benitz, premiered. The play highlights the experience of war on soldiers and families through excerpts from real war letters Carroll discovered.
The continued success of the play, as well as exhibitions and books featuring the letters, proves again and again the timelessness and significance of the war letters.
Now, CAWL is committed to preserving more letters than ever as the last veterans of World War II pass away.
"This project will always maintain that balance of remembering those who serve and how grateful we are for that, what they had to go through, but never glossing over the reality of what it's really like," says Carroll. "Don't glorify it."
To listen to the full interview, click below.
Open for recording now through December 31, Stories From the OC invites Chapman community members to share their stories. This app-based experience preserves stories digitally with the American Folklife Center of the Library of Congress.
If you would like to donate correspondence or other materials to the Center for American War Letters Archives, please fill out the form and bring them in or mail them to:
Attn: Andrew Harman
Archivist
Center for American War Letters Archives
Leatherby Libraries
Chapman University
One University Dr.
Orange, CA 92866
Display Image at Top: Photo by Dawn Bonker