Update: The deadline has been extended to Friday, Nov. 22. Keep those submissions coming!
A picture's worth a thousand words, the saying goes. But what happens when you have a picture and a few hundred words to play with?
Interesting stories, no doubt. Especially if those ingredients are put into the creative hands of Chapman University alumni, studentsm neighbors and friends. That's why Chapman Magazine is hosting something new and exciting – the Chapman Magazine and Hilbert Museum Flash Fiction Contest.
The essence of the contest is this – visit the Hilbert Museum of California Art at Chapman to view its three new exhibitions, choose an artwork for inspiration and let your imagination loose. (Plenty of specific contest details below.) But the main thing is to be open to whatever the experience sparks in you and surprise us with an original story that wouldn't have come into the world without this unique convergence of Chapman art and talent.
Chapman Magazine will publish the winners online and in its upcoming print winter issue and honor the winners at a reception this spring at the Hilbert Museum. Yes, a quick-turnaround. But it is flash fiction, after all. Have fun!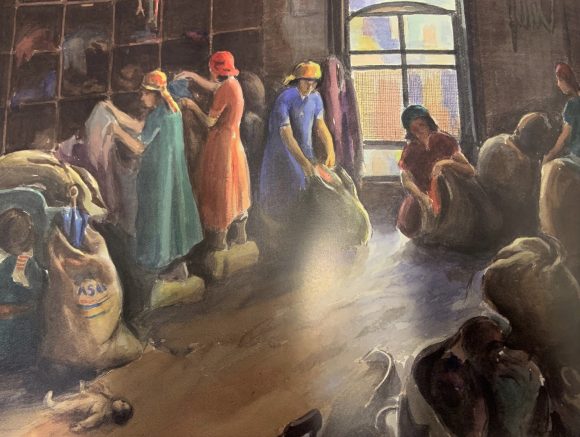 How to Enter
Visit the Hilbert Museum to draw inspiration from one or more of the exhibits included in the current shows: "Los Angeles Area Scene Paintings;" "A Fine Romance;" and "The Magic and Flair of Mary Blair." The art can be a major or minor player – a backdrop or just a whisper of an idea in your story. If distance precludes a personal visit, you can see some of the pieces on the exhibitions' promotional page, the few displayed in a companion story about the exhibition or even the ones displayed throughout this story.
Short fiction comes in many sizes and goes by many names, from flash and sudden to dribble and micro-story. For our purposes, we're looking for an original fiction piece anywhere from 150 to 500 words.
Email stories in standard short story format in a Word document to smc@chapman.edu by Friday, Nov. 22. Please make the subject line: Flash Fiction Contest. No formal cover letter is necessary. In the email text, include your name, city of residence and preferred contact information. (If you're a Chapman student or alumni, please add your major and class year.) Finally, include the name of the painting – or paintings – that inspired your submission.
Chapman Magazine acquires first rights for print and digital publication on accepted pieces. Each winner will receive five copies of Chapman Magazine.
For more information about the Hilbert exhibitions, please see Hilbert Museum at Chapman Spotlights New Los Angeles Area Scene Paintings.