Kamilah Evans '14 has seen the statistics — she knows that less than 6% of U.S. physicians identify as black. So she wants to inspire a new generation of doctors, especially those of color, by showing that a career in medicine is achievable for anyone with the grit and passion to succeed.
Evans shares her life, including her journey as a medical school student at New York City Medical School, with an audience of more than 12,000 Instagram and blog followers. Today (Oct. 14), she begins a Chapman Instagram takeover, bringing her unique voice to @chapmanufamily.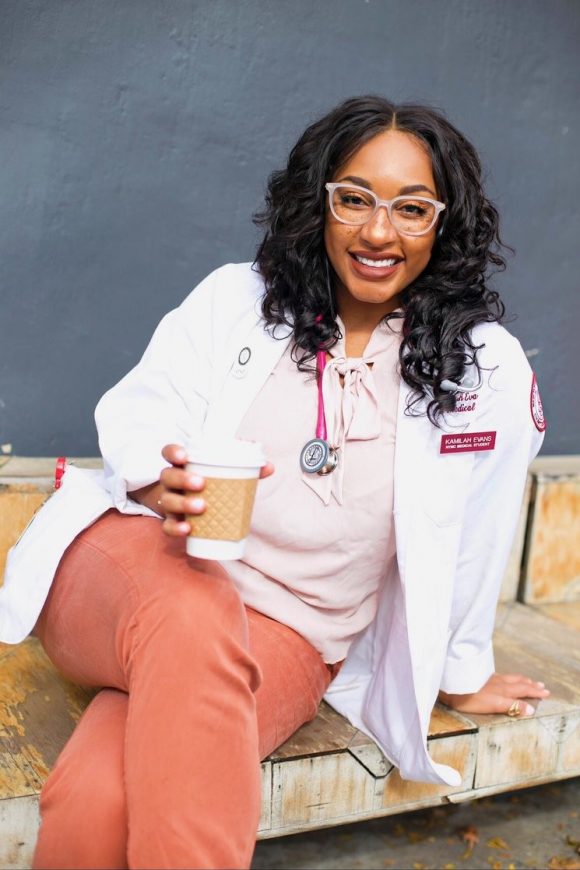 Her fame as a micro-influencer began with a simple hashtag. She saw a trending "fail forward" post encouraging others to add examples of failures that helped them succeed. So Evans started chronicling her own nontraditional post-grad journey, which includes multiple "fail forwards." Her blog and Instagram presence took off.
A year and a half later, she credits her social media success to her honesty.
"People hold these really high ideals for people in medicine: 'I could never be a doctor— they're perfect,'" Evans says. "I am so opposite of that. I am so normal and human."
Evans' life isn't all about medicine — she posts about friends, study habits, fashion and her experience as a young black woman.
"Because I've had all these really human experiences, they allow me to be the most amazing physician I can be," says Evans. "That's the really cool thing about medicine — it's human first."
Enduring Struggles

As the daughter of two doctors, Evans always thought she could be a doctor, too. When she was 10, her mother died from complications to surgery. "How can a doctor die from a surgery? The moment she passed I was already going to look into medicine."
While in high school, Evans had a second traumatic experience. Every summer, she and her brother would travel from their Houston home to visit their cousins in Los Angeles. "My parents are the only people in their families to make it out of the hood. My dad wanted us to know where we came from," Evans says.
One night Evans and her cousins were at a party when someone was shot. "No one cared," Evans says, "I was shaken to my core. We're running away and hiding. And I'm like 'what is this life?'"
As a senior in high school, Evans wanted to learn more about how she could make a difference so she decided to intern with the Amer-I-Can Foundation, an organization founded by Pro Football Hall-of-Famer Jim Brown that seeks to end gang-related violence.
Looking back, Evans knows that these past experiences were formative. "I know how to work with underserved communities. I know what their sisters and brothers are facing. I understand the backstory," Evans says. "I don't make people feel guilty — I don't put pressure on people."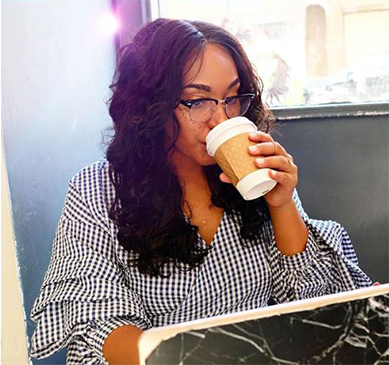 Finding Herself
At Chapman, Evans pursued a sociology degree and a pre-med track. In addition to dancing with the student group Toxique, she became the president of the Black Student Union (BSU) and worked with Chapman leadership to create programming that promoted diversity of thought.
"Kamilah was a phenomenal leader in her time as a student at Chapman," says Erin Pullin, director of diversity and inclusion at the University. "She was a natural community-builder, and I know the skills she developed here are going to be invaluable in her work now."
"At Chapman, I felt like I learned a lot of important skills, like adapting and committing to giving your all," Evans says.
An Untraditional Path
After graduation, Evans dived back into her work with the Amer-I-Can Foundation and put her sociology degree to practical use. At Chapman, Evans was honored by Chapman's Department of Sociology for her work and studies on prisons and gang culture.
"My love for medicine definitely came through my curiosity for social problems," says Evans.
An internship with CHOC Children's Hospital made Evans realize medicine was her calling, and she buckled down to prep for medical school.
After getting denied by every medical school bridge program she applied to, Evans was accepted by Charles R. Drew University of Medicine and Science in Los Angeles.
"People are very embarrassed to talk about taking a different path, especially if you didn't do well right away," Evans says. "By me being honest, people gravitate to that. I ask others in medicine, 'Why don't you talk about it?' 'It's too embarrassing.' To me it's not. I made these decisions for a reason."
Using Her Platform

Now, as a third-year medical student at New York City Medical School, Evans works to inspire others while sharing her life and her medical school journey.
"There are very few faces of people that look like me in medicine. People see my blog and tell me, 'I see it's possible; you're making me believe.' I get those messages every day," Evans reflects, "I don't take any for granted, I still screenshot every single one."
Upon graduation, Evans hopes to bridge her medical knowledge with her work in preventing gang-related violence. "How can I start incorporating justice in medicine? How do we help people feel safe coming to doctors?" She asks. "I definitely want to marry my passion for sociology and medicine, like I did at Chapman."
Evans' own experience has taught her that helping patients is not all about book smarts. "Some doctors can be the smartest, have the highest MCATs, make the dean's list, but they don't know how to heal because they don't know how to connect," Evans says.
In Evans' case, connecting is natural. Her experiences at Chapman and in her personal life give her the skills she needs to excel.
"The opportunity to explore my passions, collaborate with others and strengthen my weaknesses — this is what Chapman gave me."