Chapman University hasn't always called Old Towne Orange home. In fact, it wasn't until 1954 that the university, known then as Chapman College, made its historic move from Los Angeles to the city of Orange. By purchasing land and buildings from Orange Union High School, Chapman College was able to expand and become the university enjoyed by Chapman students today.
Leatherby Library host a special exhibit this semester of original blueprints from Orange Union High School.
Exhibit curators Annie Tang and John Encarnacion describe the exhibit, and Chapman's history, below.
---
The Work of Architectural Firm Allison & Allison
Allison & Allison was an architectural firm created by two Pennsylvania-based architects, brothers David Clark Allison and James Edward Allison. The Allison brothers began their firm in 1904 in Pittsburgh, Pennsylvania, and later relocated to Los Angeles, California in 1910. Before dissolving in 1942, Allison & Allison designed many structures throughout the Southern California region, mostly high schools, churches and government buildings.
Designed by Allison & Allison, these blueprints are of the Orange Union High School Auditorium. The design of the auditorium employs Classical Revival, an architectural style that uses classical elements found in Neoclassical architecture, but to a lesser degree. Both Classical Revival and Neoclassical architecture make use of proportion, symmetry and columns to replicate Greek and Roman architecture.
Orange Union High School Becomes a College Campus
Orange Union High School (now Orange High School) first opened with a temporary site on September 21, 1903, with 86 students enrolled in its first year and four areas of study: Classical, Literary, Scientific, and English. This temporary site, located on the Dobner Block on South Glassell Street, served the city until the construction for the permanent Orange Union High School building finished in the first week of July 1905. Orange Union High School opened its new and permanent location on September 4, 1905, with 110 students enrolled. Over the years the school expanded, having added three new buildings during the 1920s. One of those buildings was the auditorium, constructed in 1923.
In the 1950s, due to the growing student body and aging buildings, Orange Union High School's board of trustees developed a building proposal that would bring existing buildings up to code, create new buildings at the current site, and create a new campus at a new site. Construction for the new high school site, located near the northeast corner of Walnut Avenue and Shaffer Street, began in 1952. Although there were still several finishing touches to be made for the new campus in 1953, Orange Unified High School changed its name to Orange High School and set the moving day for May 15, 1953.
For the next two years, Orange High School still used the old high school's gym, athletic fields, and other facilities while construction was still being completed until 1955, as part of an agreement with Chapman College. Several buildings from Orange Union High School, still used by Chapman University today, were registered in the National Register of Historic Places in 1975.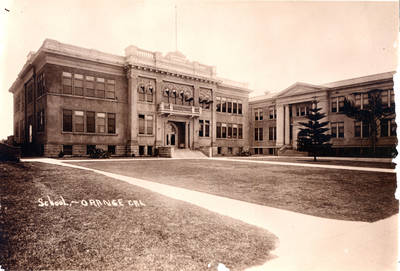 Chapman College: From Los Angeles to Orange
Before Chapman University, it was known as Chapman College. With an ancestry that traces back to Hesperian College in Woodland, California, Chapman College was a small Christian liberal arts school located in Los Angeles. Originally known as California Christian College, it was renamed Chapman College in 1934. In 1945, President George N. Reeves of Chapman College announced the need to move the college to a larger campus, which began the search for a new location. Although there were several sites in Los Angeles County that were considered, the city of Orange was selected for relocation.
With Orange Union High School's move to the new Orange High School site in 1953, Chapman College considered the old high school as a new location. In 1954, Chapman College bought Orange Union High School's campus grounds for $300,000 and moved to Orange from Los Angeles. The name Chapman College remained until the California Secretary of State certified the college as Chapman University in 1991. From Chapman College to Chapman University, several of the buildings from the old high school still remain, but have been updated and had their names changed, such as the Orange Union High School Auditorium (now Memorial Hall) and the original high school building (now Wilkinson Hall).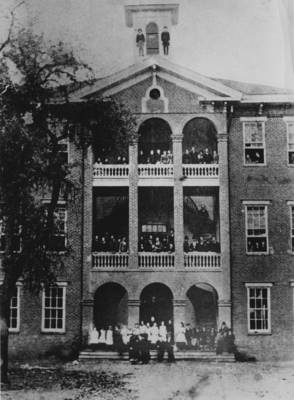 Display Image at Top/Students on the shady quad outside of Wilkinson Hall, Chapman College, Orange, California. This building was the first on the campus of Orange Union High School, designed by local architect, C.B. Bradshaw and constructed in 1905 by R. J. Noble. In 1921 it was moved 250 feet and turned 90 degrees to its current location. Acquired in 1954 by Chapman College, it houses the Provost's office, Academic Affairs, English & Comparative Literature, Graduate Studies, and the departments of Religion and Philosophy. It is listed in the National Registry for Historical Buildings.