Before she was an Emmy-winning television producer and executive, Brenda Brkusic Milinkovic '04 was a Chapman University student discovering her unique career path as so many Panthers do – with guidance and support in an environment that encourages creativity and big ideas.
Today Brkusic Milinkovic says that experience gave her the foundation to build a profound career. Indeed, she has earned 10 Emmys, four CINE Golden Eagle Awards, 12 Telly Awards, and three Golden Mike Awards. She's now director of programming and development at NBCUniversal.
Chapman University will honor those accomplishments during the Opening Night of Chapman Celebrates, Friday, Nov. 1, when it presents its 2019 Alumni Achievement Award to Brkusic Milinkovic.
To help mark that celebration, we asked the alumna to reflect on how a Chapman education helped her realize her dreams.
---
Path to Success Began at Chapman
What stood out to me about the film and television program at Chapman can be described in three words that shaped my student experience and set the tone for the rest of my career: accessibility, freedom and trust.
Accessibility was a common theme throughout my tenure at Chapman. During my prospective student tour, Professor Harry Cheney took the time to sit down and watch one of my high school editing reels. He was accessible. He gave me a personalized experience that told me I wouldn't just be a number at Chapman. He told me I would do well at Chapman.
Invaluable Industry Connections
The decision was easy from that point forward. Chapman granted me with the Dean's Scholarship, which made attending a prestigious private university accessible to me. During my senior year, I received the Marion Knott Scholarship, which afforded me the ability to work one-on-one with Academy Award winner David. S. Ward while I was completing my senior thesis film. This level of accessibility to industry professionals is something that young filmmakers dream of, and Chapman provided that opportunity to me.
Freedom and trust were also paramount to my success at Chapman. With every twist and turn in my academic development, I was met with the freedom to pursue my dreams and the trust to execute them. I wanted to study both television and dance. Chapman, understanding the need for artists to fully pursue and explore their art, said yes.
'Chapman Understood'
When it came time to take a required second semester of screenwriting, I instead suggested to my counselor that I take a documentary theory class. I knew that this would help me get closer to my personal goal of working in nonfiction television, during a time when the popular thing to do was to work in scripted fiction programming. Chapman understood my wishes and made this happen for me.
At that time, all senior thesis films were primarily executed as short narrative fiction films. I petitioned instead to go overseas to shoot my feature-length documentary about my father's life and the Croatian people's struggle for freedom.  My advisor, Joe Slowensky, saw my vision and determination, gave me the freedom to go forward, and entrusted me to do what not many students were doing at that time. This project became my calling card in the industry. It won many awards, was recognized by the U.S. Congress and the European Parliament, and landed me my job at PBS.
The great PBS documentarian Ken Burns once told me this, when I asked him why he decided to become a documentary filmmaker: "I am interested in listening to the voices of a true, honest, complicated past, unafraid of controversy and tragedy – but equally drawn to those stories and moments that suggest an abiding faith in the human spirit. There is more truth in what is and what was, than anything the human imagination can think of.
Inspired by Ken Burns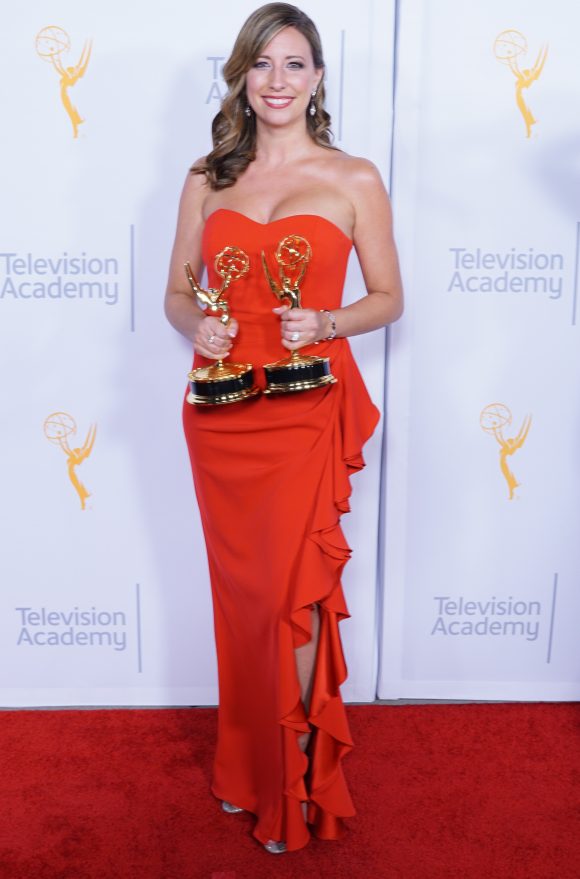 It was because of Chapman that I was able to meet Ken at a student event. His words resonated with me, and not too long after graduation I found myself working for a local PBS station as a producer of the nightly news and continuing my own work as a documentary filmmaker. I became the manager of a PBS TV channel developed in partnership with Chapman, and advanced onto my role as a senior director and executive producer of National Productions for PBS.
I spent 13 years at PBS, and much of my time there was modeled after my time at Chapman, where I was given the accessibility, freedom and trust to spearhead and launch new programs and divisions, and to lead the company into new territories.
Today I am grateful to be working with a wonderful team of people at NBCUniversal. I am blessed with supervisors who believe in me, who support work-life balance, and who champion my accomplishments both personal and professional. I am excited about not only what I bring to my new job, but also what I am learning from it every day.
Looking back, I am grateful Chapman supported my individual needs and provided me with a strong foundation that prepared me for the future.
And I am thrilled that Chapman remains committed to maintaining an even stronger film and television program for its students today.