For many people, the first few years after college graduation is a typical time to begin graduate school. But two Chapman University students are proving that an advanced degree is an achievement that needn't fit into a traditional schedule. Both the youngest and oldest students among the 2,000-plus receiving degrees during Commencement Weekend are doctoral candidates who benefited from innovative programs outside the typical graduate school mold.
Sooner … or Later
At 19, Kassidy Vo (Pharm.D. '19) will be this year's youngest graduating student when she receives her Pharm.D, thanks to a freshman early-entry program offered at the Chapman's School of Pharmacy. And Kenneth Shok (MS '89, DPT '19) will receive his Doctorate of Physical Therapy, which the career physical therapist earned through online and immersive weekend instruction.
While they are at different points in their careers, their motivations to enter graduate school are the same – to become better healthcare providers.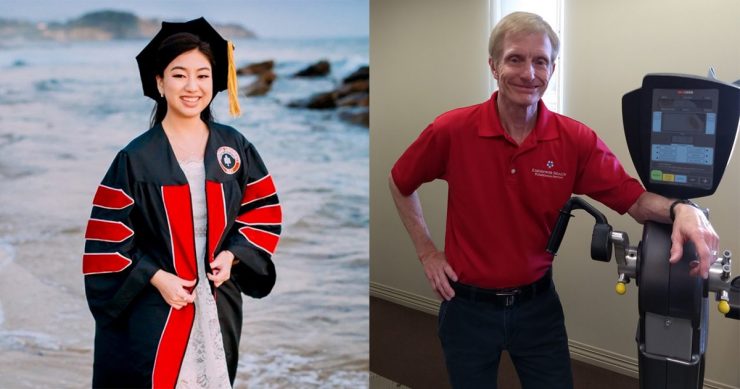 "I wanted to keep up in the field. We get students from many institutions for practical training, so I wanted to be current with what they're learning, since I'm mentoring them," says Shok, 64.
He works at Eisenhower Medical Center in Rancho Mirage, where his eclectic caseload ranges from stroke survivors to people recovering from spinal cord injury. For his doctorate, Shok studied adhesive capsulitis, more commonly known as "frozen shoulder," a condition that afflicts 5 to 6 percent of the population.
A Working Doctorate
He's particularly gratified that the work already has had practical impact. He used his research to design a treatment plan for a violinist whose music was silenced by shoulder pain and stiffness. Today, she's playing again.
After graduating from Pacific Coast High School, Vo entered Chapman's Pre-Pharmacy Freshman Early Assurance Program. Students in the 2+3 program spend two years completing prerequisites at the Orange campus and three years at the School of Pharmacy to earn their professional Pharm.D. degree. Vo is on track to becoming California's youngest pharmacist after she passes her board exams.
Vo chose Chapman, in part, to follow in the footsteps of her brother, Andrew Vo. But mostly she was eager to pursue her ambition of serving patients. Even if it meant a little needling, so to speak.
"Learning to give vaccinations was a really fun experience after the initial discomfort of giving up my arm as a practice target for another student," she says. "It's also a nice feeling knowing that I'm able to help protect people from, say, the flu, with something that only takes a few minutes."
Lifelong Learning
And both of the new doctoral students say they aren't done yet.
Vo, who was named to the Dean's List each term and graduates in the top 10 percent of her cohort, says she'll take her board exams and travel a bit before beginning work. She also expects to pursue another degree down the road, although she isn't certain what that might be. Shok studied music as an undergraduate and is thinking of returning to study that again or perhaps biblical studies.
"Lifelong learning should be everyone's goal," says Shok, whose son Kevin is a Fowler School of Law alumnus. "Whether it's picking up something new or enhancing what you already know, I think we should all be pursuing that throughout life."