"What are you majoring in?" For many, this anxiety-inducing question causes them to jump into a major or program right away.
Not at Chapman. Instead, professors encourage students to explore their passions and find ways to integrate their diverse interests into their course of study.
Below you'll meet several Chapman grads who've been able to do just that. Whether it's law and entertainment, or basketball and business, Chapman students have one thing in common: the ability to explore tirelessly.
Hannah Fozko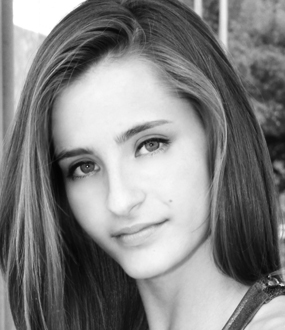 Hannah Fozko '19 always loved dance and fitness. It wasn't until she came to Chapman that she realized she could pursue both. Fozko reflects, "What originally drew me to Chapman was the dance department." Fozko laughs, "My dad had a hard time seeing dance as a major, and asked me what else I was interested in."  Fortunately for her dad, Fozko discovered Kinesiology, an area she hadn't even heard of in high school.  "Learning about the Kinesiology major opened my eyes as to how I can incorporate that into my dance to be more safe and smart. I put my passions into both areas."
As it turned out, Kinesiology and dance were the perfect pairing. While interning at an anatomy lab, Fozko was able to incorporate what she learned into her dancing. "It was cool to actually see the muscles I'm engaging and give that context my dancing, and be able to train more safely," Fozko says.
Double-majoring is often challenging, but Fozko's Chapman professors had her back, helping her juggle long labs with long rehearsals. "They really work with you. If I had an important dress rehearsal, I could attend a class with multiple lab sections. All my professors promoted my goal of expanding my education by double-majoring," She reflects.
Fozko wrote her senior Kinesiology thesis on ACL injuries in dancers, highlighting the differences between ACL injuries in dancers versus other athletes. "I looked at muscular imbalances, different mechanisms of injury, gender and how that plays a role. I was even able to interview two dance majors who both had ACL injuries and three reconstruction surgeries."
Now, Fozko plans to pursue a commercial dance career, and hopes to dance with a professional sports team.  "Being able to label yourself as a dancer and a trainer would be so unique. I hope to do both." Whatever her next step is, Fozko's talent and scientific knowledge will serve her well.
Reed Nakakihara
Balancing basketball and business is something Reed Nakakihara '19 does everyday. The Business and Accounting double-major is rarely off his feet. As Chapman's Point Guard, Nakakihara knows how to multi-task: "I'm honestly a better student because I'm an athlete. It's the point guard's job to keep everything that's happening on the court in mind at all times—all while trying to make things happen for your team. That mentality helps me when I'm balancing different projects or working in teams and helping everyone do their best."
This ability to balance comes in handy when pursuing multiple areas of study. "I decided to double major in Business Administration with no emphasis because I wanted to take a wide range of business classes so I could be well-rounded for the future and whatever job opportunities that would come up," says Nakakihara. He continues, "I like being able to see the financial aspect of things but also learn about the marketing and management aspect as well."
Nakakihara has been able to pursue all his interests in part because of his Chapman professors. "All of my professors have been very supportive and encouraging. They all genuinely want you to learn as much as possible since most of them have so much work experience that they want to share with all of us," Nakakihara says.
The coaches, too, have played a role in Nakakihara's success. "Academics always come first with them. They push us, but they're also flexible with practice times if someone has to come in late or leave early. They don't punish anyone for going to class or office hours."
Now, Nakakihara is gearing up for his first job as a Tax Consultant with Deloitte, one of the "Big 5 Accounting Firms." Nakakihara says, "Chapman's emphasis on collaboration lines up with what I've learned as a point guard: setting up others for success can be more valuable than taking the shot yourself. I used that mentality in my internship at Deloitte, and it seems to have paid off. They offered me a job, so I'll be working there after I graduate."
Alexa Dectis
Alexa Dectis is not one to shy away from a challenge. The soon-to-be grad has been pursuing a law degree while managing a personal health challenge–type 2 spinal muscular atrophy.
"I became interested in law because I knew that I'd never be able to exercise my body, so I decided to exercise my brain, and I thought that law would be a really exciting way to challenge myself," "I always knew I wanted to do entertainment law, and then I found out that Chapman had the Entertainment Law Emphasis Program, which drew me to the school," Dectis says.
Dectis knows a thing or two about the entertainment business. She began acting at the age of 5, and has appeared in numerous television shows, commercials, and movies, including, PBS Kids, Scholastic Books, "Sesame Street," and the movie "Admissions," starring Tina Fey. Dectis says matter-of-factly, "I turned down another season of Sesame Street because it was the weekend of my college orientation."
The former actress reflects, "Being a child actress, I always was interested in what went on on the other side of the camera, which is what drew me to talent agreements and the regulations for minors in the entertainment industry." Dectis' internship with the Discovery Channel and experience in the Chapman Entertainment Law Clinic has allowed her to dive into this topic.
In addition to her studies, Dectis independently manages her healthcare using a team of 16 student workers. In exchange for their help, she provides them with letters of recommendation for their graduate programs.
Her classmates have helped her, too. She continues, "When I go to a classroom, the chair is often pulled away from the desk before I'm even there," she continues, "I think it's been really wonderful to be surrounded by people who genuinely care about me."
After she graduates, Dectis plans to take the bar exam and work on talent agreements for a television network or production company.
There are still challenges, but Dectis is made of tough stuff. She reflects: "Law school is way harder than you can ever imagine, but if you put your mind to it and don't ever allow quitting to be an option, you can really get through anything. Anything imaginable, it's true."