The number of Americans at risk for heart attack and stroke is staggering. According to the American Heart Association, nearly half of all U.S. adults have high blood pressure, also known as hypertension.
That's an estimated 103 million people.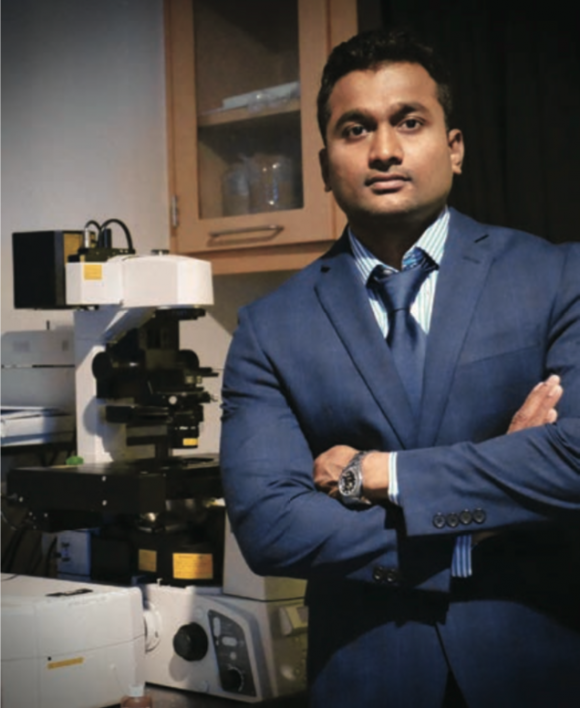 With cardiovascular diseases among the world's leading causes of death, the research of Rajasekharreddy Pala, Ph.D., takes on added importance. Pala, a postdoctoral fellow at the Chapman University School of Pharmacy (CUSP), is leading a research project that "could be one superior approach to curing hypertension," he says.
Supported by more than $1 million in funding from the Department of Defense and the National Institutes of Health, the project advances the use of nanoparticles to target specific organelles within cells. Included is a little known organelle called cilium.
"Scientists have begun to link cilium to many disorders," Pala says. "A ciliary dysfunction — commonly known as a ciliopathy — includes a long list of conditions like hypertension, cancer, Alzheimer's disease, blindness and other genetic disorders." Included in the list of ciliopathies is polycystic kidney disease.
Pala and his group designed a delivery system to target drugs specifically to dysfunctional cilia, allowing the drugs to work without affecting other organelles within the cells. This approach offers the potential for more effective treatments with fewer side effects.
"Due to our targeted delivery approach, there was no mortality or toxic symptoms," Pala says.
And that's not all. Since traditional treatments need higher amounts of drugs to be effective, this targeted technology could reduce patients' costs.
"This seminal study contributes to the dawn of a new age of nanomedicine, where progress in this complex area requires an interdisciplinary approach,"says Amir Ahsan,Ph.D.,an assistant professor of physics at Chapman who is also involved in the research project.
"Our studies provided scientific evidence that existing pharmacological agents could be personalized with advanced nanomaterials to treat ciliopathy without the need of generating new drugs." adds Surya Nauli, Ph.D., project participant and professor in Chapman's School of Pharmacy.
In 2018, Pala and his group presented this research during the Research Day at CUSP, where the team received support from colleagues, including CUSP Dean Ronald P. Jordan, RPh, FAPhA. "Chapman University's cutting-edge research facility definitely helped in our research," Pala says.
Up next for Pala and his group: presenting at the world's largest nanotechnology event, the Nanotech 2019 Conference and Expo in Boston in June.
"There will be many industry people at the event," Pala says. "We're looking forward to commercialization of our technology, or even a possible industrial collaboration — to bring our technology into the clinical trial level."
More information on Pala's research can be found in Nano Letters and ACS Nano, where this work has been published and featured.