'Sustainable Design'
Try to imagine a lovable city. What would it offer? What would make people want to move there, and what would make living there sustainable?
Those were the challenges tackled in the "Sustainable Design" travel course of Professor Eric Chimenti as class members embarked on a five-week journey,
starting in California and including on-site course work in London during summer 2018.
Since it launched in 2009, the course has offered students opportunities to collaborate with the engineering firm BuroHappold, founded in England but now with offices around the world. The goal is for the students to develop unique infrastructure design concepts that connect to real-world projects. In previous years, the projects have been linked to the London Olympics and a planned moon mission. The most recent objective was to "future-proof" the planned city of Neom, Saudi Arabia, an ambitious project along the Red Sea.
"The overall project was to come up with principles that leverage the past to inspire the future," Chimenti explained.
---
'Journey to Sicily'
What's the translation for "All Italian, all the time?"
Federico Pacchioni, Ph.D., and his students could certainly answer that question. Pacchioni, the Musco Endowed Chair in Italian Studies, teaches a three-week
Interterm course called "Journey to Sicily: Immersion in Taormina," during which students live with Italian families while doing intensive study in language and culture.
"My time in Taormina was unique and unforgettable," said student Amy Giraldo '19. "I got to be part of the Sicilian culture and, most importantly, learn from it and create valuable relationships with locals and other international students."
Students studied the natural and cultural history of the Ionian coast on trips to Catania, Aci Trezza, the Alcantara Valley and Mount Etna, an active stratovolcano. Deeper understanding of the region came via lectures and discussions with local experts about tourism's challenges and opportunities, using Taormina as a case study.
---
'The "Real" Westeros'
Northern Ireland's tumultuous history is probably not central to the popularity of HBO's "Game of Thrones." But for Honors students in the travel course "The 'Real' Westeros: 'Game of Thrones' and Northern Ireland," George R.R. Martin's series is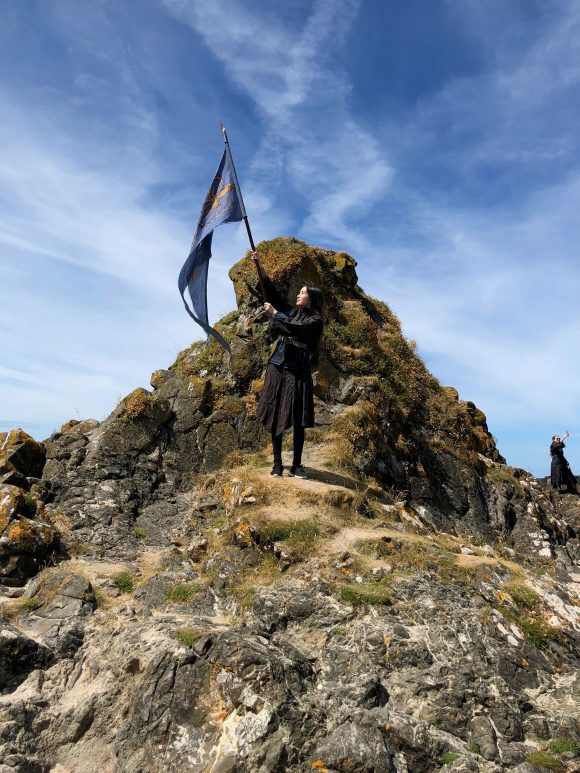 the basis for a study of how Irish history is used and distorted by tourism involving the show.
Last summer, students visited sites in Northern Ireland where "Game of Thrones" was filmed and that now are marketed to tourists who are fans of the series, which uses the sites to portray the fictional continent of Westeros.
Through readings, site visits and conversations with local residents – including those who worked on the show – students learned "how (Northern) Irish identity has been imaginatively rendered or obscured for specific political, historical and cultural purposes," Professor Justine K. Van Meter explains in her course syllabus.