Some organizations turn 50, rest on their golden laurels and just celebrate with applause and nostalgia. Not so Town & Gown at Chapman University. To mark its 50th anniversary, the support group challenged its members to raise $100,000 for the Town & Gown endowment, which supports Chapman through student scholarships, community engagement and campus enhancements. Then, in true T&G fashion, members outdid themselves, ultimately raising $590,000.
"It speaks to the fact that our members are extremely committed to providing support to the Chapman students, and they were very generous," says Nancy Fleeman '86, the group's president. That vital brand of generosity has been the organization's driving force since its founding. Over the years, T&G has typically awarded three to four scholarships each year, a number that will now increase, thanks to the newly enhanced endowment, Fleeman says.
"We're just happy to help," Elliott says. That's the quintessential T&G spirit.
In addition, the group's gifts support a variety of other projects and programs on campus, including the Fish Interfaith Center, the Town & Gown Reading Alcove in Leatherby Libraries, the "Milestones on the Road to Freedom" wall at Fowler School of Law, the gardens at Elliott Alumni House and the Gentle Spring Fountain in Escalette Plaza.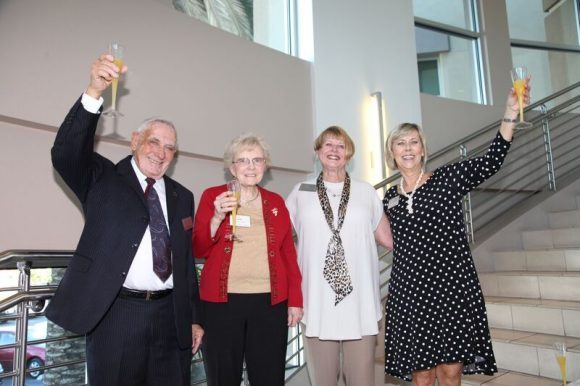 Connecting the community to University life is also part of the group's mission. Five times a year, members host a Lunch at the Forum luncheon and lecture, which features Chapman faculty discussing timely and important topics and research. For many community members, the luncheons serve as an introduction to the University in general, along with its numerous other cultural and scholarly events that are open to the public.
Brief remarks by scholarship recipients are also a luncheon highlight.
"Often they're the first member of their families to go to college; they come from single-parent families or have multiple siblings," Fleeman says. "They're grateful for all the help they can get. They often say, 'This means I don't have to take in another roommate, or take a second job or worry about how I'm going to get my books.'"
Even the floral centerpieces at the luncheons contribute to the group's mission. For many years, T&G members have personally created the centerpieces, and a lucky raffle winner at each table gets to take one home.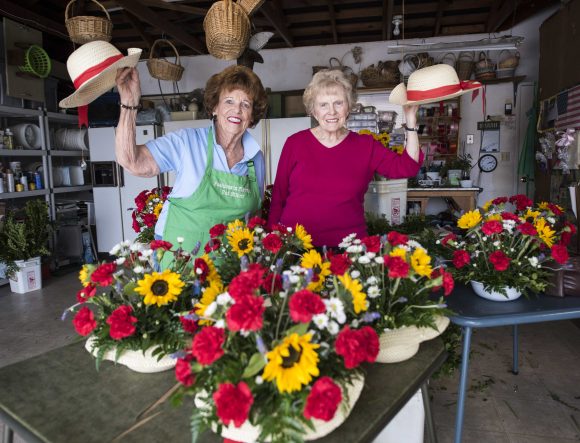 Today, members Marcia Cooley and Pat Elliott '60 (M.A. '74) manage the flower tradition. The day before each Lunch at the Forum, they and Tom Elliott '60 drive in the pre-dawn darkness to the Los Angeles Flower Market to purchase fresh flowers. Then they spend the afternoon creating the centerpieces before delivering them the next morning.
"We're just happy to help," Elliott says. That's the quintessential T&G spirit.
"I am very proud of this group," Fleeman says. "Our members are a lot of selfless people."