An orthopedic surgeon, a Cy Young Award- winning pitcher and the leader of a statewide collaborative for better schools are among the latest winners of Chapman University Distinguished Alumni Awards. Dr. Michael Pahl '99, Randy Jones '72 and Carl Cohn (M.A. '72) were recognized along with nine other renowned alumni Oct. 12 during the 2018 Chapman Family Homecoming Celebration.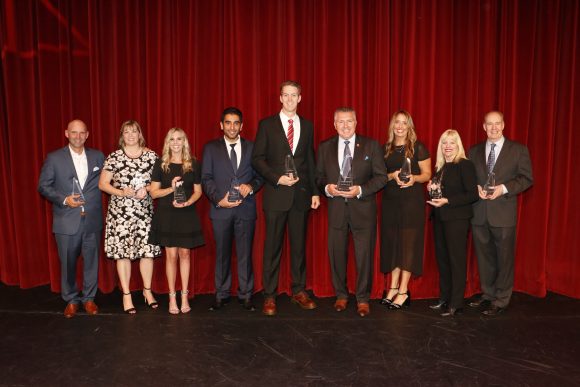 The awards honor career achievement and community impact, with the ceremony on Bert C. Williams Mall highlighting the annual Homecoming Celebration. Among the other immersive Homecoming events are the always- popular chili cook-off and a host of faculty master classes. For 2018, the celebration also inducted the Class of 1968 into the 50-Year Club, and it culminated with the Chapman football team sprinting to a 62-0 victory over Occidental College.
Another special event enhanced Homecoming this time. A Pop-Up Chapman Magazine brunch brought together members of the Chapman Family for news, features and fun in the spirit of the magazine's format. Among the page-turning moments: President Daniele Struppa delivered an in-person version of his "Message from the President," and Professor Christopher Bader offered insights from the latest Chapman University Survey of American Fears. Attendees could even pose for a Chapman Magazine cover shoot.