Convergence. That's the goal for the practice of science at Chapman University, and it's a goal the Keck Center for Science and Engineering helps to achieve. From inception, this space was meant to advance interdisciplinary study and accelerate progress on the scientific and societal problems that impact the world. Its design supports the transcendence of science-as-usual to solve unanswered questions.
Now those labs, workspaces and collaborative classrooms will be officially unveiled on Thursday, Oct. 11, at 5 p.m., in a public dedication and grand opening ceremony. The ceremony is open to the public and will be followed by an open house at the 140,000-square-foot building.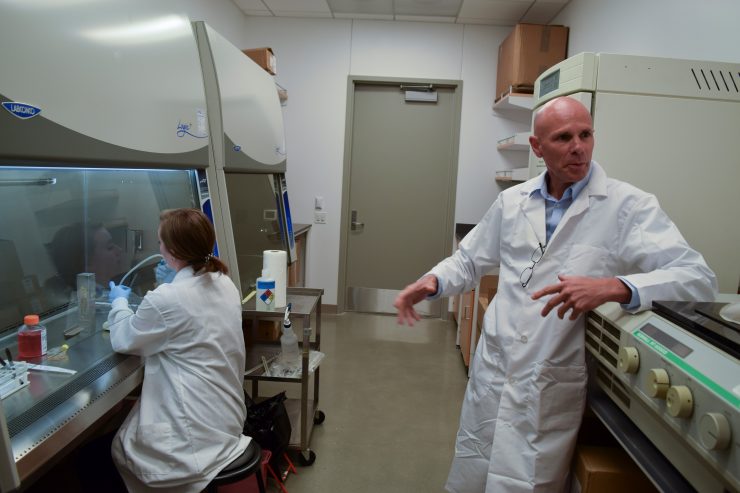 Experiential Learning
Keck Center is home to Schmid College of Science and Technology and will soon house Chapman University's forthcoming Dale E. '58 and Sarah Ann Fowler School of Engineering, opening in 2020. Chapman is interweaving experiential learning into the educational approach of Fowler School of Engineering. This will be guided by the project-based work already in place at Schmid College of Science and Technology. Schmid College's Grand Challenges Initiative, launched in fall 2017, immerses students in meaningful team-driven experiences from their first day on campus. This approach encourages growth and critical thinking in a way that meshes with future curricula. Students are able to build partnerships that bridge disciplines as they find purposes for their passions.
At heart, engineers are builders. Another key part of engineering is to work with a diverse array of specialists. Participants embrace the collaborative experience, and at Chapman, some of our most innovative research involves experts from across both the arts and sciences. Now, by adding Fowler School of Engineering to the equation, Chapman can better support students' drive to innovate and invent throughout their time at Chapman and throughout their careers.
What's more, this experiential approach features a deliberate and unrelenting focus on partnerships with industry. For example, students work on real problems with real data. The goal is to eliminate all barriers between academic and professional cultures. In such an interlocking culture, companies identify and recruit new talent before the students become free agents on the job market. Faculty members forge collaborations with their industry counterparts to develop new research agendas. And all parties widen their perspectives by taking on specialized tasks with teammates who bring to the projects a diverse array of skills and talents.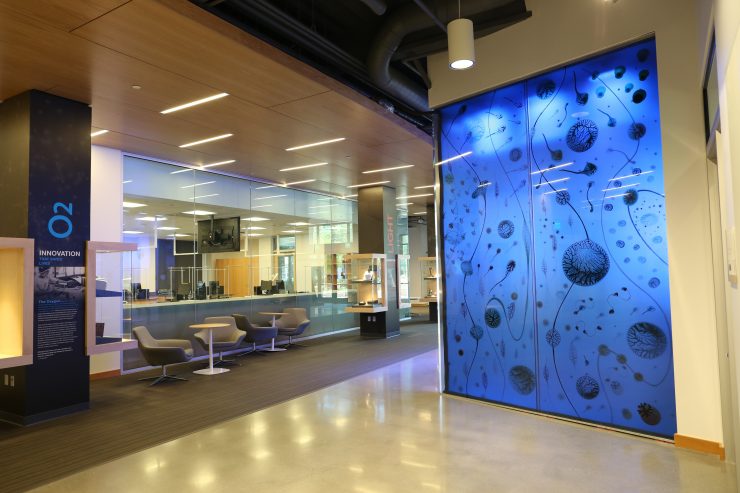 Industry Partners
These types of partnerships already shape the educational landscape at Chapman. Students in computer science and data analytics are working with data scientists at CoreLogic on a series of challenges, exploring machine learning with large volumes of real estate data. Students in the Machine Learning and Assistive Technology (MLAT) Lab have teamed with Experian Consumer Services to apply predictive analytics to market analysis and credit scoring. Companies are hiring our students based on this type of collaboration. And this is only the beginning.
"We're building something special here at Chapman," says President Daniele C. Struppa. "We're blending calculation with creativity, experiential learning with industry partnerships, grand challenges with a growing culture of achievement. As we push our boundaries further with the Fowler School of Engineering, we reaffirm our commitment to the things we already do well, even as we embrace new opportunities and the change that will come with them."