Chapman University's Class of 2022 arrived on campus this week, toting not just dorm gear and abundant enthusiasm for the adventure ahead but a variety of backgrounds, viewpoints and an already-impressive resume of accomplishments.
"You are part of an amazing first-year class," Provost Glenn Pfeiffer, Ph.D., said in his welcoming remarks delivered at Tuesday's Opening Convocation. "Among the Class of 2022 are hospital interns, award-winning essayists, athletes, poets, musicians, student government officers, a surf club captain and founders of new leadership organizations. You come to us from 45 states and 62 different countries. Your combined GPA is 3.8 and you were selected from over 14,000 applicants."
After a busy move-in day, the class of more than 1,600 undergraduates was officially welcomed into the fold at the traditional evening gathering in Ernie Chapman Stadium. Among the opening remarks were words of advice from Mitchell Rosenberg '19, president of the Student Government Association.
"Be a joiner. Take part in all the incredible things this University has to offer because you never know where it might lead. Be brave, be positive," Rosenberg said.
Faculty and the entire Chapman community will be partners in that journey, Pfeiffer said.
"You are now in charge of your future, but you will not be facing it alone. You'll discover that Chapman is a place of community, collaboration and engagement," he said. "The many people who work here at Chapman and the many alumni who have preceded you are eager to give you every opportunity and encouragement along the way. I can't wait to see what you accomplish."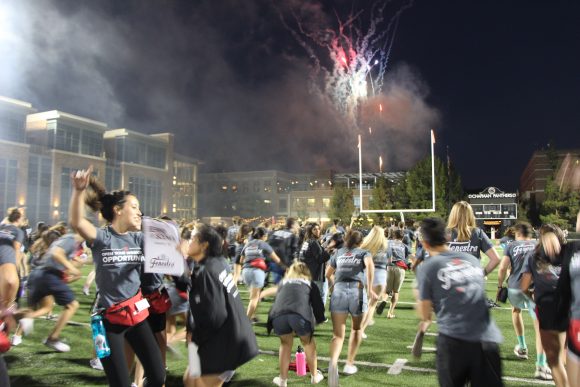 The ceremony closed with fireworks, after which the new arrivals launched into a week of orientation activities before classes began Monday, Aug. 27. Catch up with highlights and photos on the Chapman University Facebook page.
The event also featured the annual Aims of Education lecture, given this year by Professor Amir Raz, Ph.D., director of the Institute for Interdisciplinary Brain and Behavioral Sciences. A transcript of the lecture will be available on the Aims of Education web page.
Display image at top/Families and friends fill the stands while new students await the beginning of Opening Convocation.