Fifty years have gone by, but the memories of a 3-2 count or a hanging slider haven't faded. Hitter by hitter, pitch by pitch, players from the 1968 baseball team that won the first national championship in the history of a school then known as Chapman College recounted their triumphs at an April gathering at Tijeras Creek Golf Club in Rancho Santa Margarita.
The old stories and the laughter flowed. "I heard from the course superintendent," Ed Peck, an assistant coach on the 1968 team, teased the group. "He'd like to thank you Chapman golfers. He doesn't have to fertilize the course for the next few months."
A story-filled dinner was the highlight of the gathering of Chapman players from the era, along with family members and even fans: Bill Parker '52 and his wife, Barbara Parker '63, cheered the team half a century ago.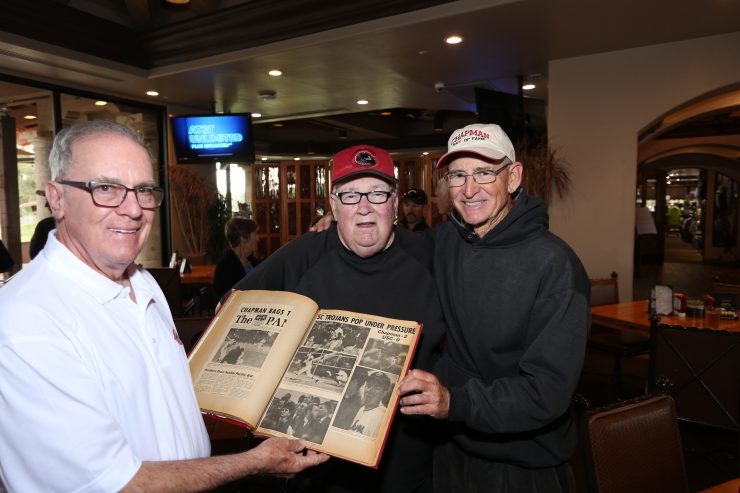 It was an evening of warmth and camaraderie, but it was also bittersweet. The day before, family and close friends said farewell to the team's catcher, Gerry Kammel, in a committal at sea.
"I had called Gerry one day and he said, 'You know, we're not having a 50th. We had a 40th," said first baseman Steve Robertson. "His funeral turned out to be our 50th reunion."
Kammel's son Casey mingled and laughed with his father's friends, celebrating a team that was inducted together into the Chapman Athletics Hall of Fame in 2008.
"I grew up with the stories," Casey Kammel said.
The boys of '68 have had their blows lately. Kammel was the third member of the team to pass away in the past two years, along with John Young and John Baker. Young founded Major League Baseball's Reviving Baseball in Inner Cities (RBI) program, aimed at increasing participation among African American youth.
Six players from the team that won the title in the NCAA College Division – now Division II – were at the dinner: second baseman Mark Carlson, feeling great after a heart bypass last fall; infielder David Ristig, who later became Chapman's head baseball coach; Robertson, the first baseman; pitcher Dean Smith; home-run hitting right fielder Dennis Veltz, keeper of the team scrapbook; and shortstop Bob Zamora, winner of more than 700 games as baseball coach at Capistrano Valley High School, where he recently won his seventh CIF championship.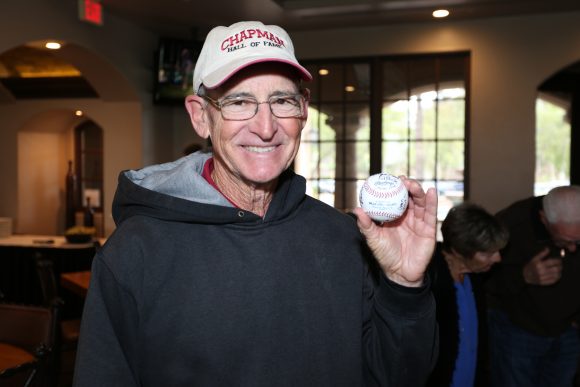 "He's a legend in Orange County baseball," Carlson said.
Together they remembered the path to a title: an 11-8 come-from-behind win over Long Island University in the first game of the 1968 national tournament; a 3-0 shutout of Delta State in the second game, keyed by Bill Holt's 16 strikeouts and a three-run homer by Veltz – "hanging slider, like I said, my favorite pitch" – and a two-hit gem thrown by Rick McHale against Delta State for an 11-0 victory in the final game.
"Mark, did Gerry Kammel catch all three games?" Zamora called out. "Yes, he did," Carlson answered.
The players also recalled a 2-0 victory over USC that season on a one-hitter by right-handed ace Don Richards and a two-run homer by Veltz. The Panthers split two games with the Trojans and couldn't help thinking they'd have liked their chances in a postseason game against the powerhouse team, which went on to win the 1968 championship in the University Division, now Division I.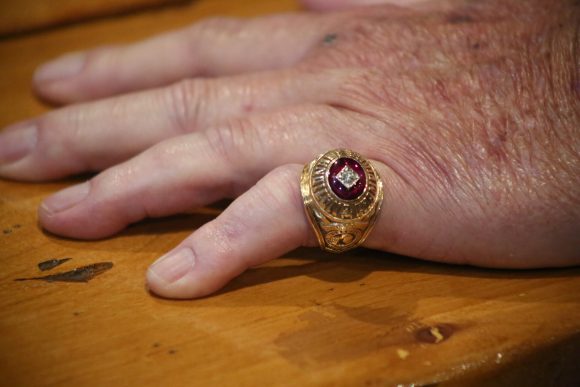 Late in the dinner, a cell phone rang, and one more voice from the old days filled the room by speakerphone. Coach Paul Deese, who lives in Texas but had planned to drive in from a visit to Palm Springs for the occasion, called with his regrets.
"I wish I was there to congratulate everybody on the 50th anniversary, and the fact that you all are still around," Deese told the group to laughter, before recalling the feats of McHale and centerfielder Tony Spano, the team catalyst and Most Valuable Player of the playoffs.
"He made it all happen," Deese said.
Passing the phone around, players spoke to their coach. Ristig thanked him for taking him back after he temporarily left the team, and for helping him "break the ice" with the woman who became his wife. Others called out, "Hang in there, Paul," and "We love you Paul."
"We all know you're not in good health," Carlson said. "Our prayers are with you. We all hope we see you one more time."
Mark the calendar for 2028. Or why not do it all again next year?
Display image at top/Camaraderie and a little clowning were part of the 1968 team's chemistry.
This story appeared in the spring 2018 issue of Chapman Magazine.