As one enters the Lionsgate Entertainment headquarters in Santa Monica to a room full of upbeat music, camera shutters from photo booth pictures, laughter and lively conversations from nearly 500 people, one may be skeptical and start to wonder, "Is this really a networking event?"
That was the stage set on Thursday, April 12, for the Sixth Annual Alumni Entertainment Industry (AEI) Mixer. Sponsored by all 10 Chapman University schools and colleges and coordinated by Career and Professional Development, this night has grown to be the university's largest and most anticipated alumni career event of the year. Giving the Chapman Family an opportunity to build relationships and connect through shared interests, the mixer creates an atmosphere of mutual support for those in the competitive field of entertainment.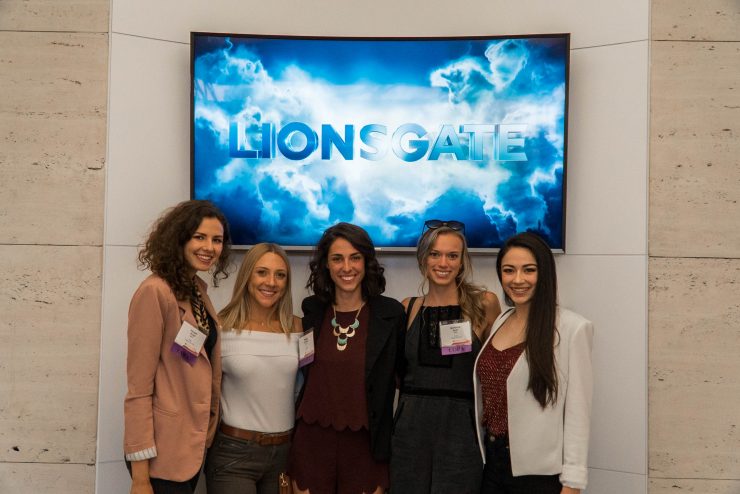 "After college, there's a lot of places out in the world and you kind of feel lost at times, so it's really good to have a home base to come back to," said Caitlin Leong, B.A. English '11, who currently works as an assistant technical director in Los Angeles.
The unity formed by graduating from the same University also provides reassurance and alleviates the anxiety and pressure that is commonly associated with a typical industry meet-and-greet event, according to Frank Onorati, B.A. psychology '13.
"Coming here and being in a more accepting environment is helpful because I'm not particularly good at networking, but Chapman people are super nice and there are a lot of people who are here that will just jump up and talk to you," he said. "That makes me a lot more comfortable in these types of situations which will lead to better networking in the future."
This was Onorati's second AEI Mixer. He was present at last year's festivities and is now back with a "Think Chapman First" mentality in his new role developing reality and scripted television content.
"Attending [the AEI Mixer] this time around, I am now in a position where I can take on creative projects for people in this industry, and I want to meet people tonight that has ideas and want to pitch it to the industry," Onorati said. He notes that Chapman graduates are among the best in the business.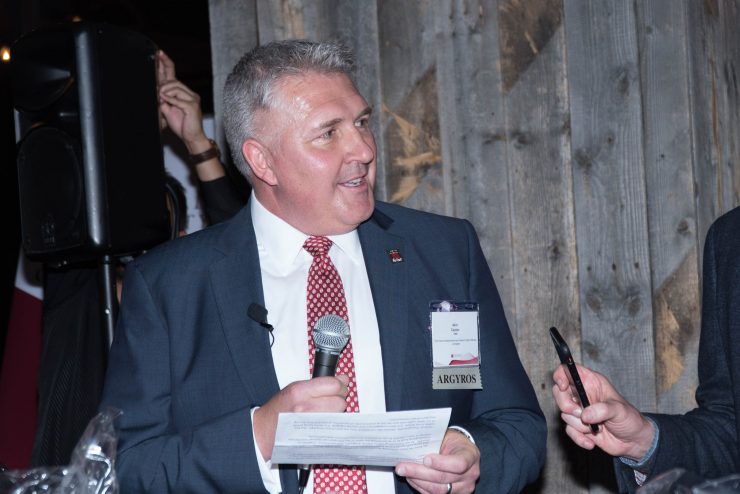 This overall feeling of comradery and Panther Pride was further evident through host Akin Ceylan's '90 address to fellow alumni. The Alumni Association Board of Directors president and Lionsgate COO of Home Entertainment and Global Content Delivery  opened by initiating a celebratory cheer. "Let me hear it, Chapman Family!," he said as everyone let out a collective shout.
He continued by emphasizing the importance of the alumni network.
"It is about engagement and staying engaged.  It is about being proud of our alma mater and who we are as a community of successful, productive and thriving members of [the entertainment industry]," Ceylan said.
As the night progressed and more and more Panthers continued to pack the room in,  the diversity and interdisciplinary nature of the entertainment industry became increasingly evident with a glance at each attendee's nametag. The representation from each of Chapman's 10 schools and colleges within the crowd illustrated that the entertainment industry is not just actors and directors, and that there is a variety of pathways that one can take after graduation to succeed in this field. From intellectual property lawyers to social media managers, virtual reality coders to topic consultants, operation experts to market researchers, Chapman graduates are making waves all throughout this industry.
"The interdisciplinary education that Chapman students receive develops into unique cross-functional networking within their industries as alumni," commented Haley Wragg '15, assistant director of career marketing and engagement and one of the lead organizers of the mixer.
And if you're questioning, "How in the world can there be a correlation between pharmacy and entertainment?" Ani Haroutunyan '18, who is part of the School of Pharmacy's first graduating class of Pharm.D. students, explained that there are opportunities for pharmacists to serve as experts for accuracy in film's portrayal of health and science content, especially in the niche of entertainment education.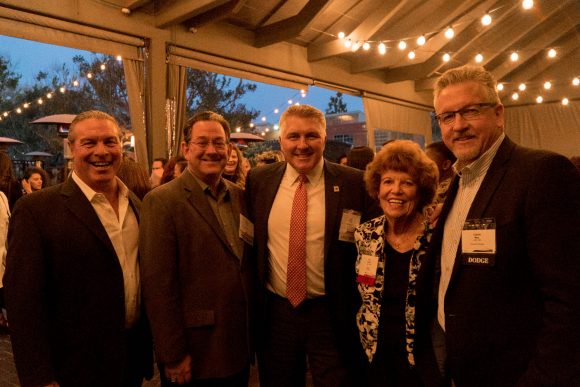 Outside of the alumni in attendance, the overwhelming support of the Chapman community was extended by the presence of students, staff, industry partners, faculty, members of the Board of Trustees, university leadership, current Alumni Association Board of Directors members and past Alumni Association Board of Directors presidents, including Carl Hill '78 (president 1999-2001), Shawn Smith '81 (president 1992-93), Akin Ceylan '90 (president 2016 – current), Pat Elliot '60 (M.A. '74) (president 1987-89), Charles Moe '82 (president 1990-91).
With this event bringing everyone together, Jo Bandy, executive director of career and professional development, described the overall ambiance of the night as a "quiet roar." Hundreds of intimate interactions are happening at once as people are building on their Chapman career connections for life.
Here are some more photos from the event below and on the Career and Professional Development Facebook page: