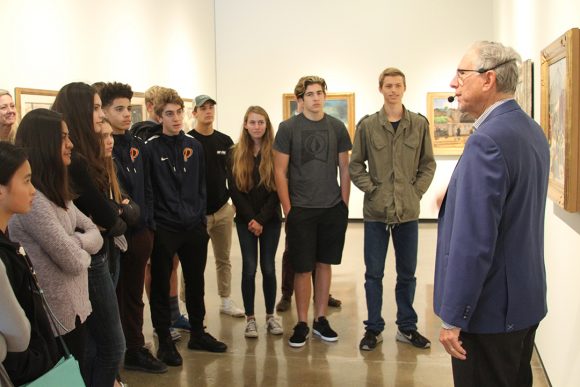 The Hilbert Museum of California Art at Chapman University has won a coveted "PEOPLE LOVE US ON YELP" Award for its popularity and high ranking on the visitor-ratings website and its attention to visitor services. The Hilbert Museum is currently the only Orange County art museum with a perfect 5-star rating on Yelp.  Since its opening in February 2016, the Hilbert Museum has attracted more than 23,000 visitors.
"All of us at the Hilbert Museum are so grateful for our guests' amazing support on Yelp and for their personal feedback here at the Museum, which helps us to know what they like and how we can fine-tune our upcoming exhibitions and services," said Mary Platt, director of the Hilbert Museum. "Our founders, Mark and Janet Hilbert, want this to be a museum that everyone, of any age, can enjoy.  We're delighted to provide a world-class art experience with free admission to the public and our good neighbors here in Orange, as well as to our Chapman students and the university community."
Celebrate at the Hilbert Museum
The Yelp Award will debut at the Hilbert Museum's second anniversary celebration, on Tuesday, Feb. 27, when free birthday cake will be offered to museum visitors all day (during open hours, 11 a.m. to 5 p.m).
Platt said that listening to public feedback has helped the Hilbert Museum to understand what its visitors like, and has caused changes such as adding a "welcome wall" that explains the main styles of California art, adding more free parking in a nearby university parking structure, and encouraging visitors to take photos inside the museum and post their pictures and comments on social media.
And bring the smart phone
"When the museum first opened, there was a no-photography policy," Platt noted. "But that's old-school thinking that just doesn't work in a digital age when everyone has a phone camera and is excited to post their cultural experiences. We heard what our patrons were saying, saw that many other museums – including some of the top art museums in the world: the Getty, the Metropolitan Museum of Art, the National Gallery — were allowing photography, and changed our policy right away. Now we invite and encourage visitors to take photos. Dropping this barrier to guest enjoyment was a big win-win for everyone – people love posting and talking about their favorite images, and the museum reaps the free publicity of having commentary and photos shared."
The Hilbert Museum focuses on the California Scene painting movement of the mid-20th century, along with American illustration, animation and movie production art and contemporary California representational painters
Among the many prominent organizations that have recently held or participated in events and special tours at the Hilbert Museum are Pacific Symphony, Cal State Fullerton, Orange County School of the Arts, the City of Orange, Atria Senior Centers, Santiago Canyon College, Orange Barrio Historical Society, Old Towne Preservation Association, the California Art Club, PEO International, Orange County Department of Education, Preserve OC, the National Watercolor Society, the Orange Chamber of Commerce, Kiwanis Club of Santa Ana, Friendly Center, Fullerton College, Orange County Assistance League and many more.
More accolades for the Hilbert
The Yelp Award adds to the Hilbert Museum's cache of other recent awards, including the national Marcomm Platinum Award for total public relations program, and the PROTOS Award of Excellence from the Orange County chapter of the Public Relations Society of America for total non-profit PR program.
The Hilbert Museum of California Art at Chapman University is located at 167 N. Atchison St. in Orange. Museum hours are Tuesday-Saturday, 11 a.m. to 5 p.m. Admission is free, and there is free parking (with permit obtained inside museum) in front of the building. More information: 714-516-5880 or www.hilbertmuseum.org.