By Jan. 1, 2018, Chapman University alumna and Radio City Rockette Natalie Reid '08 will have performed in 17 shows over eight weeks, used up several tubes of candy-colored lipstick and executed countless perfect leg kicks.
Such a pace would sink most dancers. But to Reid it's part of the privilege of performing in the Radio City Music Hall Christmas Spectacular, a show that is a beloved holiday tradition for so many.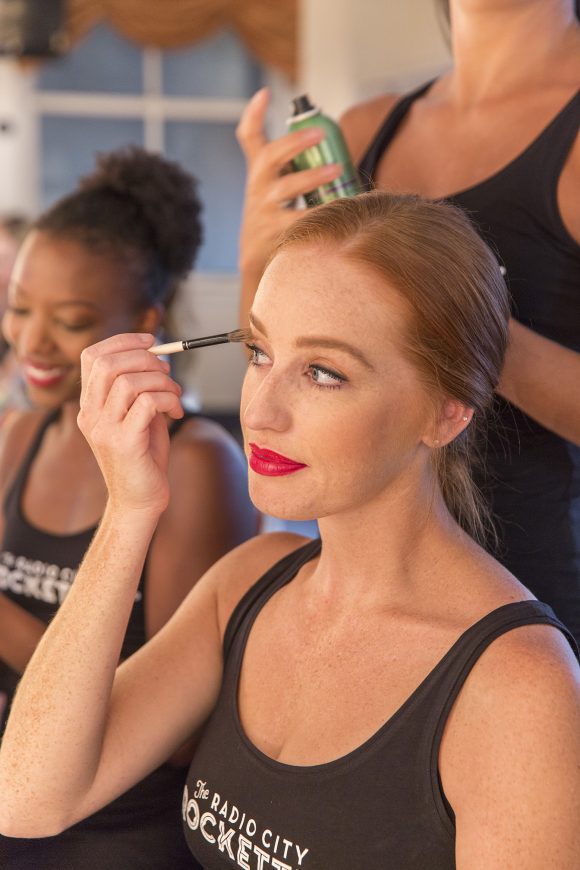 "It's a dream come true to be part of such an iconic and classic production. Really, to be able to do that in New York City, there's nothing like it," Reid says.
She should know. This is Reid's seventh holiday season as a member of the Radio City Rockettes, whose holiday shows and spectacular kick lines have wowed audiences since 1933. And she has fellow alumni for company this year. New to the show is Chris Babcock '14, who performs in several of the show's ensembles.
Both attribute their success in the entertainment arts to their Chapman training. Reid credits Department of Dance faculty for her success, as well as Chapman's location, which allowed her to travel to Los Angeles occasionally for special training programs.
Reid learned of Chapman from family members – Bob Reid '59 and Nancy Reid '62 are her aunt and uncle. But it was Chapman's flexibility that won her over. While she performed in student dance productions and American Celebration – now called Chapman Celebrates – she graduated with a degree in public relations and advertising from the University's Dodge College of Film and Media Arts.
"I had a wonderful time. I loved combining the different creative arts from dance to marketing. I felt like it was a clear path," she says.
In the off-season, when she isn't training for half marathons, Reid has been a digital marketing intern with Madison Square Garden, which owns the Rockette franchise.
"I went from the stage to behind the scenes, helping create some of the content. That was really fun," she says.
Still, the performing is unparalleled, and she is ever aware of the legacy of women behind the tradition. Especially when it comes time for the famous "Parade of the Wooden Soldiers," a number characterized by the domino-like tumble the dancers perform with nary a wobble of their feathered soldier hats.
"It's a completely different way to move. It's definitely very challenging to learn, but once a line or cast gets the movement, it's just so magical every time," she says. "It's the same choreography, the same costume. Every single Rockette has done it since 1933, and it's just so exhilarating when you first start to learn it in rehearsal, because you know how important it is."
Display image at top/Natalie Reid '08, in green standing at center. (Photo courtesy of Madison Square Garden)