Nearly 30 students presented their research at the 27th Annual Student Research Conference on Saturday, which returned to the Chapman campus for the first time in many years.
Both oral and poster presentations were made by undergraduate, graduate and Ph.D. students from universities across the region including UC Irvine, UC San Diego, USC, California State University Los Angeles, Biola and Cal Poly Pomona.
For many, it was their first time presenting at a conference.
"I've never presented before, but this is a good way to get started," said Chapman senior biological sciences major Emily Hanna. "This is the best conference I could have come to because I would have been more nervous if it were somewhere else."
Sponsored by the Orange County Sigma Chapter of Graduate Women in Science and Technology (WIST), the event was organized by Virginia Carson, Ph.D., emeritus professor of biological sciences in the Schmid College of Science and Technology.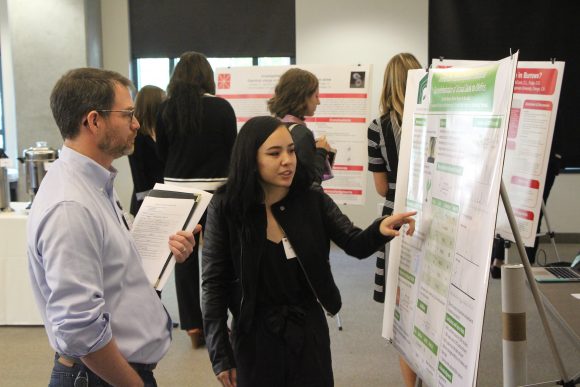 "I really wanted students to get a chance to know others from outside universities to see what scientific research they're doing," Carson said. "They can present here and get more experience for future conferences. It's important in science today to speak in a way the general public can understand; and this is good practice."
The research topics were diverse, including participants from fields including chemistry, biology, communication, psychology and the physical sciences. Fifteen judges helped make the difficult decisions, eight of which teach at Chapman.
"The difficulty to select is several fold; Individuals in a wide array of fields are tackling difficult problems and their presentations are brief," said Elaine Schwartz, Ph.D., associate professor of chemistry who judged the eight Ph.D. presenters. "Each judge is looking at students' work through a different lens depending on their personal specialty."
The conference was made possible by a $6,000 grant from the Allergan Foundation. Checks were awarded to the first and second place winners in each category, either $500 or $400. Each participant received a certificate.
Winners named in each category:
Undergraduate Group 1
First place- Nhi Ha, Niclosamide causes alteration of MitoTracker CMTMRos staining through cytoplasmic acidification
Second place- Anne Roffler, Understanding the Role of Post-Translational Modification on the Splicing Activity of Two Related RNA Binding Proteins
Undergraduate Group 2
First place- Moriah Geller, It's for Their Health: Encouraging vs. Discouraging Autonomy During Adolescence
Second place- Haley Miller, Methane Flux from the South Bay Salt Pond Restoration Project
Masters Students
First place- Sara Daoudi, Identification of A Group of Anti-Proliferative Compounds Mediate their Effects through Cell Cycle Proteins
Second place- Natalie Tom, Mushroom phenolics as inhibitors of tryptophan oxidation and carbonyl formation in sarcoplasmic and myofibrillar protein with NaCl
Ph.D. Students
First place- Krista Fruehauf, Biomaterials Responsive to Metabolites of Disease
Second place- Victoria Lim, Using computers to fight disease: Stopping the Hv1 protein
Undergraduate Poster Presentations
First place- Waseefa Ahmed, Decomposition of Ethylamine on Platinum
Tied for second place- Chloe Stewart, Investigating the Role of Semaphorin 7a in the Development of Invasive Breast Cancer Tumor Phenotypes
Tied for second place- Carson Tinucci, Preliminary investigation of top-down and bottom-up controls on methane production in northern Minnesota peatlands