The butcher was curious – Why so many bones? The neighbors were befuddled – You're making soup in the garage? Friends raised their eyebrows – Do you realize your clothes smell like beef broth?
But Chapman University food science alumnus Tuan V. Nguyen (M.S. '94) was undaunted. He was on a quest to create an instant soup base he could sell to home and restaurant chefs who want to streamline the preparation of pho, the popular Vietnamese noodle dish that relies on a flavorful broth for its base.
Fifteen years after those weekends cooking up countless test batches of pho in his garage, no one's raising eyebrows. Today, Nguyen is founder and owner of Quoc Viet Foods, a manufacturer and distributor of Vietnamese soup bases and seasonings packaged for both the retail and commercial market. He also founded Cafvina Coffee and Tea, a subsidiary company supplying organic coffee, tea and smoothie bases and flavorings to retailers.
Opportunity through Chapman
For his entrepreneurial skills and contributions to the local economy, the Orange Chamber of Commerce recently awarded his company the 2017 Small Business of the Year Award. The honor joins a host of others in his conference room, adorned with proclamations from cities, churches and even the California State Assembly commending the business for its charitable contributions to community programs.
None of it would have happened without his master's degree from Chapman's Food Science program, Nguyen says.
"Chapman gave me a solid foundation. The professors at Chapman actually helped me get involved in the industry and introduced me to the leading companies," he says.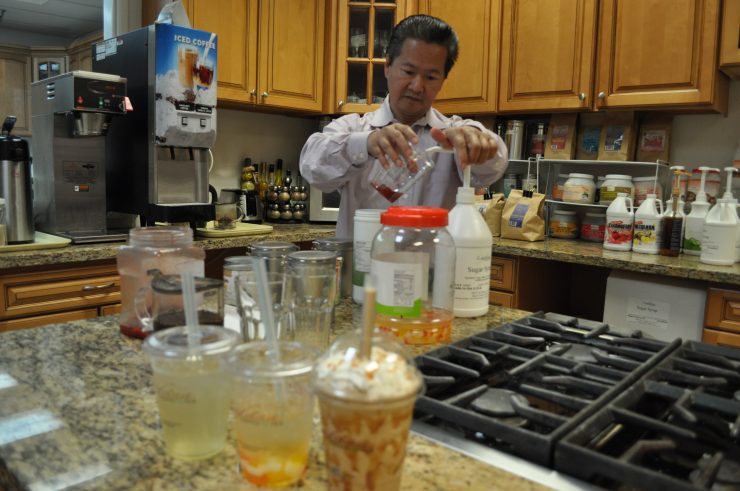 And it might not even have happened but for a boss early in his career who urged Nguyen to enroll in the program. He had studied biology and chemistry for his undergraduate degree and planned a career as a chemist when he started what he thought would just be interim employment. His supervisor persuaded him to consider food science.
Nguyen visited the Chapman program and was hooked. He finished in two years, his career accelerated and soon included a stint at Farmer Brothers Coffee, where he learned even more about the science of coffee, tea, flavorings, spices and prepared food mixes.
Flavorful innovation
Then a spark of inspiration struck. Each week, as he helped his parents shop for groceries, he was frustrated by the quality and selection of imported soup mixes, particularly those for pho, a staple of Vietnamese cuisine that is beloved for its richly flavored broth that is time-consuming to make from scratch.
"If you want pho today, you have to start yesterday," he says with a laugh.
He also felt pulled to serve his fellow Vietnamese Americans who were forging new lives in the years after the Vietnam War.
"I thought, 'Hey, if I can develop all this in the United States, I'll be doing something for my own community,'" says Nguyen, whose family relocated to the United States when he was 11.
His solution was to do all cooking on a large-scale basis and reduce the soup to a creamy paste-like product that dissolves quickly in water. Consumers were skeptical at first, but he says he showed them how the time-saving product freed them up to focus on the meat, noodles, herbs, vegetables and condiments used to customize their deep bowls of pho.
"Every week we would do about five supermarket demonstrations and do a live talk show at the site. It took us almost a year," he says.
A soup pot of success
That style of teaching continues today in the demonstration kitchen he operates at his 50,000-square foot manufacturing facility in Orange. But the mission isn't persuasion anymore. He offers the training to help the coffee shops, restaurants and commercial kitchens using his products learn how to get the best results.
And those customers are the source of new ideas. His inventory of products has grown to include 17 soup bases and expanded beyond Vietnamese favorites to include an international selection ranging from miso to won ton blends.
"Every year or two we have more products. And we're still not done yet,. They still call and say 'Tuan, I need this or that soup,'" he says. "We are the American soup pot."
Display image at top: In addition to soup products, Tuan V. Nguyen (M.S. '94) also develops and manufactures a variety of specialty teas through his subsidiary Cafvina Coffee and Tea.