Two celebrated filmmakers and a visionary philanthropist were honored, a cast of more than 100 student performers brought the audience to its feet in a rousing ovation and more than $1.5 million was raised for student scholarships during Chapman University's 37th annual Chapman Celebrates scholarship fundraiser.
The event recognized Sarah Ann Fowler and Dale E. Fowler '58 with the Citizens of the Year award and Ross Duffer '07 and Matt Duffer '07, creators of the Netflix paranormal hit Stranger Things, with the Alumni Achievement Award.
Together, the alumni embodied the best of the University mission and vision, as well as the themes of this year's event – imagination and fantasy, said Chapman President Daniele Struppa.
Celebrating alumni imagination
"How appropriate it is that each of our honorees, Dale and Sarah Ann Fowler and Matt and Ross Duffer, has inspired us to use our imaginations. The Fowlers through their immense philanthropic support and the Duffers through their award-winning talents in television production," Struppa said during the Saturday, Nov. 4 gala. "Each of them possess almost otherworldly abilities to transform, be it their community or their industry."
The evening is famously stylish, from a reception under the sparkling lights adorning Attallah Piazza to a gala dinner held in an elegant tent positioned at the steps of the University's historic Memorial Hall. But the honorees captured hearts with simple stories of student experiences that set the stage for success and guide them today.
Gratitude for Chapman
For Matt and Ross Duffer it was gratitude for a film school that let them work as a team and nourished the wild imaginations that led them to the runaway hit series Stranger Things.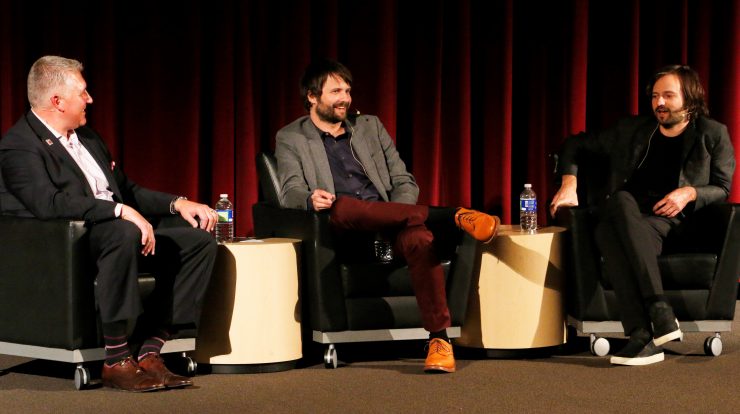 "I can't stress how important it is to have teachers who believe in you early on," Matt Duffer told the audience.
During a Friday afternoon master class held for students, the brothers described how they had been making films together since childhood, a fact that turned off other film schools that wanted them to work independently.
"Chapman said sure, come here, work together," Matt Duffer said. "They let us do our senior thesis together. That's always been what we do."
For businessman Dale Fowler, whose gifts have named both Chapman's law school and its future school of engineering, it was the inspiration and memory of a beloved business professor who challenged students to troubleshoot real-world business problems. Then at commencement, the professor leapt from his seat to give Fowler an unforgettable hug.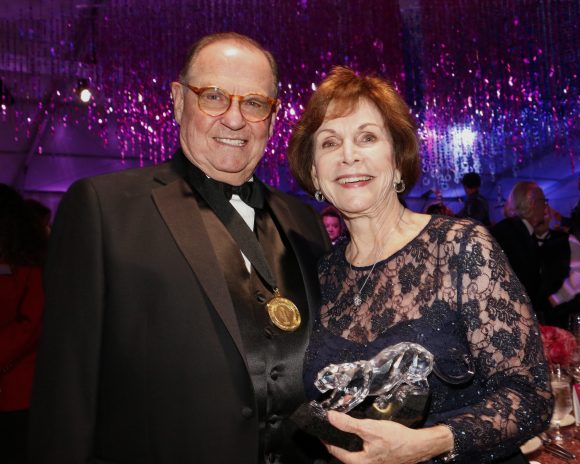 "He stood up and I thought he was going to shake my hand, but he gave me a bear hug, and I'd never had that happen before. And he said, 'You'll do fine, kid.' And I'm still trying," Fowler said.
Fittingly, the other stars of the night were the students of the College of Performing Arts, who performed a Broadway-style revue produced, written and directed by Matthew McCray '98, an award-winning playwright and actor. The numbers ranged from a stellar performance of "Over the Rainbow" by Milan McCray '19 (no relation), to the campy "Song that Goes Like This" from the comic musical Spamalot.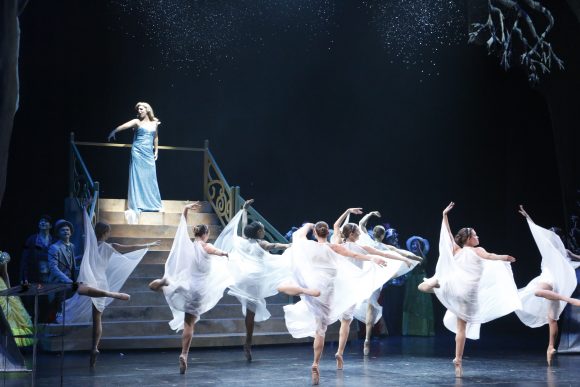 A 'Stranger Things' riff
Threading through the show was a Stranger Things send-up that launched various cast members on a quest to rescue President Struppa from the Upside Down, the alternate dimension that wreaks havoc on the series' characters. Eventually, a little theatrical magic was summoned and Struppa burst through a set of doors and joked, "It's great to be back. I love scary movies, but I have no desire to be in one!"
Chapman Celebrates originated as American Celebration, which featured classics from American musical theatre. Today the show includes a variety of stage and musical traditions and is performed at two signature events for a wide spectrum of University donors, friends, alumni, parents and supporters. The Opening Night show and reception is held Friday and the elegant gala dinner and dance is on Saturday.
Since its founding it has raised more than $35 million for scholarships.
Display image at top/The student cast assembles for the finale.