It was standing room only Thursday evening in the Fish Interfaith Center, as well as in an overflow room which received a live feed, on campus where several hundred local students, community members and the Chapman family gathered to recall the horrific events of November 9, 1938.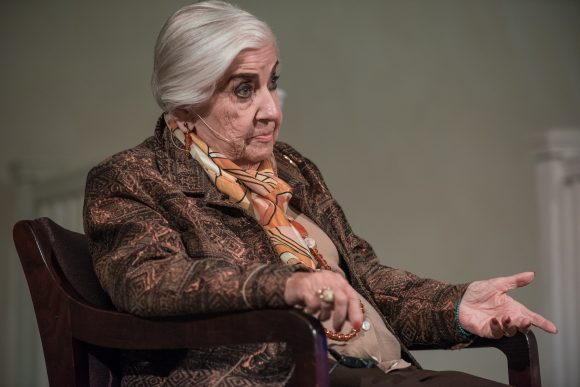 Kristallnacht, referred to as "the night of broken glass," occurred when the wave of violent and destructive anti-Jewish attacks took place throughout Germany, Austria and areas of Czechoslovakia. The name references shards of shattered glass that lined the streets in the wake of the violence against Jewish businesses and synagogues.
The service, co-sponsored by the Rodgers Center for Holocaust Education and the Fish Interfaith Center, was interspersed with musical performances, moving readings from Chapman students that represented several faith traditions, video clips of three Holocaust survivors and a conversation with survivor Engelina (Lowenberg) Billauer, who was 11 at the time. Now 90, she lives in the Los Angeles area and recounted in great detail her experiences as a young German Jewish girl growing up in Berlin.
"Before November 9th we had no problems," Billauer said. "After that, girls would come to school saying their brothers and fathers had disappeared.  Eventually I had to stay home with my parents because our school was closed. Every day was another law."
She recounted her memories for the audience, stating that in 1940, the deportations to Poland began, but no one returned. At age 15, two Gestapo officers arrived at her apartment door and told the family to quickly pack a few belongings. She said as they were marched to the train station, locals clapped their hands, shouting, "finally we are getting rid of the Jews."
She and her older sister were deported to one concentration camp after another, each one worse than the last. They had been separated from their parents and never saw them again. After sharing the horrors she witnessed in those five concentration camps, she spoke about why it is so important for others to hear her story.
"Don't let it ever happen again. To anybody. Not just the Jews," she said. "While we were in the camps, we were hoping that the world out there knew what was happening and they didn't. Luckily, we did not know that at the time. No one cared."
Rodgers Center for Holocaust Education Director Marilyn Harran, Ph.D, asked Holocaust witnesses and survivors in the crowd to stand and be recognized. About 10 attendees stood as everyone applauded. One local resident, Marion Rosenblum of Anaheim, stood alongside her husband. They attend the service each year.
"Kristallnacht happened three days before my fourth birthday," she said. "We were not in camps and didn't experience what Engelina did by any means. To hear her story, it's amazing that she survived at that age. We come in remembrance of what happened at the beginning of a very tragic part of history."
The Kristallnacht commemoration is one of three signature events hosted by the Rodgers Center for Holocaust Education each year; the others being the Holocaust Art and Writing Contest, and Holocaust Remembrance. The Rodgers Center for Holocaust Education is one of only a very few centers in the United States located in and supported by a private university.
Learn more about The Rodgers Center for Holocaust Education and the Fish Interfaith Center