A U.S. ambassador. The chief medical officer at a regional medical center. An award-winning filmmaker whose breakout work created industry buzz.
Those were just a few of the best and brightest alumni honored this fall at Chapman University's Distinguished Alumni Awards Celebration. The awards were bestowed on 15 alumni, individuals who've used their talents to better their communities and shape their industries, Chapman President Daniele Struppa said.
"They have left their marks on literally every part of the music and entertainment world, manufacturing, technology, health care, marketing and even higher education," Struppa said during the festive ceremony held during October's Chapman Family Homecoming Celebration.
Recognizing leadership and philanthropy
Key among the honorees was the Honorable George L. Argyros '59, who was also awarded the Bert C. Williams Lifetime Service Award, a distinction given only 15 times in the University's 156 years. Over the years, transformative gifts from the former U.S. Ambassador to Spain and his wife, Julianne, have supported Chapman's business school, a classroom building and numerous other programs.
An accomplished businessman and philanthropist, Argyros has long been a proud supporter of Chapman, where he was elected to the Board of Trustees in 1973 and served as chairman from 1976 to 2001, becoming its longest-serving chairman.
"He has been a doer without equal here at Chapman and in the many other places throughout the world," Struppa said.
Argyros' work ethic is legend, Struppa added. He worked his way through Chapman as a paperboy and supermarket clerk. Eventually he would co-own AirCal, before selling it to American Airlines. He was also owner of the Seattle Mariners baseball team from 1981 to 1989.
Among the distinctions he's received are the Horatio Alger Award of Distinguished Americans, and the Horatio Alger Association's Norman Vincent Peale Award for humanitarian contributions to society. Such honors are emblematic of Argyros' passion for philanthropy, education and Chapman, Struppa said.
'Think big and reach high'
"Long ago George challenged Chapman to, and I quote, 'Inspire people to dare to dream and to take advantage of the ability to think big and reach high.' Because of George Argyros, tens of thousands of Chapman University students have done exactly that forever changing their lives and almost certainly changing the world in which they live."
The awards were presented during an elegant outdoor reception held on the Bert C. Williams Lawn and kicked off the Homecoming Weekend festivities.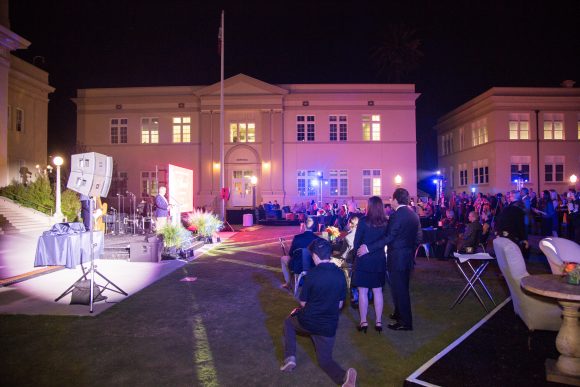 Other honorees were:
Ken Bunt '93, President, Disney Music Group
Bunt is responsible for all of the Walt Disney Company's recorded music, music publishing, and live concert operations, including Hollywood Records, Walt Disney Records, Buena Vista Records, Disney Concerts, and Disney Music Publishing.
Kelly Vlahakis-Hanks (EMBA '16), CEO and President, Earth Friendly Products
Vlahakis-Hanks oversees four manufacturing facilities across the U.S. and a global sales team. She's been internationally recognized for her highly effective leadership and influential voice in the green movement and in corporate social responsibility.
Elim Kay '09, Founding Partner, REDDS Venture Investment Partners
Kay is the CEO of the Kay Family Foundation, managing director and CEO of a privately-held group of operating and holding companies, and founding partner for REDDS Venture Investment Partners. Kay serves on the Board of Governors of Chapman University and Board of Counselors of the Argyros School of Business and Economics.
Justin Simien '05, Director/Writer, Dear White People, a film and Netflix original series
Simien wrote and directed Dear White People. The critically acclaimed film premiered at the Sundance Film Festival, where Simien won the Special Jury Award for Breakthrough Talent and the film was picked up by Lionsgate/Roadside Attractions. Simien adapted Dear White People into a Netflix series.
Elizabeth Tierney (M.A. '80), Teacher/Philanthropist
While attending Chapman, Tierney provided career counseling for transitioning veterans at bases throughout the western United States. Her career included teaching journalism, English and government at the high school level, and serving as a counselor and instructor at Saddleback College.
Stephen Thorne (MHA '94), CEO, Pacific Dental Services, Inc.
Thorne leads an organization that provides business services to more than 580 dental practices throughout the United States. In 2016, he was awarded the degree of Doctor of Humane Letters from A.T. Still University, the world's first osteopathic medical school.
Dr. Zeinab Dabbah (JD '12), Managing Partner at the Law Offices of Zeinab Dabbah
Dr. Dabbah began her medical career at Healthcare Partners Medical Group as a primary care physician and internist. She was also a senior partner and regional medical director for utilization management. In addition, she served as an adjunct clinical instructor at Keck School of Medicine of USC.
Keith Hancock '02 (M.A. '04), Choral Music Director, Tesoro High School, Grammy Educator of the Year
Hancock is a two-time Grammy Awards nominee and winner of the 2017 Grammy Music Educator of the Year Award. He is the 2012 recipient of the Secondary Vocal Music Teacher of the Year Award from the Orange County Department of Education.
Soliel K. Doman (M.S. '16), FDA Pathways Student Biologist
Doman is one of the first School of Pharmacy graduates. While at Chapman, she was an instrumental partner in research exploring the medical properties of turmeric, which is widely used to treat inflammation, coughs, muscle aches and indigestion.
Dr. Richard Pitts '70, Chief Medical Officer, Arrowhead Regional Medical Center
Dr. Pitts leads medical services at the comprehensive university-affiliated hospital and trauma center with more than 400 physicians in training. He is board certified in emergency medicine and occupational medicine and was an associate professor of medicine at UC Irvine Medical Center for over 20 years.
Erin J. Lastinger '88, CEO, A. Gary Anderson Family Foundation
Lastinger is a dedicated and enthusiastic leader who has directly impacted education, the arts and human services throughout Southern California. Assuming her responsibilities with the Foundation at an early age, she has well honored the memory of her late father, A. Gary Anderson.
Behzad Binesh (MBA '79), Vice President, Finance/University Controller
Binesh came to Chapman in 1977 to pursue an MBA after earning his bachelor's degree in accounting in Tehran, Iran's capital city. With the onset of the Iranian Revolution, Binesh made the U.S. his new home. At Chapman, he's risen from junior accountant to vice president of finance and university controller.
Jennifer Backhaus '94, Instructor and Founder and Artistic Director of Backhausdance
As an award-winning choreographer, Backhaus has created commissioned works for Los Angeles Ballet, McCallum Theatre, Segerstrom Center for the Arts, TDC of the Bay Area and Utah Regional Ballet, among others. Her work Disintegration was presented at the Kennedy Center in Washington, D.C.
Maci Peterson '09, Co-Founder and CEO, On Second Thought
Peterson created  On Second Thought, a messaging application that allows users to rescind text messages before they are delivered to the intended recipient's mobile phone. A millennial entrepreneur and marketing expert, Peterson has been named "Tech's Newest Innovator" by Essence magazine.