The first "thwack" of balls hitting racket strings came a little after 9 a.m. on the second day of fall semester classes.
Seven students in instructor Beri Dwyer's beginning tennis course became the first class to take the courts at Chapman University's sleek new Erin J. Anderson Tennis Center at the corner of Cypress Street and Palm Avenue.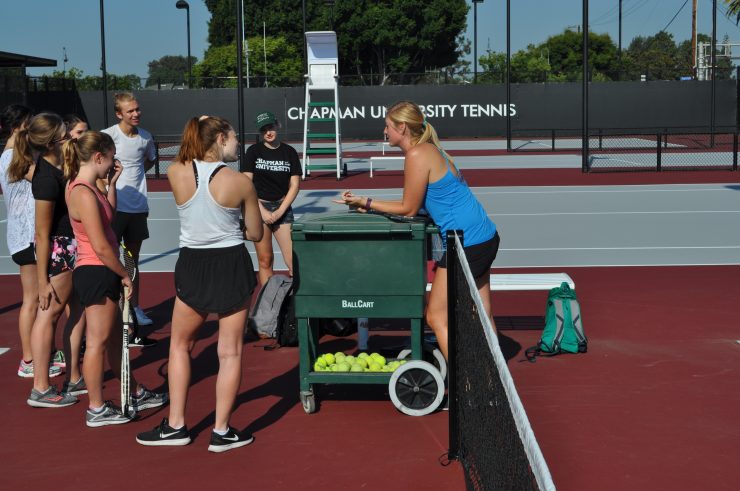 The $6 million facility is home to Chapman's intercollegiate tennis teams — they got first dibs on the courts a few days earlier — but it also will be open to the community at designated times.
With seven lighted courts in Chapman's cardinal-and-gray colors, restrooms, drinking fountains, expansive shade structures and seating for spectators or just players taking a break, the new center is a huge upgrade from Chapman's former facility.
"We went from four courts to seven courts and we have a clubhouse, player lounge and kitchen, a ton of things," said Chapman tennis coach Will Marino, whose teams have been vagabonds the last two seasons, practicing as far as 12 miles from campus after the old courts were torn down to make way for construction of the Center for Science and Technology.
The new tennis facility already has been a boost to recruiting, Marino said, and with a large scoreboard for team matches and plentiful shaded seating, the Anderson Tennis Center is spectator-friendly.
"Players are pretty excited," he said. "We've been talking about this for the last six years."
Students hoping to take advantage of the courts aren't too late to enroll in fall classes. As the semester opened, there was plenty of room in beginning, intermediate and advanced sections.
"I didn't know they were here until this morning. I hadn't seen them, but I knew they were building them," said Kali Hoffman '20, one of the beginning players. "It is really, really high quality."
Tristan Fields '18 used to walk by the construction site.
Homecoming Debut

The Anderson Tennis Center will be formally dedicated on Saturday, Oct. 7, during the Chapman Family Homecoming.
"I had seen it when it was dirt two years ago," he said. "I didn't know what they were putting up. I just assumed it was going to be a parking lot.
"I like how big it is, how many courts there are. It looks much more professional and college-worthy. The other one looked more recreational."
As Dwyer introduced students to the rudimentary aspects of the game, "Baseline, service line, net, obviously," she said lightheartedly, the dinging of bells signaled the approach of a train. Chapman's players will be accustomed to the sound, but visiting teams might not.
Consider it one more part of Chapman's new home-court advantage.