Chapman University welcomed its freshman class with words of wisdom, academic pageantry, fireworks and Panther traditions at its 2017 Opening Convocation Tuesday evening. For the 1,650 new students who filed onto Wilson Field, the occasion officially marked the beginning of their college careers and their entrance into the "Chapman family," President Daniele C. Struppa said.
"You will grow intellectually, physically, socially and spiritually. You have chosen to join a very special community – what we like to call the Chapman family – with a long and cherished history of inclusion, openness and tolerance. It is our hope that you will espouse those ideas and that Chapman University will make its mark on you," Struppa said in his welcoming remarks.
And vice-versa, Struppa added.
"Now the question is: how will you make your mark on Chapman?" he said, encouraging the new students to make legacies of their own by diving into research, scholarly activities, community work, service clubs and student life.
One highlight of the evening was a special recognition given to an alumna who has helped transform the University. Struppa announced the renaming of the College of Educational Studies, now known as Donna Ford Attallah College of Educational Studies. The $10 million naming gift honors Donna Ford Attallah, who graduated from Chapman in 1961 with a bachelor's degree in education and dedicated her career to teaching kindergarten and first grade in the Cypress School District for 40 years.
Ford Attallah said she was always grateful for a $200 scholarship she received as an undergraduate from Bekins Moving and Storage and took to heart the company's hope that its scholarship recipients someday give to others if they were able.
"Pay it forward," she said.
President Emeritus Jim Doti presented the Aims of Education, an address traditionally given by a distinguished faculty member. Doti encouraged students to stay open to new ideas, even if it rattled their comfort level or demanded the hardest work of their lives.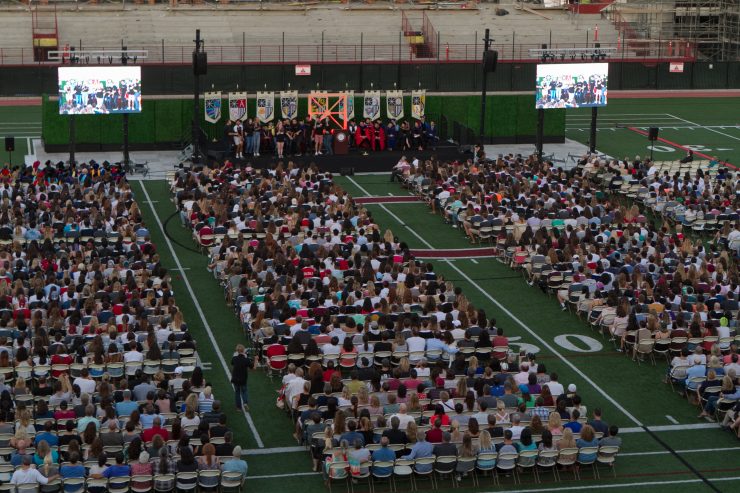 "The real Chapman is a place electric with ideas, that will excite your hearts and your minds if you open your hearts and minds to it … Embrace the struggle. Don't shy from it," Doti said.
Opening Convocation officially opens the new school year, and for first-year and transfer students, it kicks off the weeklong Orientation that acquaints students with campus life and readies them for a successful academic year. Throughout the coming days students will attend a variety of programs, from get-togethers with residents of Old Towne Orange to field trips to top Orange County attractions.
Returning, graduate and transfer students also begin arriving at Main Campus and the Rinker Health Science Campus this week. Classes open on Monday, Aug. 28 for most, while students at the Dale E. Fowler School of Law began classes on Monday, Aug. 21.
Display image at top/Amanda Galemmo '20