It took time, creativity, elbow grease and generous amounts of help. But the 1888 Center, a nonprofit cultural and literary arts center founded by Kevin Staniec '01, has made a home all its own in Old Towne Orange.
Since 2015, the cultural center has hosted a variety of literary programs and author talks in libraries, bookstores and even the living rooms of mid-century Eichler homes. But it has long been Staniec's goal to roost the center in Old Towne, within walking distance of his alma mater and in the historic heart of the city. The center formally opened with a series of events the last weekend of July.
"It's such an exciting thing to open the doors to the public. It's what we've been working toward for the last year and a half," says Staniec, 1888's executive director.
With support from Chapman University and several community groups and businesses, Staniec and the 1888 staff transformed a former shoe store at 115 N. Orange St. into a bright and informal place that is a mashup of bookstore, performance space and coffee house. A wall of books available for purchase flanks an open area anchored by an informal seating area. By design, the book offerings are not extensive.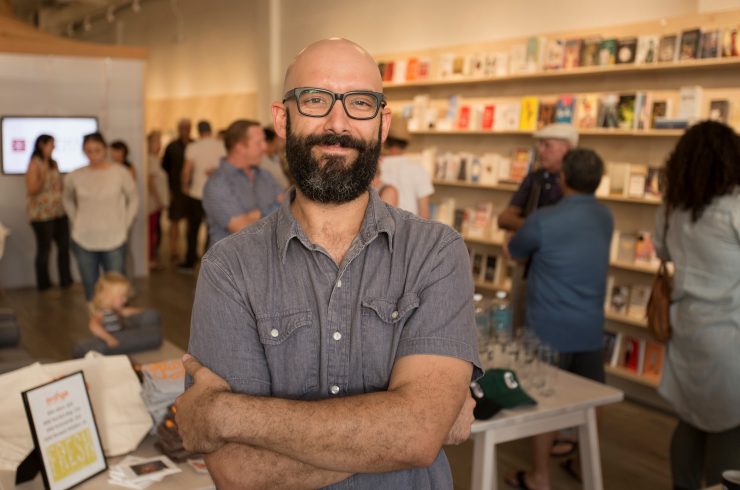 "I've always liked the staff recommendations you see in bookstores. So these are recommendations from 1888 staff. We pulled books that inspired us," Staniec says.
A pair of vintage hand-crank printing presses adorn the front display windows — an homage to the building's ink-stained past as a print shop and the 1888's mission of publishing contemporary novellas, classic dime novels and The Cost of Paper, an annual anthology of international short stories.
Along the back wall is a small café, where the mobile brewers of Contra Coffee and Tea will open their first tasting room later this month.
Staniec envisions the center as a hub for book tour pit stops and collaborative programs with Chapman's creative writing students and faculty, as well as community and arts groups. Key among them is Orange Home Grown (OHG), a nonprofit community group that manages a certified farmer's market and education garden on Chapman's campus.
"OHG is thrilled to be part of this collaborative space," says Megan Penn, OHG executive director. "This opportunity allows us to be more available to the community."
Among the writers OHG will host at 1888 during its fall author series is Citizen Farmers author Daron "Farmer D" Joffe, Penn says.
The debut weekend included an art exhibition, live music performances and a history exhibition in partnership with Orange Public Library & History Center and the Orange Community Historical Society. The weekend capped off with a live podcast recording of The How The Why, 1888's podcast hosted by Jon-Barrett Ingels (class of '00).
Learn more about upcoming programming at the 1888 Center website.
Photos/Troy Nikolic