For two days, improvisers of all ages, expertise and from places all around the world gathered together in Orange County to attend the inaugural Global Improvisation Initiative (GII) Symposium. Chapman University co-hosted, in collaboration with the University of California, Irvine (UCI), the symposium with more than 100 participants and 36 presenters working in the field of improvisation. Held on May 12 to 13, the interactive sessions featured national and international experts in the art coming from as far away as Australia, Turkey, China, Brazil, Switzerland, France, the Philippines and the United Kingdom.
"Many of our presenters and attendees said that what made this symposium truly inspiring was the mixture of students with professional improvisers, faculty and with folks from all various disciplines," said Theresa Dudeck, Ph.D., assistant professor of improvisational theatre at Chapman and co-director of the symposium. "It was the combination of experience levels, ages, interests that created a rich arena to learn and generate innovative ideas and conversation."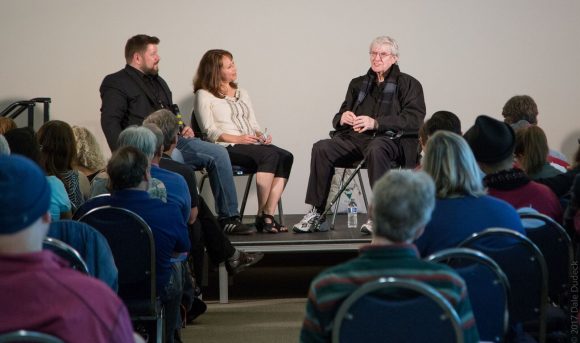 The festivities kicked off on Friday at UC Irvine's Claire Trevor School of the Arts and continued the following day at Chapman's Argyros Forum. Offering a wide variety of sessions, the symposium explored everything under the umbrella of improvisation including: improvisation for storytelling, pedagogy, social movements, conflict resolution, behavioral science, business and performance.
Representatives from Los Angeles' troupes—the Groundlings and Impro Theatre—as well as Chicago's The Second City were in attendance, facilitating workshops and round table discussions. The featured presenter was world-renowned improvisation pioneer, Keith Johnstone, creator of Theatresports and author of the influential book, Impro: Improvisation and Theatre (1979).
Joel Veenstra, co-director of the symposium and professor at UCI, said that the event covered a full spectrum of the improvisation world ranging from artists abroad to the foundational members of the art form themselves: Keith Johnstone and Viola Spolin's granddaughter, Aretha Sills. Veenstra calls the symposium, "a rare moment in improvisation history."
Emily Jacobson '15,  Chapman theatre performance alum who is currently the social media coordinator at the award-winning Impro Theatre in Los Angeles, said that a highlight of her time was participating in Johnstone's master class, an experience that she describes as "humbling."  "To be coached by one of the greats is a once in a lifetime opportunity," Jacobson said.
The Global Improvisation Initiative will be taking its successful first run internationally with a second symposium to take place in 2019 in London, England, in collaboration with the English theatre company, Improbable.
"What we hope participants took away is how important improvisation practice and theory is to almost everything," Dudeck stated. "Improvisation, at its best, is about collaboration, motivating others, taking risks, being present, accepting and building on offers and benevolence. Improvisation offers something for everyone!"
Photography by Dale Dudeck
Display photo at top/Participants at the "Improvising Characters" workshop by Annie Sertich and Lauren Burns, the Groundlings' main company members.