After the years of planning, after all those discussions and questions that started with "should" or "would" or "what if" and were freighted with serious thoughts, concerns and hopes about Chapman University's new Cross-Cultural Center, there is a funny little thing going on that no one expected.
Food appears.
It's not too mysterious. Leftovers happen when there are so many events, guest talks, club meetings and social gatherings. But students say it's more than a perk. It's a tangible sign of the role the center already plays in student life so soon after its opening, which many see as a milestone moment for the University.
"Honestly, from the first week, I think there's always been some food in here. I feel like in a really weird way that it signifies that it's a home for a lot of students," said business and French double major Camille Wampler '17 when she and fellow members of the University Programming Board arrived for their meeting and discovered a tray of still-warm pasta and garlic bread left by, well, no one was quite sure whom. Not that it mattered.
"It just feels like home to see people having a good time and hanging out," Wampler said.
That's just one brand of welcome the center has extended in its first days. Since its February ribbon-cutting, the center, located on the third floor of Argyros Forum, has hosted film nights, talks and discussion forums. Student clubs and Greek Life organizations hold meetings in its four unique conference rooms. A clutch of cardinal-colored sofas in the main lounge has proved to be a good landing for informal gatherings.
And that's just the beginning. Organizers are excited about the center's future as a hub of cultural life on campus – a place where students can learn about diversity in all its forms and those who need support in those journeys can find a haven. Leti Romo, Chapman's assistant director of cross-cultural engagement, looks forward to planning leadership programs, retreats, guest speakers, mentoring services and outreach activities in the residence halls.
The center is uniquely equipped for that multifaceted mission, Romo says. Unlike the ethnically based centers that rose up at colleges and universities in previous decades, Chapman's center was developed to bridge all identities of race, culture, ethnicity, gender, class and economic background. The design was intentional. It addressed students' vision for such a center and administrators' desire that the space not foster isolation, but rather inclusion.
"It's different because it's specific to different identities," Romo said. "It encompasses a lot. The intersection of ideas is natural here."
In a symbolic tribute to the goals for the space, students from the Department of Dance performed a modern-dance piece at the ribbon-cutting, gathering a rainbow of ribbons into a single cluster. As part of her blessing for the center, Gail Stearns, Ph.D., dean of the Wallace All Faiths Chapel, offered these words: "Each person is like all others, each person is like some others, each person is like no other. Each culture is like all others, each culture is like some others, each culture is like no other."
Such sentiments were long at the heart of students' dreams for the center. But they gained momentum in 2015 as part of the University-wide Diversity Project, an initiative aimed at welcoming more underrepresented groups to Chapman. Some tracks of the project are still being planned, while others have been realized, including a refurbished and bigger food pantry for students facing food insecurity, and expanded community outreach to schools and civic groups in the City of Orange.
Meanwhile, the welcome mat is definitely out at the center, said public relations and advertising major Sneh Chawla '19.
"I walk in here a lot, and there hasn't been a single time where there wasn't a friendly face," she said. "A lot of people can truly be their true selves, whereas in other places on campus they might have to hide part of their true identity."
The teaching literally extends to the walls, too. A variety of artwork, historic photos, timelines and videos selected by a student advisory council are displayed in the center's four conference rooms, and each honors an underrepresented identity. The inaugural names and themes include Perseverance, Asian-Americans; Respect, LGBTQIA(+); Resilience, Latinx; and Hope, African-Americans. The advisory board will rotate themes and names each year.
On a recent afternoon, biology majors AJ Silvia '18 and Matt Ibrahim '18 hunkered down to study in the Hope room, surrounded by the artwork of African-American artist Michael Massenburg. They enjoyed it for its own sake – "I just love looking at the artwork," Ibrahim said. But they were also moved by its significance.
"I've walked into all the rooms and looked at the photos and images," Silvia said. "It's beautiful artwork that introduces you to new artists and pulls you in. And it makes you think."
Those kind of serendipitous lessons can be profound, President Daniele Struppa said in his remarks at the center's ribbon-cutting ceremony.
In a personal reflection, he recalled how his worldview was changed when he arrived in the United States as a graduate student from Italy and for the first time in his life found himself in a community with cultural, religious and ethnic diversity.
"Within the first few months a new world was opened to me, a universe that I didn't know existed," he said. "I realized that the world was so different, so much more interesting than what I thought it had been. I think that the United States is a great place where these cross-cultural conversations happen."
Some of the students who long advocated for the center and are the most grateful to see it launched will enjoy it just briefly. Annabell Liao '17, president of the Student Government Association, graduated in May, but shared tearful and moving words of thanks during the center's opening event.
The Cross-Cultural Center is just one part of Chapman's blueprint for developing diversity. Learn more about related campuswide efforts in the University's Strategic Plan for Diversity and Inclusion.
Liao recounted how in her early days at Chapman, she was often uncomfortable and admitted to having "mixed feelings" about fitting in. She said she was fortunate to find community in the Next Step Social Justice Retreat, but she is excited for the opportunities that can thrive in a permanent facility with year-round programs.
"Come learn about the various identities on campus," she said. "Even with different histories and cultures, you'll find that we still have much in common."
Display photo at top/The Cross-Cultural Center is welcoming all kinds of gatherings, including informal ones such as this one bringing together, from left, Safieh Moshir-Fatemi '19, Lel Jones '17, Rose Mackenzie '17, Farrah Su '17, Van Chung '17 and Olivia Harden '19. Photo by Nathan Worden '13 (MBA '15)
Meet Matcha
A green friend greets all who visit the new Cross-Cultural Center. It's a jade-colored dragon about the size of a springer spaniel
that students have dubbed Matcha, a nod to the popular tea powder of the same color.
But the jury's out on Matcha's gender. While the center embraces serious conversations about gender identity and diversity, students had to smile when it was time to choose a nook for Matcha. Where should he be placed? Oh, but wait, is Matcha a he? And by the way, is that real jade? And where was Matcha's original home?
No one knows for sure. Matcha was delivered one day when no one was there to ask questions.
"With dragons, we assume it's male. But it's interesting that we assigned gender to it at all," Leti Romo, Chapman's assistant director of cross-cultural engagement, said with a laugh, adding that the dragon gender question inspired "maybe a two-minute
conversation."
Most important is that a happy place was found for a beautiful-and-handsome-stone-possibly-jade dragon that is starting conversations. Welcome home, Matcha.
A Sense of Belonging, A Place To Thrive
By Amanda Ball '17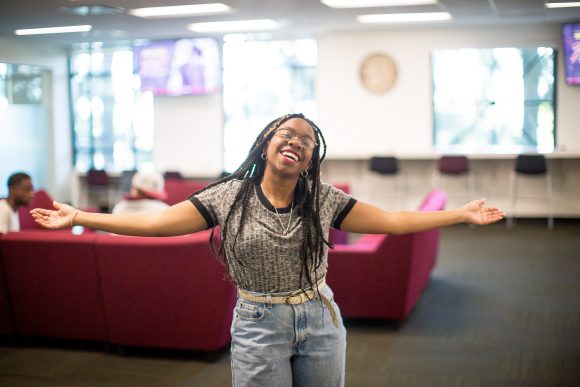 When I first arrived on Chapman's campus four years ago, it was hard for me to feel like I was a part of the Chapman Family. I was a long way from my home in Chicago, and everything felt so unfamiliar. If I had a problem, I couldn't walk downstairs and have my parents help me fix it.
After my first semester here, I was fatigued with the thought of 3½ more years at an institution where the majority of my peers and professors didn't seem to look like or understand me. I was almost sure that I would transfer if my experience didn't improve. I needed to create change, and I did it by becoming more involved. The student community I found with other underrepresented or marginalized students helped me navigate the culture shock and develop a sense of belonging.
I joined Chapman's Black Student Union (BSU) because it seemed like a good way to make friends. I didn't anticipate how important BSU as a space and community would become to me. It was where I felt comfortable enough to be my authentic self. I gained the confidence to believe that I could feel just as at home elsewhere on campus if I put myself out there.
During my four years at Chapman, I've served on the executive boards of various clubs, including BSU and Chapman Feminists. With a friend I started Chap Slam, a club for slam poetry. I have also worked for three years as a program assistant in Cross-Cultural Engagement. While participating in these activities I have met communities of people who shared my sense of displacement. Together we advocated for a multicultural center, and I found inspiration in helping students feel like they were being heard. I've collaborated with other students to plan events that uplift, empower and educate about the experiences of marginalized peoples.
Students have long wanted a space on this campus where they feel like they can come and be themselves. When the campus climate is not welcoming, it is easy for students to feel like it is their job to fix it and forge a space for themselves, because they may be unfamiliar with all the avenues of a university. The Cross-Cultural Center is significant because it shows that the University is addressing the unique ways in which marginalized students have to navigate predominantly white institutions.
The resources that will be available to students in the center indicate that Chapman wants more than for students to simply exist on this campus. It wants them to thrive.
When I first stepped into the Cross-Cultural Center even before its opening, I was overwhelmed with joy. As the furniture was being placed and the artwork put on the walls, I couldn't wait until my new home felt lived in. Now every day when I come into the office to work, it is a like a breath of relief to see people I know and can relate to hanging out, working on homework and enjoying each other's company. Watching people interact with the space, I feel as though all of the open forums, protests, opinion pieces in The Panther, meetings with administrators, faculty and staff, and meetings with members of the Chapman Diversity Project have paid off. I know that now fewer students will feel as lost as I was.
I am immensely thankful to all who have helped fight for this new home, and I am excited for the opportunity to welcome future students into it. The Cross-Cultural Center is an important space to help students feel welcomed into the Chapman Family.