There's chatter down the halls. In one room, a team strategizes how best to market its new software. In another, someone tests a virtual-reality game as a teammate gathers important data on bugs and glitches. Everyone is perfecting their products.
In the Launch Labs, Chapman University's startup incubator, there's always someone working and always someone around to lend a hand.
A key initiative of Chapman's Leatherby Center for Entrepreneurship and Business Ethics, the Launch Labs are helping 36 start- up teams – composed largely of Chapman students and alumni – prepare to succeed in the marketplace.
With so many teams sharing Launch Labs office space, collaboration and cross- pollination come naturally to these budding entrepreneurs.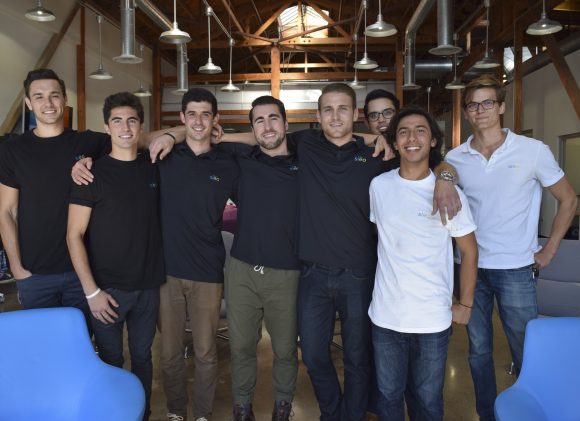 For Austin Stofer '17, CEO and founder of siëo, which markets a Web and mobile platform designed to help other startups succeed, the company's competitor-analysis software would not have been possible without the Launch Labs' collaborative environment.
When siëo was just beginning, another Launch Labs company was developing an algorithm that tracked how people felt about brands or public figures on social media. Stofer realized the tool would give siëo an edge on other businesses, so he persuaded its developer, Shevis Johnson '18, to join forces on the project. Now they've combined their ideas to give siëo something no other platform can match.
"This is kind of a cool little ecosystem where everyone is helping each other out with certain things within their specialty,"
Stofer said. It's a place where curiosity about a neighbor team's project can lead to a role in shaping its core features, he added.
The space allows for great networking opportunities, said Karen Akiyama, administrative assistant for the Leatherby Center. The Launch Labs host events where entrepreneurs can meet mentors and investors.
Even more than that, the space tends to foster a spirit of belonging. In one case a student who failed to get into a fraternity "found his home here," Akiyama said.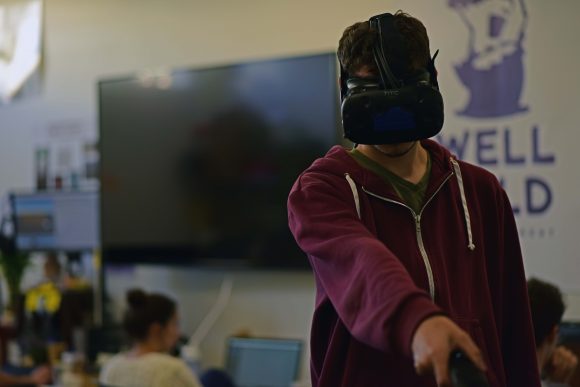 The collaborative spirit of Launch Labs has helped fuel the growth of Well Told Entertainment, a maker of virtual-reality and augmented-reality games and apps, says founder and CEO Sam Warner '15. The Launch Labs initially gave Well Told a place to meet, and within months the startup's leaders developed relationships with legal teams as well as financial and business- development support experts as they also gathered advice from experienced mentors, Warner said.
"These really kindhearted and intelligent mentors were able to provide really good business-life advice, not just 'Here's how you set up an LLC – do the math,'" he added. "It's really cool to share in the ambition of these other teams and share our creativity with them."
Well Told always needs people to test the company's new games, and people always want to play them. For the other Launch Labs teams, "it's a de-stressor," Warner noted. "Keep the door open, turn on the music and play some games. It's a really cool thing to be able to provide to a lot of the teams here."
Whether doors are open or closed, new ideas naturally form, Launch Labs team members say.
"Everyone has their own expertise," said Jen Re '15, Well Told's animation lead. "If (other teams) need any creative work, they usually come knocking on the door."
Another startup that has benefited from the incubator atmosphere is 23FIFTN, a creative content and branding enterprise that has won seven American Advertising Awards.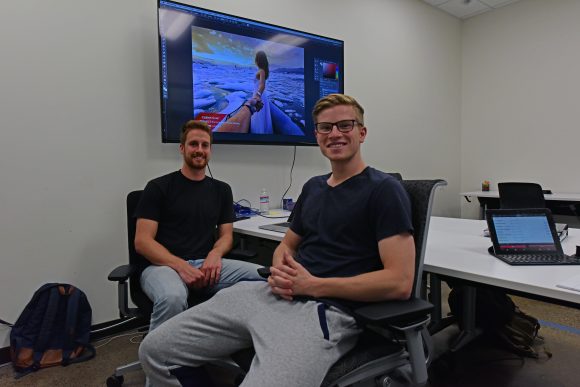 Legal advice the 23FIFTN team members have received has been invaluable, helping them with non-disclosure agreements and other documents they need to shoot music videos or ad campaigns for clients such as the music producer Marshmello, Fujifilm and MVMT watches.
The 23FIFTN team has gained insights that would have been far more difficult to amass if the startup existed outside the Launch Labs ecosystem, company leaders say.
"We were able to see the workflow of other companies that may not necessarily do what we do but had a business structure in place," said Daniel Malikyar '17, who along with Reed Matthews '16 and Karam Gill '16 founded 23FIFTN. "It taught us that we need to take a little bit of what they do and formulate it so that it can cater to our company."
Beyond documents and infrastructure, the Launch Labs provide benefits that are harder to quantify but are just as sustaining.
"Seeing the attitude of everyone in here is really inspiring," Matthews said.
Following are photos of the entrepreneur teams at the Launch Labs' Spring Demo Day on April 21. Photography by Livi Dom '20: