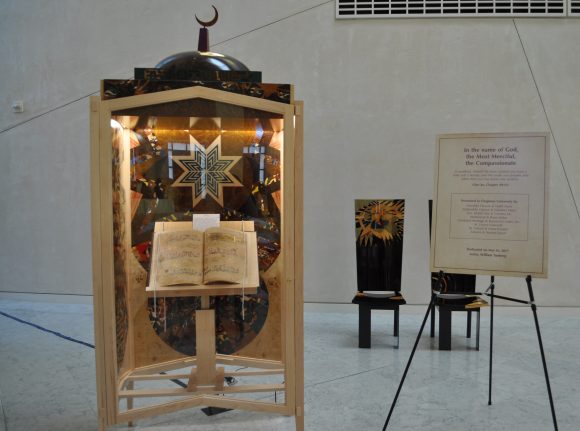 When the Fish Interfaith Center was built in 2004, it was envisioned to be the home of a number of display cabinets that hold scriptures from the world's religions. The first of the collection—a Lithuanian Torah that survived the Holocaust—was dedicated in 2008. Then, for the center's 10th anniversary, the collection expanded with an original print Book of Mormon and Bibles that once belonged to C.C. Chapman. With its newest addition to the holy books, a 15th century Quran, the Fish Interfaith Center has completed its collection of the three major Abrahamic religions: Judaism, Christianity and now Islam.
The four cabinets and holy texts alongside each other conveys the mission of the Disciples of Christ, Chapman University's founders, for interfaith dialogue on campus, said Gail Stearns, Ph.D., dean of the Wallace All Faiths Chapel.
"Interfaith partnerships combined with our commitment to educate Chapman students is in no less the work of building peace and hope for generations to come," Stearns said in her opening remarks at the Quran cabinet dedication ceremony on May 16.
Stored in a hand-built, seven-foot-tall cabinet by Los Angeles wood marquetry artist William Tunberg, the first Quran being showcased is a 15th century Mamluk Quran from Syria on loan to Chapman from the collection of Omar Haroon. Tunberg was commissioned to create all four cabinets for the Interfaith Center, embedding images and symbols from the world's faith traditions in each one. The exhibit will rotate several Qurans from Leatherby Libraries Special Collections, which were all placed in a separate table at the dedication ceremony for attendees to examine.
The support of the exhibit was made possible by sponsorship from Fareed Farukhi, founder of the Universal Heritage and Research Center and the development of the project was a collaboration between Dean Stearns; Essraa Nawar, library development coordinator; and Charlene Baldwin, dean of the Leatherby Libraries. The evening featured speeches from each of these, in addition to Chapman President Daniele Struppa, William Tunberg, students from the Muslim Student Association and Najeeba Syeed, professor of Claremont School of Theology.
With this new installation, interfaith leaders are hopeful it will serve as an invitation for people to see religion in a new way and bring people of all beliefs together.
"According to the holy Quran, the purpose of life is getting to know people and getting to know one another," said Nawar. "I think that is exactly what we do here at Chapman."