Chapman University has honored two biology and physics professors with its 2016-2017 Wang-Fradkin Professorships, the University's highest recognition for faculty research.
Jennifer Funk, associate professor of biological sciences, was awarded the Senior Wang-Fradkin Professorship. The Junior Wang-Fradkin Professorship went to Justin Dressel, assistant professor of physics.
The awards were presented at the 22nd Annual Faculty Honors Convocation hosted Friday, May 12, by Provost Glenn Pfeiffer.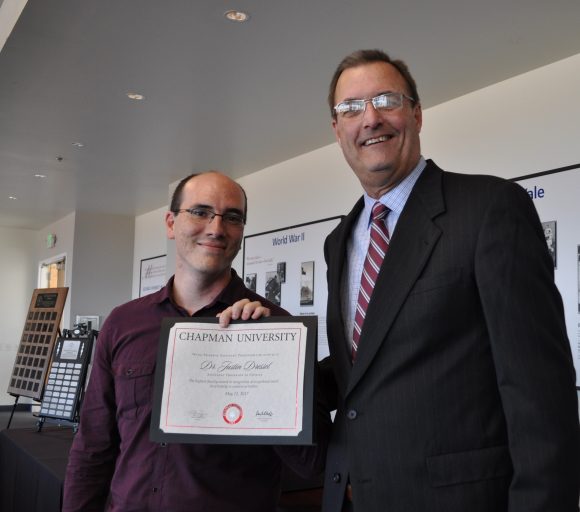 The Wang-Fradkin Professorship is the highest recognition for research that Chapman bestows on a faculty member. The assistant professor will be awarded $7,500 over two years, and the senior professor will be awarded $10,000 over two years. Faculty colleagues have selected the following as the 2016-2017 Wang-Fradkin Professors.
The professorships were founded in memory of Hua-Cheng Wang, professor of political science, diplomat and expert on international law; and Cheng-Mei Fradkin, distinguished teacher, scholar and administrator.
Other faculty awards presented include:
Outstanding Teaching Professors
As senior professor: Michael Nehring, Professor of Theatre
As assistant professor: Kelli Fuery, Assistant Professor of Film Studies
Valerie Scudder Awards
Jake Liang, Assistant Professor of Communication Studies
Jan Osborn, Assistant Professor of English
Marisa Cianciarulo, Professor of Law
Andrew Moshier, Professor of Computer Science and Mathematics
Pedagogical Innovation  
Shira Klein, Assistant Professor of History
Diversity and Inclusion Education Curricular Innovation Award
Denise Johnson, Instructional Assistant Professor of Art History, and Wendy Salmond, Professor of Art History
Nam Lee, Assistant Professor of Film and Media Arts
Stephanie Takaragawa, Assistant Professor of Sociology
Michael Kelly, Assistant Professor of Pharmacy Practice
The Inaugural One-Year Scholarly and Creativity Activities Release
Richard J. Ruppel, Professor of English, Department Chair, Peace Studies
The Barbara Mulch Excellence in Academic Service Award
Jennifer Hunnewell – Schmid College
Kathy Arballo – College of Educational Studies
Excellence in Service
Christopher Kim , Professor of Physical Sciences
Excellence in Scholarly/Creative Activity
Rosalee Hellberg, Assistant Professor of Food Science
Georgiana Bostean, Assistant Professor of Environmental Science, Health and Policy
Lia Halloran, Assistant Professor of Art
Rei Magosaki, Associate Professor of English
Thomas Bell, Professor of Law
Pilar Valenzuela, Associate Professor of Languages
Excellence in Teaching
Halina Goetz, Instructor of Math and Computer Science
Award in Mentorship of Undergraduate Research and Creative Activities
Christopher Kim , Professor of Physical Sciences
Jocelyn Buckner, Assistant Professor of Theatre
Tenure and Promotion
Emily Carman – Awarded Tenure and Promoted to Associate Professor of Film and Media Arts
Nam Lee – Awarded Tenure and Promoted to Associate Professor of Film and Media Arts
Roman Buniy – Awarded Tenure and Promoted to Associate Professor of Physics
Lynda A. Hall – Awarded Tenure and Promoted to Associate Professor of English
Lia Halloran – Awarded Tenure and Promoted to Associate Professor of Art
Alicia Kozameh – Awarded Tenure and Promoted to Full Professor of English
Jan Osborn – Awarded Tenure and Promoted to Associate Professor of English
Stephanie Takaragawa – Awarded Tenure and Promoted to Associate Professor of Sociology
Tenure
Federico Pacchioni – Awarded Tenure as Associate Professor of Languages
Promotions
Hank Adler – Promoted to Clinical Associate Professor of Accounting
Brennan Peterson – Promoted to Full Professor of Psychology
Lynne Tierney – Promoted to Clinical Full Professor of Physical Therapy
Ian Barnard – Promoted to Full Professor of English
Anna Leahy – Promoted to Full Professor of English
Pilar Valenzuela – Promoted to Full Professor of Languages
Jessica Bower – Promoted to Associate Librarian
Kristin Laughtin-Dunker – Promoted to Associate Librarian
Lugene Rosen – Promoted to Associate Librarian
Rand Boyd – Promoted to Full Librarian
Shahrzad Khosrowpour – Promoted to Full Librarian
Faculty Service Awards
Faculty Emeriti
Lynne Doti, Professor Emeritus of Economics, George L. Argyros School of Business and Economics
Mike Martin, Professor Emeritus of Philosophy, Wilkinson College of Arts, Humanities, and Social Sciences
John Brady, Professor Emeritus of Scholarly Practice, College of Educational Studies
Faculty Emeriti in Memoriam
Stan Califf, Professor Emeritus of Psychology
Eli Wiesel, Distinguished Presidential Fellow
35 Years
Michael Nehring
Frank Frisch
Fredric Caporaso
30 Years
Michael Griffin
Janell Shearer
25 Years
20 Years
John Boitano
Harry Cheney
Amy Hanson
Michael Hass
Polly Hodge
Susanna Ripken
Candace Ybarra
Tamiko Washington
15 Years
Peter Atherton
Jason Bennett
Eric Chimenti
Warren De Bruyn
Bruce Dehning
Peter Jipsen
Ravi Kathuria
Ky Kugler
Michael Lang
Clara Marie Magliola
Ronald Steiner
Adrian Vajiac
Mihaela Vajiac
William Wright