Marty O'Connor has been a familiar sight in Chapman University's Beckman Hall the last couple of years, rolling to class in his wheelchair.
Just five years ago, O'Connor (MBA '17) was a young salesman for packaging industry firm TricorBraun, traveling internationally and "making great strides, at the apogee of my career," he said.
A fall down a flight of stairs on Aug. 12, 2012, changed all that, leaving him a quadriplegic.
On May 20, O'Connor will be awarded a well-earned MBA from Chapman's Argyros School of Business and Economics, an accomplishment he has managed with the assistance of his mother Judy, who serves as his caregiver and note-taker.
A retired elementary school teacher with a business degree from Notre Dame, she has been at his side through every course.
"I'm a geek. I love being in school," she said. "I'm not going to lie. I've enjoyed every minute of it."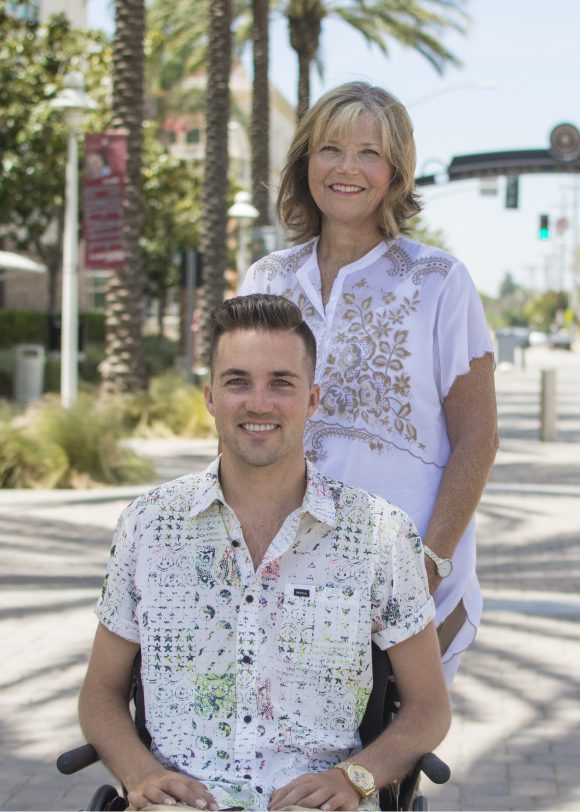 Graduate school has provided a career reset and transition to a life that O'Connor never expected. With new skills to put to work, the former competitive snowboarder and volleyball player will soon join a youth action sports startup called DIVERTcity as head of corporate sponsorships.
"After I got hurt, I didn't know which end was up," O'Connor said. "I didn't really have a direction. I was just dedicating myself to physical therapy five days a week.
"While my body was in a better place because of that, mentally, I was just kind of lost. … I needed that mental challenge and wanted to add some professional value to myself."
He began to explore MBA programs, and with the help of a $10,000 a year grant from the Swim with Mike organization – a group that provides scholarships for physically challenged athletes and was established in honor of Mike Nyeholt, a USC swimmer who was paralyzed in 1981 – he started graduate school at Chapman.
"The last two years have been a whirlwind," said O'Connor, who grew up in Anaheim Hills and graduated from the University of Colorado in 2010. "It's been extremely challenging but even more so, rewarding."
Though he works with an iPad, laptop, voice recognition software and a mouth stick, or special stylus, it is impossible for O'Connor to take notes in class or write down answers on tests. Judy has helped him forge past those obstacles, and when he resumes his career, he'll be aided by a professional assistant.
"I didn't know how going back to school without being able to write, or use my hands, or raise my hand in class, any of that, would go," O'Connor said. "But I think it really kind of challenged me to do some introspection and see what strengths I do have to utilize, and how I can use my situation to work on some new strengths. This has really forced upon me some patience and thoughtfulness in everything I'm doing. And I'm now doing better in school than I have in my entire life."
O'Connor has received support from Chapman's Disability Services Office and from the Tutoring, Learning and Testing Center, where he takes his tests. Among other accommodations, his textbooks are converted to PDFs, so that he doesn't have to ask someone to turn every page.
Outside of the university, Goodwill of Orange County's Rogers A. Severson Fitness and Technology Center, its Assistive Technology Exchange Center and the California Department of Rehabilitation have provided assistance.
Only once was an assigned classroom at Chapman inaccessible by wheelchair, and the class was quickly moved. Yet a business curriculum provides its own special challenges.
"There is no challenge greater than trying to do data analytics with voice software," O'Connor said.
Added his mother: "It wasn't really meant to work with Excel."
O'Connor called the semester he took Analytics "the most challenging semester of my life.
"But again, forced upon me were patience and resilience," he said. "It's a great class, but a challenge given my circumstances. If I can overcome that, I can overcome anything."
Display image at top/ Marty O'Connor earned his MBA less than five years after a debilitating accident in 2012.