Chapman University celebrated the one-year anniversary of Musco Center for the Arts by bestowing an honorary Doctor of Arts to renowned opera star Plácido Domingo, who headlined the center's opening night a year ago this month.
Hundreds of fans and University supporters gathered in Musco for the Tuesday afternoon event, highlighted by arias sung by alumni, the unveiling of a bronze bust of Domingo and a save-the-date announcement.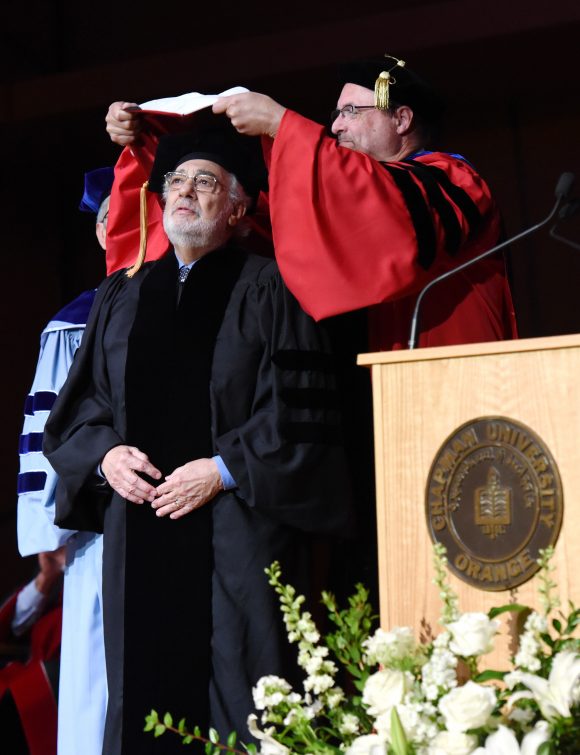 "Typically, institutions engage in this tradition at commencement. But, much as Maestro Domingo has defined and redefined his art, today we ourselves have decided to break with tradition," said President Daniele Struppa. "It makes sense to do this now. Just nine days ago this remarkable hall celebrated its first birthday."
Such recognition could not be timelier in the bigger picture, too, Struppa said. At a time when society "appears to become increasingly materialistic," the arts must be remembered for what they add to the human experience, he said.
"This is why the arts are so important to our society and to the education of our students – because they offer them a different lens through which they perceive, understand, explain, describe the world," Struppa added. "It is only through the power of the arts that we regain that entire sense of who we are as human beings."
The event also honored Domingo with one of Chapman's signature busts. From poets to presidents, singers to statesmen, the gallery of bronze busts on campus recognizes an impressive array of historical figures. Domingo's bust is a gift from Robert Day, the founder of Trust Company of The West and also a longtime friend of Domingo.
In accepting the honor, Domingo paid tribute to the center's principal supporters, Marybelle and Paul Musco, and all who support the arts as visionaries shaping the future with their generosity.
"I really want to be sure that future generations, my grandchildren and your grandchildren, will have the opportunity to hear classical music and be transported by the power of opera. I also want to be sure that the talent of young singers is discovered and that they are trained and mentored to become the great stars they are meant to be," he said. "These goals are dear to my heart, and I know they are central to the mission of Musco Center and Chapman University."
In his closing remarks, William Hall, DMA, dean and artistic director of Musco Center, announced that Domingo will return to Musco in the 2017 fall season in the lead role of Verdi's great opera Nabucco. The opera will be staged Nov. 14 in collaboration with the Los Angeles Opera Orchestra, Los Angeles Opera Chorus, under the direction of alumnus Grant Gershon, and the College of Performing Arts.
Nabucco will mark the second time Domingo has performed at Musco alongside Chapman alumni and students.
Display image at top/ Plácido Domingo addresses the audience during the hooding ceremony (Photo/Doug Gifford)