On a recent winter morning, sunshine poured onto Chapman University, the rains that pummeled Southern California were fading memories and the campus mood was downright cheerful. Now if something could just be done about those zombie attacks.
A clutch of the toothsome undead are definitely on the way, according to a small group of students gathered in a Roosevelt Hall conference room on that sunny morning to discuss the invasion. How imminent? Let's just say this – beware the Bert. C. Williams Lawn in coming weeks.
"Zombies could attack at any moment. Do you have your first-aid kit?" asks Kellie Coppola (MFA '18).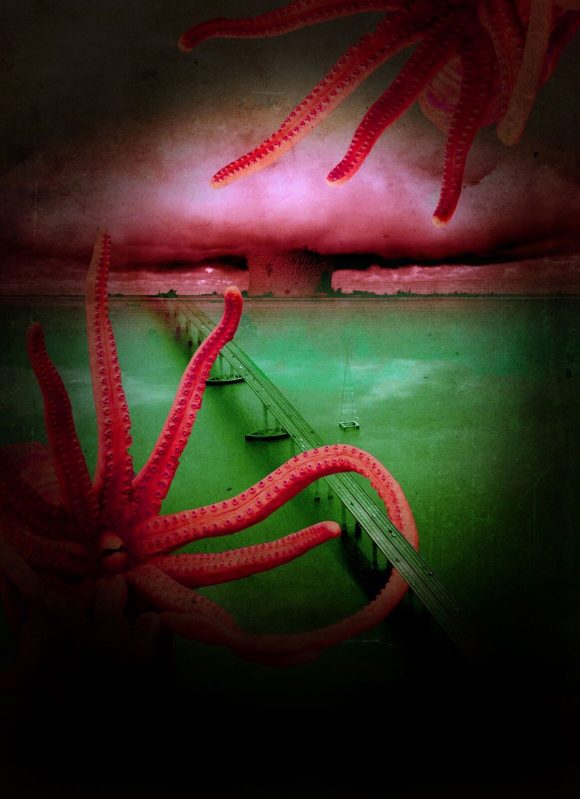 If you detect a wink and a nod there, go straight to the head of the lifeboat line. A little humor will help you appreciate and survive the faux apocalypse conjured up by Wilkinson College of Arts, Humanities, and Social Sciences. "Surviving the End of the World – Interstices 2017" is an interdisciplinary series of events all hooked to the love-hate thing humans have for dystopian fiction and disaster movies, as well as the real-world task of emergency preparedness.
The signature event is a Thursday, April 6, panel discussion featuring scientists, scholars and writer Max Brooks, bestselling author of World War Z and the The Zombie Survival Guide. They'll explore the myths and realities surrounding disasters, actual and imagined, and nudge us all to plan for real-life catastrophes.
Before they get to the serious stuff, however, those students in Roosevelt Hall are stirring up a touch of dread with a creative Interstices marketing campaign they've designed to be disquieting. After all, when you're talking about the end of the world, it's hard to imagine traditional announcements, fliers and posters doing the trick.
But before we can even begin to explain that, there's another trick to all this. Interstices 2017 comes with its own mythology, and to play along, here, briefly, are the rules of this invented world. In the recent past there was a creepy but undetermined "occurrence" that prompted the rise of Global Annihilation Security Project (GASP). GASP says it truly has all our best interests at heart and we need to stick with their readiness planning. Yeah, right, says a group called Enders, a grassroots organization that says it has the goods on GASP, which Enders claims is trying to suppress real information about the end of the world, and possibly those zombies.
So who are the good guys?
"It just kind of depends on your point of view," political science major Delaney Wolkov '20 says with a laugh.
Enter the quirky and student-created marketing campaign. At a publicity table in Attallah Piazza they dispensed unnerving business cards that said simply, "You have been chosen" and a link to the GASP blog. Written by Coppola, a graduate student in creative writing, the blog swings from parody – that wasn't Lady Gaga at the Super Bowl but an extraterrestrial imposter – to actual tips for surviving disasters and crises.
The team helped develop info-graphics and content for Panther Productions videos that hype the GASP-vs.-Enders mystery.
They've planned a March 28 self-defense class, and hosted a blood donation drive and a bone marrow registration campaign. And, yes, they handed out first-aid kits and emergency education about everything from catastrophic drought to earthquake safety.
Trying their hand at marketing has been fun, the students say. But more important is that the project has offered them an opportunity to work side by side with faculty and Wilkinson's dean, Patrick Fuery, Ph.D., as key players in Interstices.
"Not only did I get a invaluable work experience, specifically about event planning, but more importantly I gained a unique perspective about teamwork as a result from working alongside faculty, staff, and peers," says Claire Norman '20, a double major in political science and peace studies.
Political science major Jill Kleinhauf '20 credits the unique Chapman experience for opening such doors.
"Chapman's one of those schools that opens the door to you to get involved, no matter what year you are," says Jill Kleinkauf '20. "I think this is just one of the great opportunities that will be available over the next few years."
Even better is having a hand in conveying the message behind the whimsy, the students say.
"Yes, the supernatural and zombies are awesome and fascinating and the stories you can come up with are great," Kleinkauf says. "But climate change and drought and hunger are real and present in today's world. People don't always want to talk about them. Adding the whole tongue-in-cheek element allows people to address these issues."
Display image/From left, Kellie Coppola, Delaney Wolkov and Jill Kleinkauf. A team member not pictured is Claire Norman.
Get ready … to learn, plan and have a little fun

The "Surviving the End of the World" panel discussion will be held on Thursday, April 6, in Memorial Hall. Admission is free and open to the public. Panelists include Max Brooks, author of The Zombie Survival Guide; Sarah Wayne Callies, who plays Lori Grimes in AMC's The Walking Dead; Ann Gordon, Ph.D., associate dean of Wilkinson College of Arts, Humanities and Social Sciences, and one of the lead researchers on the Chapman Survey of American Fears; Javier Moscoso, Ph.D., a research professor of history and philosophy of science at the Spanish National Research Council (CSIC) in Madrid, and author of the book, Pain: A Cultural History. and Jeffrey Bratberg, Pharm. D., BCPS, University of Rhode Island, creator of a class that challenged pharmacy students to respond to a zombie pandemic with emergency response clinics and mock anti-viral medications – actually Sour Patch and Gummy Bears candies.