The trip from Beckman Hall to Memorial Hall hardly requires a moving van, but Glenn Pfeiffer, Ph.D., made a long journey to become Chapman University's new provost just the same.
Pfeiffer, a member of Chapman's business faculty since 1995, began his life in academia as a first-generation college student: His mother didn't finish high school, and his father delivered milk.
"He spent one semester at the University of Michigan and had to drop out because he couldn't afford it," Pfeiffer said. "He was drafted, got married and never went back. But he always felt like that was something he wanted to make sure that everyone in our family did."
The four Pfeiffer offspring all graduated from college, and Glenn went on to earn a Ph.D. in accounting from Cornell after receiving a bachelor's degree in economics at Hope College, a small liberal arts school.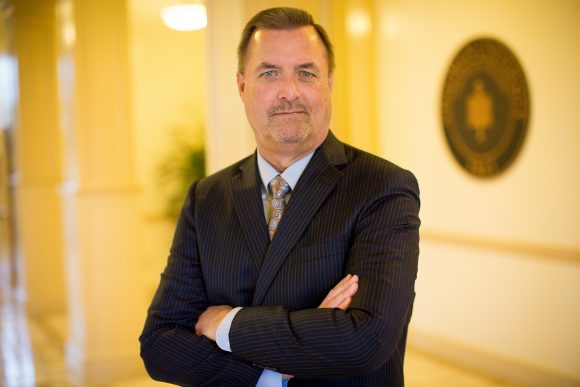 Those are experiences that shape Pfeiffer's appreciation for both the role of a college degree in upward financial mobility and the richness of a liberal arts education as he assumes his job as Chapman's chief academic officer.
"College was seen as a way to a better life, like a lot of people look at it. Get a college education so you can get a better job. And I think that's consistent with the culture we're seeing now," said Pfeiffer, who served as interim provost before being selected for the permanent position after a national search to replace Daniele Struppa, the University's provost and chancellor before becoming Chapman's 13th president in September.
What shouldn't get lost in preparation for a working life is the value of the humanities, Pfeiffer said.
"So even if you do want to get into the health sciences and be a physical therapist, it's nice to have a background that makes you well rounded and you understand history and literature and art," he said.
The initiatives Pfeiffer is focused on reflect Struppa's agenda and include laying the groundwork for an engineering school, building out the Rinker Health Science Campus and strengthening the liberal arts and their appeal to students.
"We're in discussions to start an engineering school at some point over the next few years," Pfeiffer said. "There's so much demand for engineering graduates in California, and the number of students every year that are turned away by engineering schools is huge."
With a software engineering program already in place in the Schmid College of Science and Technology, Chapman might add programs such as electrical and computer engineering first.
"We're not just going to go into every area of engineering all at once," Pfeiffer said. "We're going to try to do it slowly and systematically."
Other efforts will focus on the Rinker Health Science Campus.
"I think the demographic shift that's going on right now is going to make it important that our graduate programs be successful," Pfeiffer said. "So building out the Rinker Health Science Campus, possibly expanding into other graduate programs there, might be initiatives we want to think about in the next few years."
Efforts in science, technology and graduate programs won't neglect the foundation of the humanities and liberal arts, Pfeiffer said, acknowledging that as an undergraduate himself, he failed to fully realize their value.
"It wasn't until probably a decade later that I started to appreciate the knowledge I picked up and saw how it integrated with what I was studying, as well as with other things I was seeing in life," he said.
"(The humanities) provide an important foundation for everything, whether you're a filmmaker, a teacher, a businessperson," Pfeiffer added. "If you want to be a lawyer, health professional, whatever, that foundation is important. That's something Chapman stands for."
Display image at top: New Provost Glenn Pfeiffer is helping Chapman explore the possibility of adding an engineering school, but he also stresses that the humanities continue to provide "an important foundation for everything."  – Photo by Nathan Worden '13 (MBA '15)