A piece of art just rolled its way onto the campus of Chapman University today. And yes, the artist says we can all touch it.
The artwork looks like a giant beach ball adorned with a 360-degree photograph of the University's historic core buildings, including iconic Memorial Hall, and is displayed now in the center of the Bert C. Williams Mall. Called a photosphere, it is a site-specific art installation created by photographer and artist-in-residence Matt Wright. Interacting with it is all part of the experience.
"I am super excited to have the opportunity with this residency to share my practice with the students and staff at Chapman. So far, the response has been really rewarding to me as an artist with some great feedback received already," he says.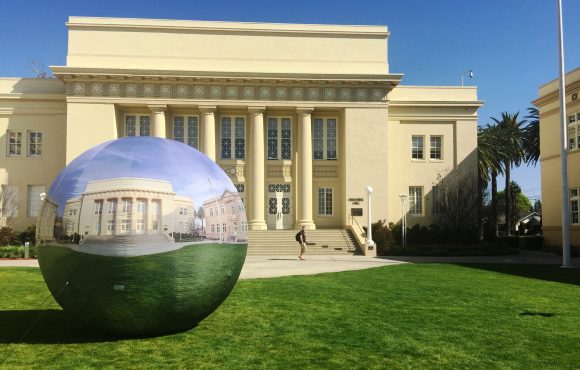 Weather permitting, the photosphere will remain until late Thursday afternoon. But you might want to check it out soon. If the rain expected later this week arrives early, the photosphere will be quickly stowed away.
Wright is one half of the artist-in-residence team at Wilkinson College of Arts, Humanities, and Social Sciences this month. Spanish documentary photographer and filmmaker Janire Nájera, whose exhibition Moving Forward, Looking Back: Journeys Across the Old Spanish Trail, is on exhibit in the Henley Galleria on the second floor of Argyros Forum. Nájera's project combines photography, video and sound to chronicle her journey along the Old Spanish Trail in search of its Spanish legacies.
Funding for this exhibition and the artist residency was generously provided by the European Union (EU), in partnership with Wilkinson College's program, EU and US: Getting to Know Europe, and collaborating under the project, Creative and Cultural Industries: Unlocking the EU-US Potential.
Moving Forward, Looking Back will be on exhibit until June 27.
Display image at top/Visiting artists Matt Wright and Janire Nájera with the photosphere installation.