The latest print issue of
TAB: The Journal of Poetry & Poetics
has arrived, bringing with it another fascinating mixture of language and design.

At the start of each calendar year,
TAB
creates a special print edition of its journal. In this special issue, associate professor of English
Anna Leahy, Ph.D.
and graphic designer and associate professor of art
Claudine Jaenichen
work together to create a publication unlike any other. Last year, the issue was made as four booklets related to the theme of energy. This year, three booklets explore the idea of noise.


The design statement lays out this theme, saying, "The 2017 print issue examines the effects of noise and text delivered to the reader as visual volumes on multifaceted layers. Textures and patterns act as a sounding board, adding a variety of tones intended to create an atmospheric pairing with the poems themselves."

As the design of each of the three booklets differs slightly, so does the content. The largest, unbound book contains not only poetry, but also a Q&Q interview (both people question each other and answer) and two pieces on mentoring. The middle-sized booklet is full of poetry. The smallest one contains the contributor bios and a reading list.




Speaking of mentoring, Chapman was able to provide 400 copies to those attending the recent gala for the Association of Writers and Writing Program's Writer to Writer mentoring program.

"It was a serendipitous occurrence that made for a terrific celebration of writing and community," Leahy says.

Included in the collection is Cecilia Woloch, who spoke at Chapman for the
Tabula Poetica
reading series last semester.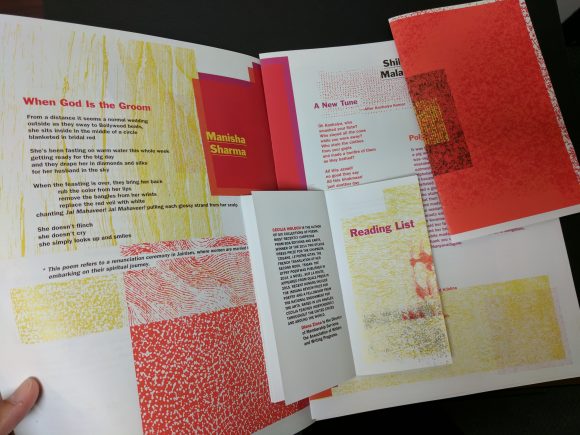 To purchase a copy of this or previous print issues, send a $10 check made out to Chapman University to
TAB: The Journal of Poetry & Poetics
, Department of English, Chapman University, 1 University Dr., Orange, CA 92866.

In addition to the print issue,
TAB
also publishes an
electronic issue
on the second Wednesday of every other month.