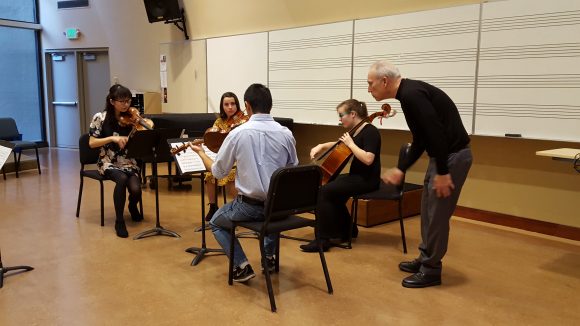 It isn't every day that student musicians have the opportunity to be coached by a member of a world-renowned classical music ensemble. When the boundary-breaking, globetrotting
Kronos Quartet
lands in a city large or small, however, the members — David Harrington (violin), John Sherba (violin), Hank Dutt (viola) and Sunny Yang (cello) — make it a point to offer master classes to local musicians, particularly high school and college string players.  From London to Carnegie Hall to San Francisco and beyond — and now at Chapman University  — the Kronos musicians, members of a critically acclaimed, trailblazing ensemble that has performed on the world's top stages for nearly 50 years, have made music education integral to their work.

The Kronos made its debut at Chapman University's beautiful
Musco Center for the Arts
on January 21 in a program presented by the
Philharmonic Society of Orange County
, laying down a performance of eclectic works from its
Fifty for the Future commissioning project
that drew a standing ovation from the appreciative crowd and rave reviews from classical music critics
Mark Swed of the Los Angeles Times
and
Tim Mangan for Beyond the Curtain
.  The pieces composed for Fifty for the Future — which the Kronos initiated in 2015 in partnership with Carnegie Hall — are intended to be teachable to and playable by young musicians and emerging professionals, to introduce them to the often-inscrutable world of "new" or contemporary music. All the scores, program notes and other related materials are
available free on the Kronos website
.

All four Kronos members worked with student string quartets during their "mini-residency" at Chapman. Violist Hank Dutt worked with a Chapman student quartet, while the other three coached quartets from the Orange County Youth Symphony Orchestra (a Chapman resident ensemble) and high school groups from the
Orange County School of the Arts
and
Arnold O. Beckman High School
.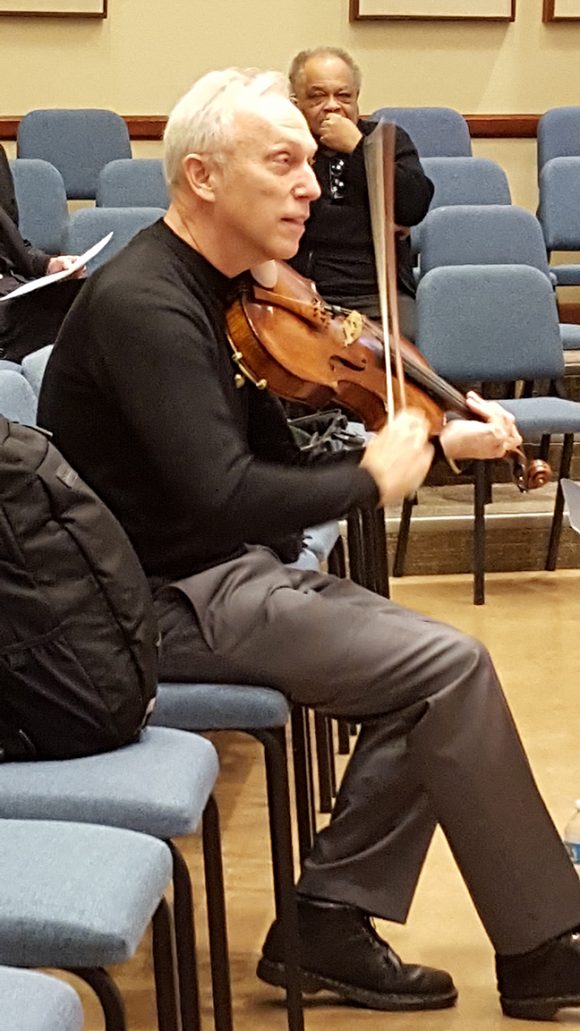 "It's always beneficial to have students work with visiting artists," said Robert Becker, associate professor and director of string studies in Chapman's Hall-Musco Conservatory of Music. "A fresh perspective, different ways of expressing things, and a different energy are all important to our students and the students in our community.  We're proud that Chapman has an ongoing relationship with international artists of all genres."

"For nearly five decades, the Kronos Quartet has been at the forefront of contemporary music," said Daniel Alfred Wachs, director of orchestral activities in the Hall-Musco Conservatory and music director and conductor of the OC Youth Symphony Orchestra. "Their Fifty for the Future project ensures that their dedication will continue for another 50. The opportunity for our students — as well as those from invited and selected from top high schools throughout Orange County — to work with these legendary string players on our own campus was priceless, and certainly a highlight of my tenure at Chapman. We look forward to welcoming them again."

 

Save


Save


Save


Save