In the dark of a cold winter night, filmmaker Devyn Bisson '14 sat on a small Greek beach facing the Aegean Sea, relaxing with lifeguards from around the world. The guards were there to stem drowning deaths among Syrian refugees struggling to reach safety. Bisson was recording their lifesaving efforts. The boats came by day, so the group lounged around a bonfire. The evening was calm.

Until the steep cliff overlooking the beach rippled with movement. Or so it seemed.

"I don't even know how to explain it, but all of a sudden it looked like the cliff was moving. But it was actually 200 people climbing over this huge cliff, and we were like, 'What's happening?'" she recalls.

What was happening was that smugglers had started launching night boats from Turkey, with reduced fares for those willing to risk the passage in darkness. Without navigation equipment or lights, the boat missed the beach, crashing into the cliff. The human cargo scrambled to survive.

"It was terrifying," she says. "Our first instinct was to pick up our cameras, but we couldn't."

United Nations relief workers usually took over once the lifeguards pulled refugees from the breakers, but they had packed up for the evening. So Bisson, a certified lifeguard with the city of Huntington Beach, and her director of photography Katie Wise '14, set the cameras aside and joined members of the
International Surf Lifesaving Association
(ISLA) to rush the refugees into warming tents and dry clothes.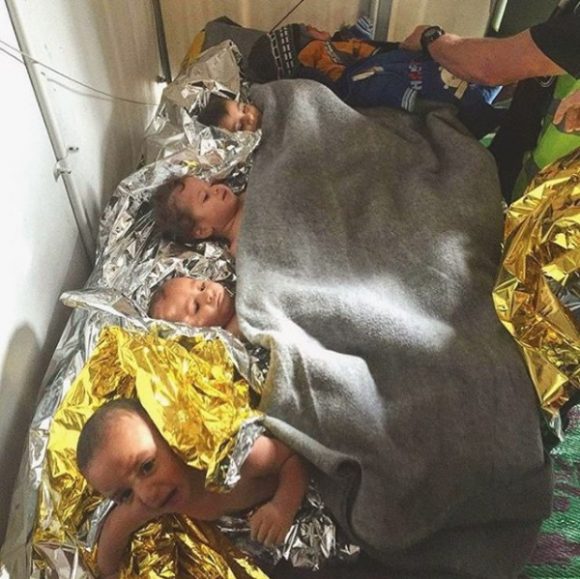 "It was one of those moments I couldn't believe we were in. … We had this one baby, and I just couldn't find clothes for it. So I just wrapped it and wrapped it. All these people were on the brink of hypothermia."

Soon, that story and more from her January 2016 experience with the lifeguards of ISLA will be told in
Lighthouse Molyvos
, a short documentary Bisson is making on their behalf. With modest travel support from ISLA and help from a community of filmmaking friends, she plans to finish editing it soon and release it in early 2017 for free online viewing and sharing.

Her goal for the project is that it open eyes to the crisis and shine a light on the work of ISLA. And the politics of what to do about the refugee crisis? First things first, she says.

"I am a lifeguard and you are a human and you are drowning. There is no question of response," she says. "And that's what ISLA and I both believe. No one will drown in this water. We'll figure out what we'll do with the refugees when they get here. But no one will drown here."

Sadly, it was reports of drownings that drew ISLA to the Greek island of Lesvos during the peak of the crossings in 2015 and early 2016. The photograph of a drowned toddler in a red T-shirt on a Turkish beach resonated around the world in 2015. But asylum-seekers and migrants continue to cross. In the early part of December there were 100 daily arrivals into Greece, according to a December report released by the United Nations Refugee Agency. Most of those were fleeing Syria and arrived at Lesvos.

As a lifeguard and filmmaker, Bisson felt a double call to go to Lesvos.

"I feel like storytelling is as important as lifeguarding. It uplifts people. It saves people," she says.

Occasionally, she set the cameras down and stepped in to help. The sights were too much. Boats nearly capsizing as occupants rushed to the bow as they approached land. Pregnant women and children struggling in "fake life vests" smugglers had forced them to purchase. Non-swimmers leaping into water they didn't realize was still too deep to wade through.

So she wore two hats.

"I wanted to be in the water," she says.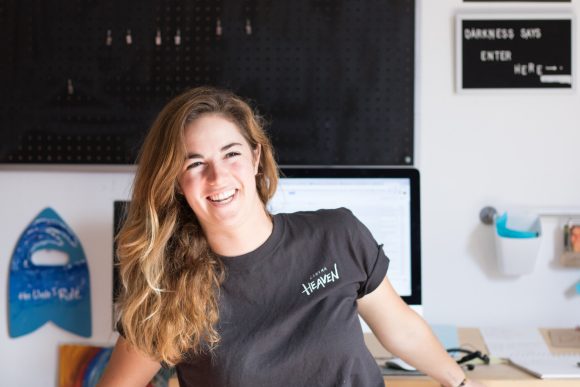 Indeed, if there's anyone who could pull it all off, it's Bisson, says her former documentary film professor Jeff Swimmer at Chapman's Dodge College of Film and Media Arts.

"She's fearless. She sees problems as just interesting challenges to try to overcome," says Swimmer, who's seen much of the Lesvos footage. "It's really powerful. I think it has the makings of a fantastic film."

Now, a year later, that Greek beach is often on her mind as she wraps up editing on the documentary. The Huntington Beach native marvels that such a small place could be part of the world stage. Unlike the wide, sandy shoreline of her hometown, the Lesvos beach is tiny and sheltered, she says. And until the boats arrived, always quiet.

"It was just this tiny nook where boats needed to land because everything else was dangerous," she says. "It was so untouched. It did feel really safe."

And thanks to those lifeguards, it was.