The comfy office-style chairs swivel and roll, allowing students to form groups or turn their attention to different tasks.
Work tables around the room foster collaboration, providing each small group with its own large-screen monitor, whiteboard and laptop connectivity.
In front, the professor can display a graphic or video on the big screen while working simultaneously on whiteboards, moving to other screens and boards around the room as explanations unfold in conversation with students.
Located in Beckman Hall and the Leatherby Libraries basement, these are two of Chapman University's first Active Learning Classrooms — technology-rich, student-centered spaces that are part of a movement on university campuses meant to enhance the ways knowledge is acquired and retained.
"I had never seen a classroom like this," Sonia Djafri '17, a biochemistry major with a minor in entrepreneurship who took a challenging elective in Cancer Biology in Leatherby Libraries B14 when it opened for the fall semester. "I was excited to have a class in here. It's obviously geared towards communicating and working as teams in small groups. It's much more up my alley than giant lecture halls."
Inside the Active Learning Classroom that opened last spring in Beckman Hall, technology is even more on display. The Sims Shen Data Analytics Lab contains 16 Exxact high-performance computing systems and its own high-end server with a dedicated file storage device.  The state-of-the-art facility is a result of the generous $200,000 gift of the Sims Shen family.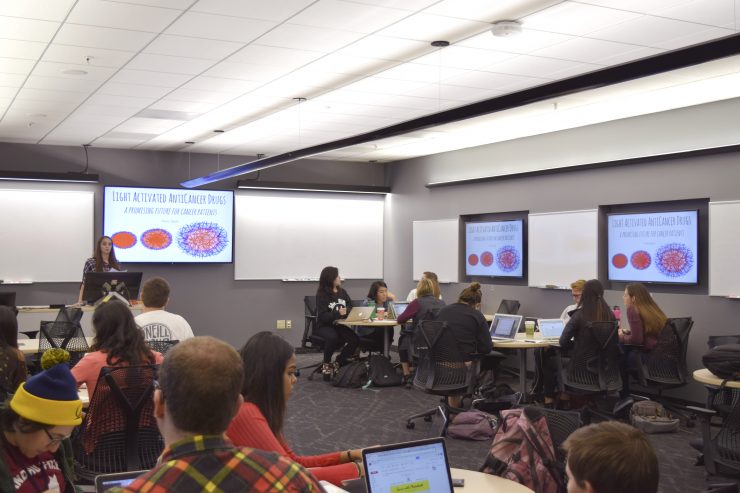 "It's very cool," said Gabby Llanillo '18, a computer science major. "It seems less like a classroom setting and more like a hands-on work setting."
The concepts behind Active Learning Classrooms are not new, but they are spreading among universities around the country. And although the two rooms on Chapman's Main Campus seat about 30, the Rinker Health Science Campus already has one Active Learning space that can hold more than 100 students, with plans for a second. Keeping students closer to the instructor is a priority in many designs.
"This movement really started 20-plus years ago, with faculty and people doing work in this area noticing that students sitting in a lecture room – even if it's not huge but it's like 30 students – are very passive and tend not to retain information as long as if they're actively learning," said Mary Litch, Ph.D., Chapman's director of academic technology and digital media and co-chair of the university's Classrooms Working Group. "We're renovating rooms so they really encourage students to collaborate with one another, to not just sit passively and absorb information from the instructor."
The benefits are many. In the Cancer Biology class — co-taught by Marco Bisoffi, Ph.D., associate professor of molecular biology, and Melissa Rowland-Goldsmith, Ph.D., instructional associate professor of molecular biology – students studied data and images from a clinical trial for a prostate cancer drug. Bisoffi displayed it on the front monitor, but also on the monitors at individual tables.
"There's no way you'd be able to sit in back and see all the details of the cells and what parts of the cell were stained, etc.," Rowland-Goldsmith said. "Having it right there, you can see it beautifully."
If asked, groups could then use that data to work on a joint PowerPoint presentation, or display a work-in-progress from one student's laptop on the table's big screen.
In the Introduction to Data Science class taught in the Data Analytics Lab by Erik Linstead, Ph.D., assistant professor of mathematics and computer science, Linstead showed a video game on the screen while jumping between two whiteboards, explaining the programming and math behind the game. (Professors note that in many rooms that would be impossible: Too often, the screen lowers in front of the whiteboard, obscuring it.)
The lab, Linstead notes, is not only a better classroom: It no longer feels like one.
"It's definitely very start-up inspired," he said. "We're not just looking at what other universities are doing but also at collaborative workspaces in other industries."
As much as the classrooms offer a different way to learn, they also demand a different way of teaching, with all sorts of possibilities once a classroom is liberated from the limits of row after row of desks. Even in its simplest forms, movement makes a difference.
"One part of your lecture and comments can be on one board, and one part on the other," said Kenneth Murphy, Ph.D., associate provost of academic administration as well as an associate professor in the Argyros School of Business and Economics.
"Just that moving around keeps students focused on, 'Oh, what is he doing now?' Or, 'Is he going to come over by me?'"
Murphy, who has the enviable task of deciding which professors and classes will be lucky enough to use the rooms, looks forward to adding more innovative spaces at Chapman.
"My opinion is, moving forward, these rooms will become more and more popular," he said. "I also think students love them and will be more engaged in their learning, and finally I think it's a way Chapman can demonstrate our innovation. Again, we're not early in this, but we're right in time. We're doing what others are also doing."
Display image at top: Individual tables'  screens can be used to view detail of what's shown on the main screen, or to share a student's laptop screen as students work together. (Photo/Livi Dom '20)