Kyle Lee '14 is a physicist, not an artist. But as he prepared to graduate from Chapman University two years ago, he knew he wanted to give something special to his mathematical mentor. So he dived into creating the drawing of Daniele Struppa that you see below. He couldn't have known then that it would become the cover of Chapman Magazine's fall 2016 issue, which celebrates the inauguration of Struppa as Chapman University's 13th president.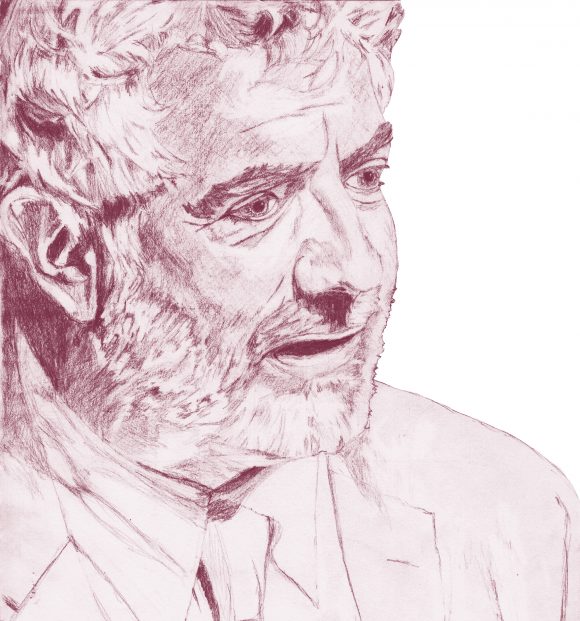 Sketching and erasing, shading and obsessing, Lee worked to get the drawing "good enough to reflect my immense gratitude," he says. A first-generation college student, Lee credits Struppa with providing opportunities "I might not have thought I could handle." Now he is pursuing a Ph.D. in particle physics as a scholarship student at Stony Brook University in New York. And his drawing? Well, it occupies a place of honor in Struppa's new presidential office at Chapman.
"Kyle has a passion for learning that will carry him far," Struppa says. "But more than that, he is a humble and generous young man."
Lee was 11 when he moved from South Korea to Southern California. He didn't speak any English, and he didn't have any thoughts of attending college. Then after graduating from Sunny Hills High School in Fullerton, Calif., he attended Fullerton College, where he found that he had an aptitude for math. Not long after Lee transferred to Chapman, Professor Adrian Vajiac, Ph.D., introduced him to Struppa, then the University's chancellor. Over the rest of his career at Chapman, Lee met with Struppa regularly, sharing study time and collaborating on research. They even wrote a paper together, titled "Some combinatorial identities arising from superoscillatory sequences," which they submitted to a scientific journal.
Lee never took a class with Struppa, but "he always made time for me," the student says. "I have so many stories of how his caring  support manifested itself. I got to work as an editor on one of the books published for Professor (Yakir) Aharonov for his 80th birthday. The fact that he trusted me with so many responsibilities helped me realize my capabilities. The generosity of wonderful people like Professor Struppa instilled in me a desire to become someone like him — successful in whatever field I end up pursuing. It motivated me to set a good example."
While at Chapman, Lee became a volunteer mentor to math students at area middle schools, helping them "appreciate education so they could achieve positive results," he says. Now he's a teaching assistant in his third year of a five-year Ph.D. program at Stony Brook.
He has little time for drawing these days, but the work he invested creating a special gift for Struppa two years ago remains fresh in his mind.
"I had no training in drawing, but when I was young I liked to draw as a hobby, so I thought I'd give it a try," he says. "I probably spent 25 to 30 hours on it. Of course for an art major, it probably would have taken less than two hours."
For Struppa, the artwork is a treasured keepsake from "one of the brightest people I have ever met."
"Kyle never fails to send me a handwritten note to tell me how much he appreciates what Chapman has done for him," Struppa says. "When I hugged him on stage (during his graduation ceremony), I whispered to him that I will miss him, and he wrote me a note about that as well!"
Lee and Struppa still maintain regular contact, and the student says he continues to feel his mentor's unwavering support.
"To have someone so accomplished rooting for you is a wonderful thing," Lee says.
(Display image at top: A photo of him with his mentor, Chapman President Daniele Struppa, is never far from the view of Kyle Lee '14 in his office at Stony Brook University, where he is pursuing a Ph.D. in particle physics.)