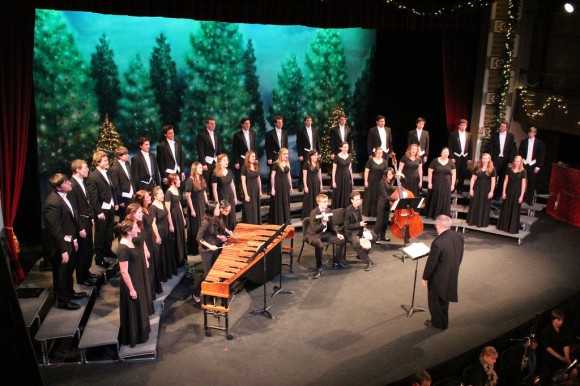 As winter comes to Southern California and the weather turns very slightly colder — some days, at least! — folks' thoughts turn to visions of gingerbread and hot chocolate, music and lights. If you're a winter holiday fan (and, really, who isn't?), Chapman University's Musco Center for the Arts has some merry musical events that are sure to appeal to you — and get your season started with the best kind of glow.
You can purchase tickets to all the following events at muscocenter.org or by calling 844-OC-MUSCO (844-626-8726).
Chapman University's 53rd Annual WASSAIL, one of Orange County's oldest and most beloved holiday traditions, will be presented by the College of Performing Arts for the first time in Musco Center, with a Preview Concert on Friday, December 9 at 8 p.m. and a public concert on Saturday, December 10 at 8 p.m.  The dinner segment of the evening is now completely sold out, but there are still seats available for the spectacular holiday concert, starring The Chapman Orchestra, musical direction by Daniel Alfred Wachs, and the University Singers, Women's Choir and University Choir, conducted by Stephen Coker and Chelsea Dehn. The concert will include your favorite Christmas and other winter-holiday tunes as well as new songs from around the world. It's filmed by Panther Productions as a seasonal TV special, to be broadcast locally on KCET and then on public television stations across the country, so you might see yourself on TV!  (Check local listings for broadcast times.)  Tickets ($10 for the Chapman community, $25 general)  are going fast – so hurry and get yours now!  (Students ONLY – you can purchase $5 rush tickets to the FRIDAY CONCERT ONLY, limit 2 per student, by using code WASSAIL2016 with your online order.  $5 rush tickets will not be available at the door.)
Jazz and R&B superstar Aaron Neville — he of the silken, amazing voice — brings his Christmas Celebration concert to Musco Center on Sunday, December 11 at 7:30 p.m.  With his utterly inimitable vocal style, the icon has been winning fans and selling copious recordings for more than half a century, both as a soloist and as a member of his renowned family group, The Neville Brothers. Tickets are $30 to $75 and, again, are selling out quickly.
Wrapping things up in a bow before holiday madness really sets in is Cathedral Productions' Christmas at Musco Center on Saturday, December 17 at 7:30 p.m.  Enjoy the Cathedral Productions Orchestra accompanying the Southern California Children's Chorus and adult choir.  There'll be audience sing-along carols, of course.  And the grand finale will be Handel's majestic "Messiah" — guaranteed to have you humming "Hallelujah!" as you head back home.  This concert has sold out each of its last three years, so don't delay — grab your tickets today.