Chapman University will host its third annual Excellence in Journalism Conference on Saturday, Dec. 3 from 9:30 a.m. to 3:30 p.m. The workshops and panels will feature numerous journalists and nonfiction writers, including Pulitzer Prize and Emmy winners.
They will cover a range of topics and close the day with a panel discussion, "Is Objectivity Dead?" You can check out the full schedule at the Excellence in Journalism website.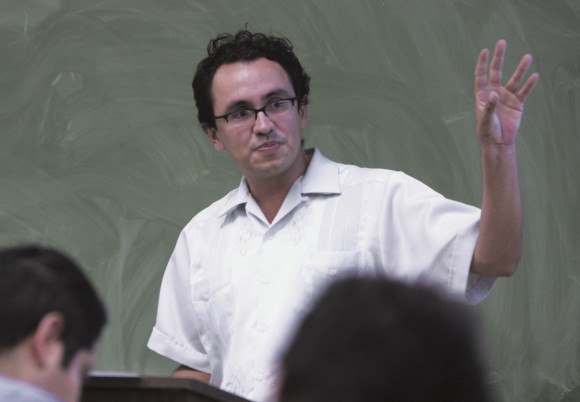 It is a great opportunity for people to go to a lineup of speakers who are doing a lot of great work that cuts across fields, said Dennis Foley, instructor for the Department of English. He added that the workshops and panels will both link back to journalism techniques while also looking ahead to what journalists will need to know next.
This event is hosted with the support of Chapman's journalism and broadcast journalism programs, the OC Press Club and the LA chapter of the Asian American Journalists Association.
The conference is free and open to the public. To learn more about all of the speakers, click here.
Scheduled Presenters Include:
Gustavo Arellano, editor, OC Weekly, nonfiction author
Alexandra Berzon, Wall Street Journal, Pulitzer Prize winner
Cindy Carcamo, Los Angeles Times, French-American Foundation's 2012 Immigration Journalism Award winner
Nancy and John Casper, creators of CasperNews
Anh Do, Los Angeles Times, DART Award for Excellence winner
Tom Feuer, director, Los Angeles Bureau of Cronkite Sports, three-time Emmy winner
Vanessa Franko, entertainment and features editor, The Press-Enterprise
Sally French, drone news reporter, marketwatch.com
Jeff Gottlieb, Pulitzer Prize for Public Service Reporting winner
Kim Guimarin, senior editor, Riverside Press Enterprise, San Bernardino Sun, Facts of Redland and Inland Valley Daily Bulletin
Rayan Hagen, reporter, San Bernardino Sun
Todd Harmonson, senior editor, Orange County Register
David Hasemyer, reporter, InsideClimate News, Pulitzer Prize for National Reporting winner
Robert Hernandez, national board member, Online News Association
Sal Hernandez, breaking news reporter, Buzzfeed
Xavier Higgs, general assignment writer, photographer, president, Black Journalist Association of Southern California
Greg Lee, general assignment reporter, ABC7 Eyewitness News
Joe Little, television news reporter, ABC 10News, Emmy Award winner
Bret Marcus, TV executive, show runner, and producer, winner of more than two dozen Emmys
Mariecar Mendoza, arts content editor, San Francisco Chronicle
Rem Rieder, media industry editor, columnist, USA Today
Norberto Santana Jr., founder, Voice of OC
Jan Schaffer, executive director, J-Lab: The Institute for Interactive Journalism, Pulitzer Prize Gold Medal for Public Service winner
Teri Sforza, created OC Watchdog column, Orange County Register, contributed to Pulitzer Prize-winning investigation, nonfiction author