Course catalogs can't list everything you want to know about the classroom experience. So come looky-loo with us in Class Act, a feature that takes readers into the classroom. This month we visit rehearsals for the Fall Dance Concert.
Surrounded by small piles of dark sweaters and jackets, 21 Chapman University student dancers swirl around the floor at the Partridge Dance Center. Despite their closeness, the dancers avoid each other's touch and stick to their contained spheres of motion. Several times they lift cupped hands to their eyes, creating singular tunnel visions.
This collection of solos is dramatic, lonely and exactly what internationally recognized Israeli choreographer and ballet artist Ido Tadmor hoped to convey in "Z-Ra," an original work he choreographed for the Fall Dance Concert.
"I wanted to create a piece about this time, this society we live in at the moment," Tadmor said following a recent rehearsal of the piece. "In many, many ways it's a very sad time where people are completely disconnected from each other."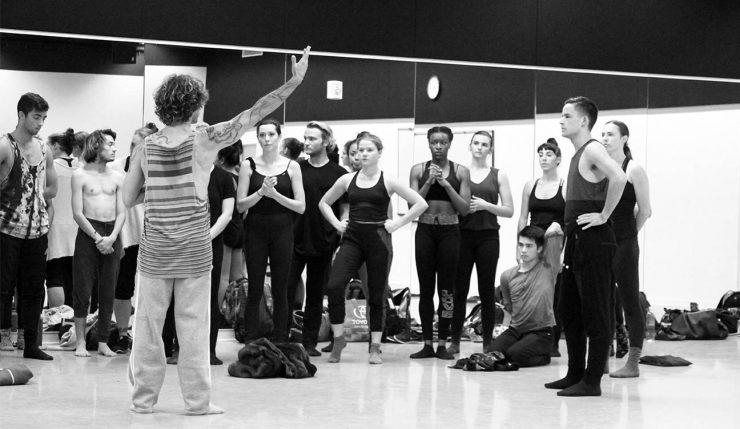 There is a happy contradiction of sorts in all that, though. Teamwork and shared learning were the hallmarks of Tadmor's three-week residency with students in the Department of Dance. As Tadmor's residency wound down, the students and the renowned choreographer described their time together as an unparalleled experience of teamwork.
"I've been honored to teach in many, many universities. But I have to say that for me I don't think that I've ever had such an amazing, fulfilling, challenging (and) beautiful time as I did with these guys and at this university," Tadmor said. "They also manage to work very calmly in a group, listening and feeling with each other in one energy."
In Israel, Tadmor is one of his native country's most celebrated artists, winning its Landau Prize for life achievement in the arts and serving as a judge on the television program Born to Dance, similar to the American hit
So You Think You Can Dance? His visit to Chapman was helped by a connection made with Jennifer Backhaus '94, an instructor in the College of Performing Arts' Department of Dance and the founder and artistic director of Backhausdance.
The former member of Batsheva Dance Company had particular praise for the students' skills and dedication.
"They bring not 100 percent but a million percent of themselves into the piece. And this is not something I see in many places, not even in professional companies," Tadmor said.
The experience was intense but rewarding, says dance major Ashleigh Koenig, of Olathe, Kan. The dance is divided into two halves, and at the middle point Koenig steps forward to sing Amazing Grace   in what feels like a moment of hopefulness.
"When he first asked me to do it, it was just on the spot and I was caught off guard," Koenig says. "But I learned a lot in these past weeks. More than I could have imagined. And not once was I ever comfortable. … So it was a very interesting experience."
Dance major Elijah Richardson, of San Jose, Calif., said performing in the innovative piece pushed his skills to a new level.
"You had to be able to be open and ready to absorb any possibility," Richardson said.
Tadmor acknowledged that the theme of this piece might seem relevant to the 2016 presidential election, which he confessed fascinated him during his visit. But he said he worked out a portion of the choreography two years ago. At Chapman, he saw the opportunity to fully develop it, but he believes the theme would resonate anywhere.
"I have to tell you that if I presented it anywhere else in the world, I wouldn't change it," he said.