Nearly a dozen Biology 324 students from Chapman University put down their pencils and picked up shovels on a blazing fall afternoon at the new Orange Home Grown Education Farm.

"Where would you like the coffee grounds?" called out one student as the group set up experimental plots to test how well different mulches improved the nutrients in the soil on the
educational farm
, a joint effort between Chapman and the non-profit community group
Orange Home Grown
(OHG).

The visit to the farm was the second of at least four this semester by the ecology class taught by teaching professor Mia Maltz, Ph.D.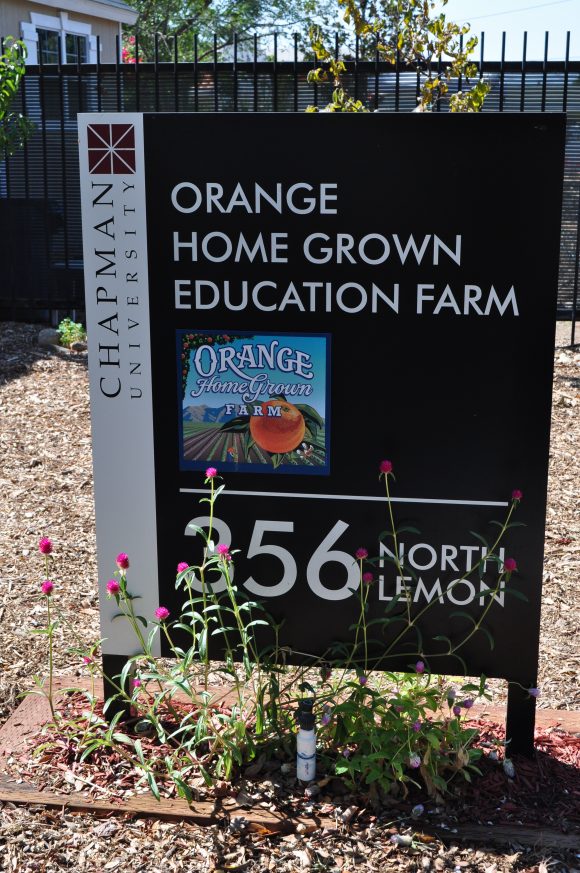 "Our whole overall study is about the nitrogen levels in the soil here," said Victoria Bohush '18, a theatre major minoring in biology who wants to work in the field of marine biology conservation. "We're using a bunch of variables like microorganisms, fungi, different types of soil, different types of inoculation. There's a bunch of variables to see if it affects growth."

The class started its work by collecting soil samples, discovering that while the soil is mostly sandy loam, there was surprising variation across the roughly 8,000 square-foot lot, with numerous microclimates.

Next, in the lab, the students produced what is known as myceliated straw – straw that has been inoculated with a mushroom culture. Then they placed the myceliated straw in experimental plots at the farm, and later will test the soil for nutrients and compare it to soil mulched with plain straw or with wood chips, among other variables.

"Just yesterday, the students were asking me, 'When are we going back to the farm? When's our next farm day?'" Maltz said. "The limitations of the lab are mainly space and light. We have these seedlings, and as they grew I really started to feel if we left them in the lab any longer they would be a nuisance. The students have certainly felt a connection with actually seeing the seedlings they've grown, knowing these are our plants. You never know how people connect the food they eat to planting seeds and plants."

Now students can plant their bean seedlings and other small plants at the farm, which is owned by Chapman but provided rent-free to Orange Home Grown, best known for the Farmers and Artisans Market held every Saturday at Chapman's Villa Park Orchards Packing House lot.

With the farm – formerly a vacant lot – now available, OHG has launched educational programs there for the community, including a recent session on cool weather vegetables. There also are community workdays on Fridays from 9:30 to 11:30 a.m., where skilled or unskilled gardeners can drop by to work and learn as OHG prepares for the first season's crop, which will include a variety of beans, carrots, collards, leaks, beets, celery, chives and greens, among other vegetables. Some of the harvest will be donated, but the bulk will be sold to local chefs and restaurants to raise funds to sustain the farm.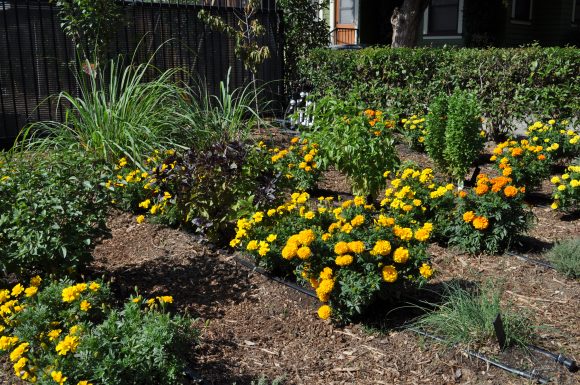 "It's exciting to be to this point where there's a lot shoveling and hoeing, where we're about to get to see things growing," said Amy Thai, the farm coordinator for OHG who watched with her young daughters as the students worked.

Some students are even attending the community classes and volunteer workdays, Maltz noted.

"We're all really excited to have the students there," Thai said. "The purpose of the farm is to educate. We're excited to see it come full circle and connect to the community. The plan is to create a space that will provide an opportunity to learn about growing food and sustainability in our community."

Display image at top/Ecology student William Rutherford prepares an experimental plot at Lemon Street Community Farm with help from 5-year-old Vivienne, the daughter of Orange Home Grown farm coordinator Amy Thai.