Tucked away in Beckman Hall is a new video studio that is so calming with its soundproofing properties and painted black walls that first-time visitors briefly think about a quick nap.

But the action here is far from sleepy. Because this is Chapman University's new Instructional Video Studio, a facility launched this semester by the
Institute for Excellence in Teaching and Learning
(IETL). With the help of innovative software, an ever-ready studio and staff assistance, faculty are coming here to create short instructional videos to expand on their classroom teaching.

It's a dream come true, says Matthew Gartner, Ph.D., an assistant professor in the Department of Chemistry. A few minutes in the studio creating videos he requires students to watch before class meetings or lab sessions reaps better face-to-face teaching time, Gartner says.

"We can really easily create a short snippet of something I want to share with my class that's something I want them to know before they come in. Or maybe there's something I know that's usually problematic in their reading and I can clarify or provide some extra information and do it very easily," he says. "It frees up a lot of time. Then I can give them very challenging problems that we work through together in class where we can have more discussion."




The technology provides one more tool to faculty interested in flipping a portion of their instruction, says Roxanne Greitz Miller, Ed.D., director of IETL and the Donna Ford Attallah Endowed Professor in Teacher Education. Classroom flipping is a teaching approach in which short lectures are delivered by video before a class meeting, freeing up more time for discussion, projects and workshop-style activities.

"The wonderful thing is that the students can watch a video as many times as they feel they need to. And they can pause it or rewind it to the section they want to see again. It's that individualized approach. Technology doesn't replace the student-teacher interaction," she says. "In many ways technology can increase personalized education. We now have more time in class to be interacting with students."

The flipped classroom trend is not new, but the technology installed in what Miller informally calls "the flex studio" makes it easier to accomplish. The facility, operated under the auspices of the Office of the Provost, uses
One Button Studio
technology developed by Penn State.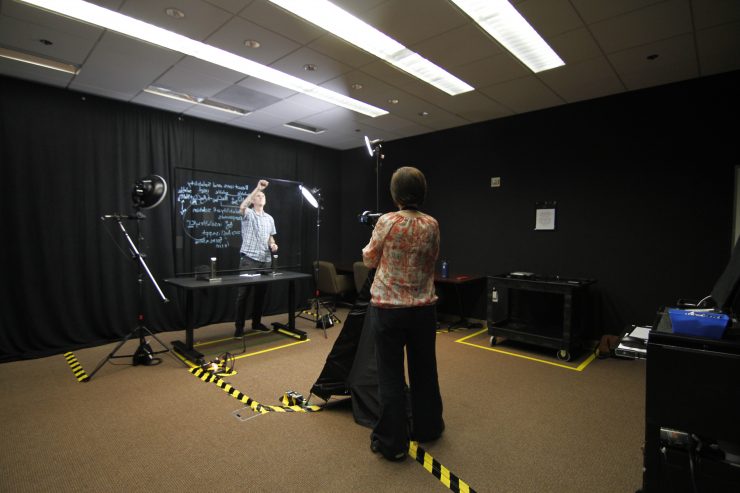 Faculty plug in a thumb drive to launch the camera, microphone and pre-set lighting. Then they or an assistant press a button to start recording. They stand behind a glass panel and write, draw or sketch as they would on a whiteboard. The video software automatically reverses the screen during taping, so students see the text in left to right fashion. The completed video is saved on the drive and ready for upload to the teacher's desired platform.

The studio also allows a teacher to present and notate directly on a PowerPoint presentation.

Gartner is one of its most frequent users. (He's even using the studio to create a video for faculty new to the technology.) He coordinates the University's general chemistry lab sections and says a three-minute video explaining the use of apparatus or instruments helps get everyone on the same page before they start. That fosters enriched teaching experiences, he says.

"We can also bring in a little bit more group work during class," he says.

Enhancing, not replacing, the classroom experience is always the goal. Which is why he ends his videos with this most important instruction: "We'll do more in class. See you there."



Display image at top/Lia Hanson '18