Beneath a historic stage in Sweden, six Chapman University students push spokes attached to a large wooden pole, one student per spoke. They smile as the Old World machinery creaks, rolling in a theatrical backdrop to replace another, just as it has for more than 300 years. Later, the students will call the experience not just educational but transformative.




Such affecting moments are the norm during Interterm travel courses that this past summer took Chapman students from Western Europe to Southeast Asia, from Scandinavia to Africa. Along the way, hundreds of Chapman students gained special insights about their discipline while opening doors to parts of the world they've long wanted to explore. And even now, as the fall semester rolls forward, the Interterm travelers retain vivid memories that have become building blocks for deeper understanding.
For more information on faculty-led travel courses, visit the Web page of the Center for Global Education.

For the 20 students of technical theatre and dance who traveled throughout Europe this summer, the Drottningholm Palace Theatre in Stockholm was one of many memorable stops. Taught by professors
Alicia Guy
(Department of Dance) and
Don Guy
(Department of Theatre), the travel course "Study of Ancient Theatre and its Lasting Influence" offers new perspectives on students' life and career pursuits.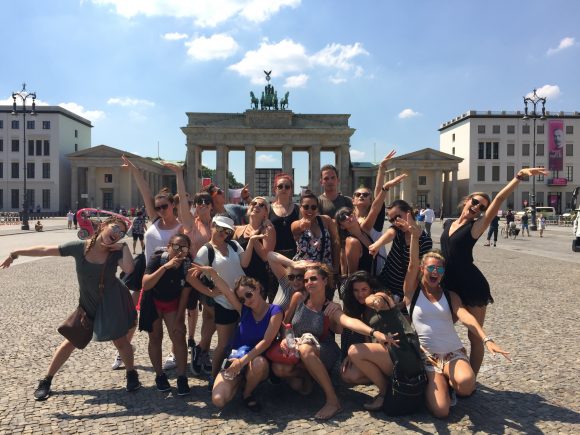 Dance major Ellie Espinosa '17 says, "The exposure I received from exploring these countries has ignited a fire in my heart and soul that will push me beyond any expectation I have for myself. This course, these people, this experience allow me to believe in myself, and that's not something I have ever been able to say truthfully before."

The course made an especially big impact on Amanda Sullivan '15, who took it in 2013. She cites it as starting her career in international dance, saying, "Going on Alicia and Don Guy's travel course to France, Italy and Greece the summer before my junior year changed my life not only as a person but as a performer, dancer and artist. … It was this course and Alicia and Don's guidance that ultimately led me to pursue my passion of international dancing. My professional gigs have taken me all over the world, as I now have traveled to 36 different countries/territories. I will be forever grateful for Alicia and Don encouraging me to travel and helping me establish an international dance career that is only going to continue to flourish."
You can read about the Malawi experience of film student Gabriella Pinel '17 on the Dodge College blog.


Among the other travel courses this summer was one involving 15 graphic design students in brand development for Lunar Mission One, an international space science and exploration effort in London. During the course led by professors
Eric Chimenti
and Ron Leland, Justin Pineda '18, a graphic design major, learned what work will be like after graduation as he also experienced the culture of the city. For five weeks, the students gave multiple presentations as they tweaked brand designs. The work was challenging, and sometimes even tedious, Pineda says, but ultimately he was proud of what they accomplished.
Graphic design work done by the students in London for Lunar Mission One will be exhibited in the Guggenheim Gallery during the week of Nov. 14. Then on Dec. 9 at 7 p.m., there will be a screening in Folino Theater of a documentary film shot in Malawi as part of the "Destination: Africa" course led by Professor Jeff Swimmer in Dodge College of Film and Media Arts.

For 19 Chapman students from a variety of majors, a stay of more than three weeks in Munich provided a deep dive into the German language and culture. The travel course is taught by Department of World Languages faculty members
Heather Ter-Jung
and
Karen Gallagher, Ph.D
.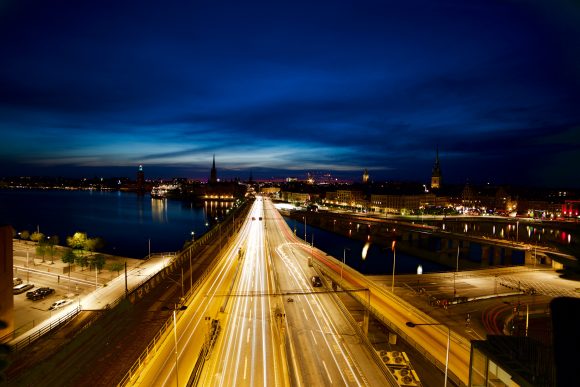 Tours included a 12
th
-century salt mine in Berchtesgaden as well as Neuschwanstein castle – the inspiration for Sleeping Beauty Castle at Disneyland – and a robot-heavy BMW manufacturing plant. But for many students, the most moving visit was to the Dachau concentration camp.

Student Andrew Walker '18 writes about experiencing "a sense of anxiety and sadness." Simone Goldstone '18 says in her journal, "My soul suffered that day. … I am forever changed. I have felt a pain, a scar inside the purest part of my being, that I will carry with me throughout this lifetime. I choose not to turn back, not to ignore. I will acknowledge."