Daniele Struppa, Ph.D., the thirteenth president of Chapman University, promised in his inaugural speech on Friday, Sept. 30, to guide Chapman on a path toward unbounded intellectual pursuit, global citizenship and an atmosphere open to the bold discussions every university should embrace.

"Study, teaching, learning; the entire process of questioning is a rejection of stasis. It is a rejection of comfort, of allowing ourselves to travel slowly and almost imperceptibly freeze," Struppa said. "I pledge to you the Chapman family, the larger community and future generations an unrelenting commitment to a vibrant intellectual environment."

In a ceremony lush with ritual and academic traditions, Struppa formally received the University mace from Jim Doti, who stepped down from the presidency after 25 years and has returned to teaching among the faculty he helped build during his tenure.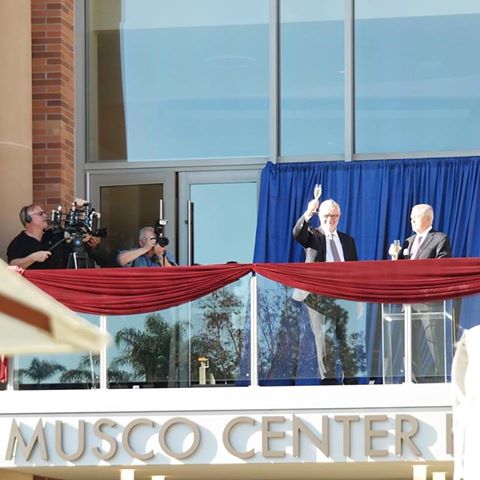 Universities from around the world sent representatives to participate in the ceremony. As is tradition, a message on behalf of all the world's universities was delivered by the delegate from the oldest institution. Speaking in that role was Andrew Briggs, Ph.D., of the University of Oxford.

"I have every confidence that Chapman University with its international excellence in quantum science and neuroscience and other disciplines will continue to develop as a place where you make bold advances in practical problems in the context of fearless curiosity about the biggest questions," Briggs said.

The inauguration capped off a week of festivities, panel discussions, guest speakers and scholarly events, including a conference that gathered many of the world's leading physicists for conversations about quantum physics, concepts of holism and the crossroads of science and creativity.

Joining in the conversation on Thursday was acclaimed German filmmaker Werner Herzog, who participated in a Creativity in Art and Science panel discussion and then gave a free talk in Musco Center that was attended by hundreds of students.

In an inaugural address titled "Embarking on a Path to a Global Intellectual Community," Struppa spoke about why Chapman, or any university, exists. Higher education is not just a "collection of facts and skills," but a willingness to engage in conversation and to grow, he said. To illustrate his point he shared a slide of Raphael's masterpiece painting, "The School of Athens," describing the myriad intellectual interactions in the painting.

"On every journey, as every climber knows very well, the only way to progress is never to stop. Constant intellectual mobility is a fundamental component of education," he said.